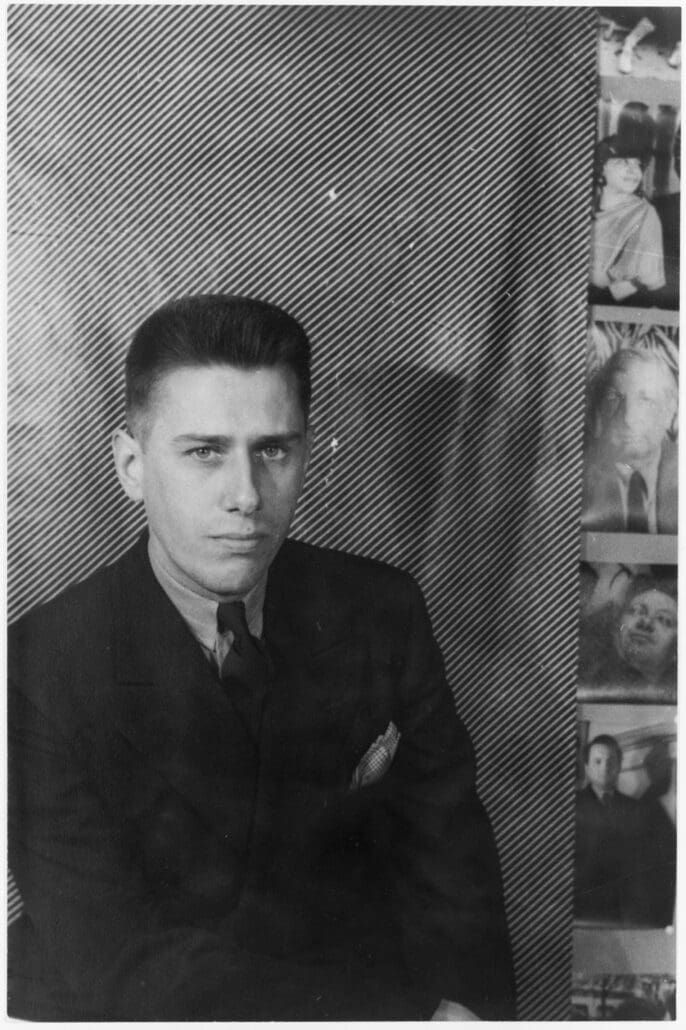 The year is 1931, and a young Paul Cadmus cycles through the French countryside. He keeps a keen eye on everyone and everything he sees, the beautiful clarity of the old masters paintings he has just seen in the great museums fresh in his mind as he watches the squabbles and everyday dramas of village life. The fresh air and idyllic European countryside create exactly the sort of environment that has inspired art through the ages; however, as he and fellow artist Jared French continue their romantic journey through Europe, he makes little more than occasional sketches of his surroundings, instead using his new education and observations to shed new light on his favorite subject: the seething and dysfunctional populace of his home, New York City. These works, and the uproar they created, would launch Cadmus to early fame and mark the start of a long and varied artistic career.
Paul Cadmus's provocative career spanned the course of some 70 years, during which he created paintings, drawings, prints, and photographs. He is notable for his insistence on and mastery of academic realism while the artistic establishment was making forays into various non-representational movements. His work is varied both in subject matter and in attitude, ranging from humorous and grotesque social commentary to surrealism to gentle portraiture. However, his great precision and graceful detail remain consistent throughout all of his oeuvre, bringing to mind the Renaissance masters who influenced Cadmus.
Paul Cadmus was born in New York City in 1904. His parents were both artists–his father was a commercial lithographer and watercolorist, and his mother was an illustrator. They encouraged his artistic ambitions, and at the age of 15 he left school to study at the National Academy of Design, where he was thoroughly trained in traditional academic art. After six years there, he began taking classes at the Art Students League, where he met fellow artist Jared French. The two fell in love and decided to leave their commercial jobs to travel Europe together.
Cadmus and French traveled through France and Spain by bicycle, visiting museums as they went. The work of old masters they encountered was extremely influential toward Cadmus's later style. The Ingres museum in Montauban had a particularly large impact on Cadmus–previously familiar with Ingres' work through reproductions, Cadmus felt a strong affinity to the artist, who is known for his blending of lively innovation with neoclassical tradition. Cadmus and French settled in Mallorca, where they stayed until 1933, frantically painting and soaking up the Mediterranean lifestyle.
The two artists returned to the United States, and Cadmus found work with the Public Works of Art Project, a New Deal program. He won fame for his works during this period, which cheerfully–although Cadmus insisted unintentionally–courted controversy with unflattering depictions of Americans, particularly the US Navy. Cadmus's sharp brush did not spare anyone–working in egg tempera in meticulous detail he created masterpieces of jarring social commentary featuring buxom sailors, lascivious women, and the most shameless homoerotic imagery to ever completely go over the heads of the 1930s artistic establishment.
In 1937, Jared French married Margaret Hoening, although he and Cadmus remained close. The three spent several summers together at Fire Island, surrounded by their vibrant and artistic circle of friends, including acclaimed photographer George Platt Lynes, fellow painter George Tooker, Cadmus' sister Fidelma, and her husband Lincoln Kirstein. Cadmus and Jared and Margaret French became avid photographers during their time on Fire Island, creating provocative and striking photographs of one another and their friends. The three of them titled their photography collective PaJaMa, using the first two letters of each of their names.
After his initial success and controversy, Cadmus continued to steadily produce a small flow of paintings. His art slowly moved away from the satirical themes of his earlier career, and he began creating sparer, brooding compositions often described as magical realism. He created many lovely pieces depicting Jon Anderson, his muse and life partner of more than 30 years. The sweet, tender nature of these works is in marked contrast to the sharp sarcasm of his early career. Through his later career, he turned much of his focus to drawings, many using Anderson as a model. He continued working until his death in 1999.
While his works after the 1930s were no longer particularly trendy, his careful, technical work continued to be well-respected through his career. His work was regularly exhibited in both solo and group exhibitions at distinguished institutions, including the Whitney Museum of American Art, the MOMA, and the National Museum of American Art. In 1980, he was elected an academician at the National Academy of Design.
In recent years, Cadmus's art has returned to the critical sphere as he is re-understood as a pioneering queer artist. While Cadmus chafed at being labeled as a "gay artist," there is no doubt that he paved the way for the next generation of queer artists through his works, both his early sly, humorous homosexual imagery and his later tender depictions of same-sex love. His legacy and the significance of his work goes well beyond the sphere of queer art theory, but contemporary analysis has brought forth newfound appreciation and interpretation of his work as dialogue about queer art has become much less taboo. These new interpretations have helped move his art back into the spotlight, where it belongs.
Revere Auctions has a major Paul Cadmus event coming up. Please click below to subscribe for more details.