On April 20th, 2021, a tense crowd gathered outside of the Hennepin County Government Center in downtown Minneapolis. The crowd was waiting for the announcement of the verdict in the trial of Derek Chauvin, the former Minneapolis police officer who murdered George Floyd in Minneapolis on May 25, 2020. Floyd's murder sparked outrage in the Twin Cities and in the wider world, leading to months of protests and widespread community organizing. For many people gathered in the square that day, this verdict would be a sign if the global outrage and attention had made a difference or if the status quo of acquitting killer cops would continue. Among the crowd was Minneapolis artist seangarrison, standing with his canvas and easel, feeding off the energy of the crowd.
seangarrison knew from the moment he heard the court date that he needed to be there among the crowd no matter what would happen. He recalls saying to himself, "I'm going to be out here, painting this energy." He came prepared to paint through teargas and rubber bullets, whatever it took to be present and capture the energy and events of that pivotal moment in his community. For him, art was the best way he felt he could react to the events and find release.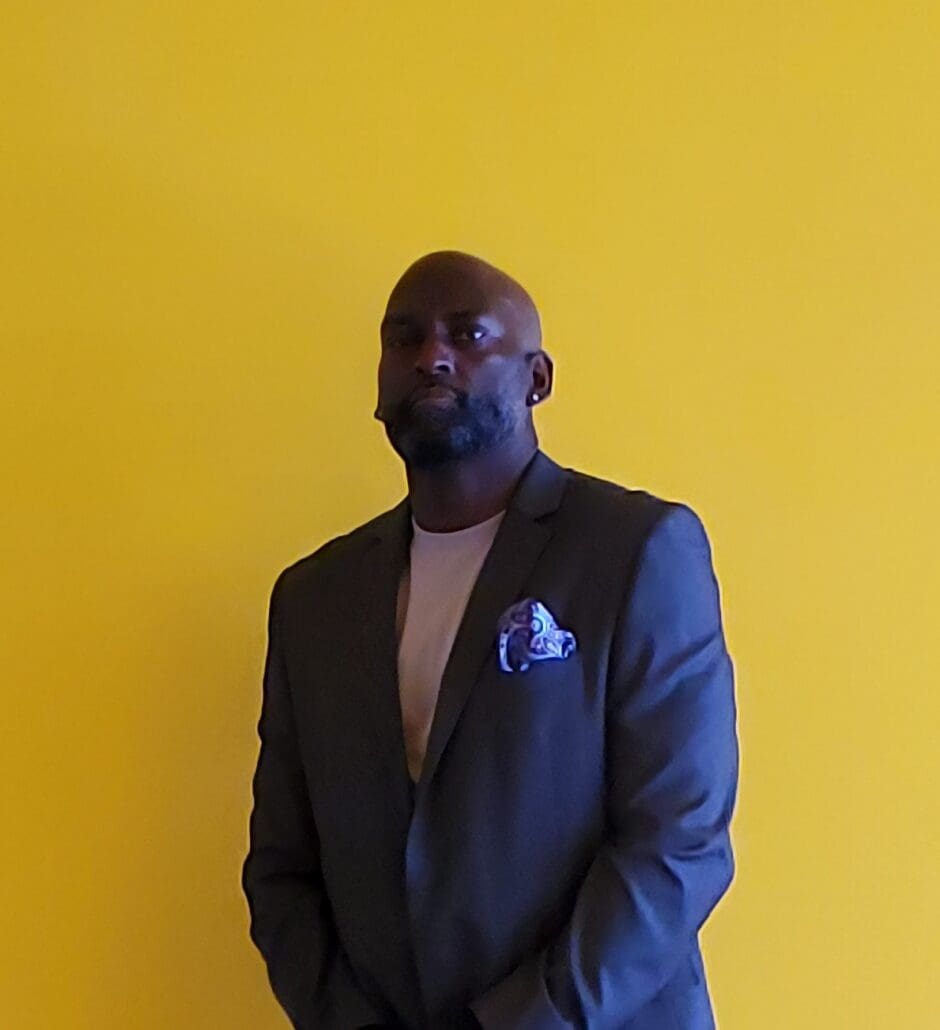 seangarrison got an unusual start in art. Originally he had dreamed of becoming a fashion designer, fascinated by the use of color in clothing. However, following his high school graduation, he decided to study marketing. After not painting for years, a friend commissioned an artwork from him, reigniting the spark of creating in him. He soon began creating art in earnest. He joined a local artist's collective, of which he is still a member, and rented a studio space. Shortly afterward, he was laid off from his day job and decided to pursue art full-time.
While he experimented with many different styles and forms of art in his early career, seangarrison settled quickly on abstract painting because of the way it allowed him to communicate and his fascination with color.
"Color is humanity," seangarrison says. "Color is how we speak when we're not speaking." He loves abstract art because it allows space for emotion and interpretation, allowing all humans to bring their different experiences to a piece of art and be moved by a shared emotion. His style is also tied to the way he interacts with the world: "I see things in colors and shapes," he says. For seangarrison, color is like a code, different colors representing different emotions and pieces of stories.
By the time George Floyd was killed, seangarrison had a long history of creating artwork that drew from the pain of social injustice and the experience of being a Black man in America. One of his early works, TM, was an installation inspired by the tragic murder of Florida teen Trayvon Martin. Watching George Floyd's killing, seangarrison's mind immediately turned to planning to make that pain into art.
When he discusses what drives his art, seangarrison invokes the myth of the bird and the thorns: the bird, having spent its entire life in pursuit of its most perfect song, finally sings the most beautiful song when impaled upon a thorn, dying. Like that bird, seangarrison feels that he creates best when he is hurt.
Watching George Floyd's killing, seangarrison was hurt. Watching the video of the murder on television, seangarrison's young daughter asked her mother, "is that Dad?"
"That broke me up," seangarrison says.
seangarrison feels that this murder evoked such a strong response because people were fed up, tired from years of trauma. He prefers the term "loverising," when describing the uprising following the murder–that people were rising up out of love for their fellow humans. Although the reaction was intense and sometimes scary, seangarrison says that it was "almost a proud moment" to see how much people care about one another.
There was another difference in this killing that seangarrison feels made a difference in how people responded: not only was the entire incident captured on video, the video allowed people to look into Derek Chauvin's eyes while he knelt on George Floyd's neck. Looking in Chauvin's eyes watching the video of the murder, seangarrison was instantly reminded of the famous photograph of the Duluth lynchings almost exactly 100 years before Floyd's murder. One participant in the lynching stands, grinning, next to the bodies of the men he has just helped to murder. The look in his eyes, a complete disregard for the lives of the dead men next to him, is chilling. The look in Chauvin's eyes, seangarrison feels, is identical.
"100 years later, and the sentiment is still the same," he says.
So, when Chauvin went up for trial, seangarrison was resigned to how he was sure it would go. There was next to no doubt in his mind. It would go, he thought then, like it always does: Chauvin would be acquitted, and the establishment would continue how they always had. But seangarrison felt he had to be there, be present in that moment with the community, channel the anger and energy into his art.
So he set up outside the government center, and began putting paint to canvas. The anxiety in the crowd was palpable, with a full year of anger and sadness ready to come to a head at any moment. seangarrison began filling the canvas with strokes of black and red–angry, frustrated colors, drawing on those emotions simmering around him. It seemed more and more like things could erupt into violence if the verdict was what seangarrison suspected it would be.
"I thought I was going to be in the middle of some mess," seangarrison recalls. "I was just going to be unwavering. If I had to take a bullet, I was going to take it for that last stroke."
Then, suddenly, after hours of waiting, the verdict came in. Derek Chauvin was declared guilty on all charges. Someone shouted the verdict to the crowd and there was an instant shift among the people gathered. Shouts and celebration erupted throughout the square. People were weeping and cheering, and car horns were honking. seangarrison recalls being stunned upon initially hearing the news, having a moment of disbelief that the conviction had actually happened. Then the joy began.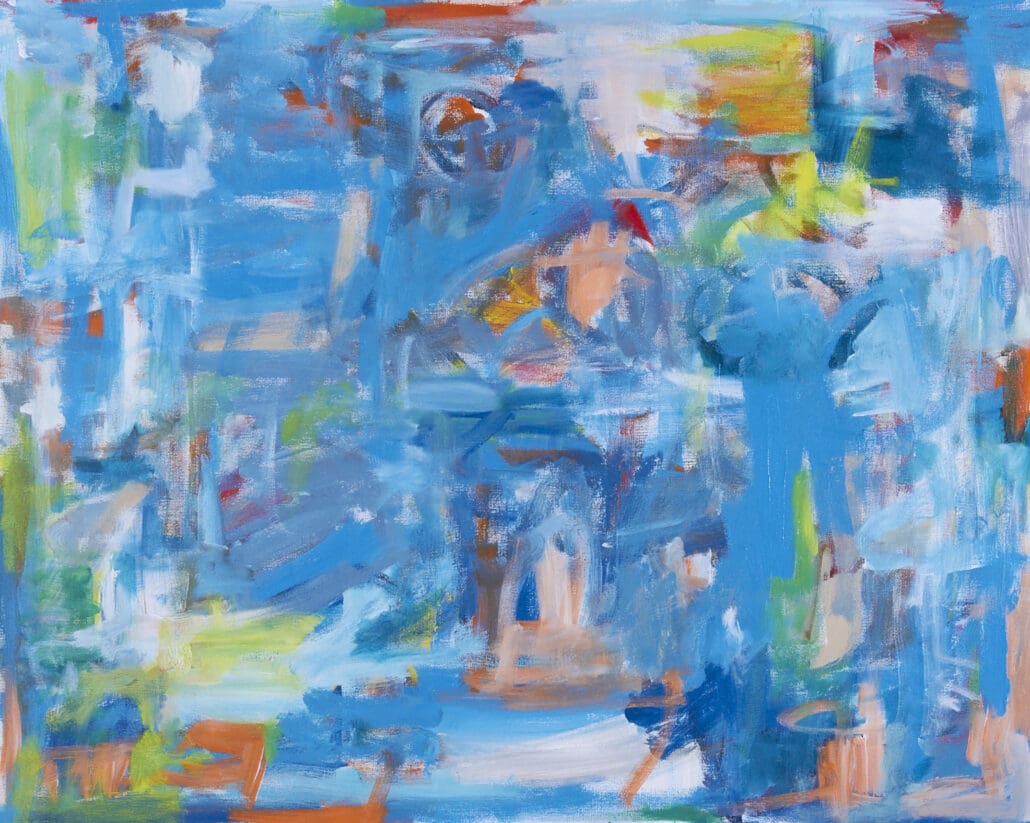 For seangarrison, blue is a color of hope, the color of a bright sky on a sunny day. seangarrison likens the feeling of the guilty verdict to the sun coming out.
"I saw sun, and spring fields," he says, describing what he pictured in that moment.
The painting shows that–bright, joyful blues smooth across the canvas, punctuated with bursts of orange, peach, and pale, fresh green. The colors overlap one another in chaotic, happy explosions made up of short, forceful brushstrokes. A few hints of the earlier angry reds peek through; after all, the joy felt that day was born from many lifetimes of hurt and anger. The painting process felt automatic to seangarrison–brushstrokes for every cheer and honk and expression of relief.  

Walking on Air captures the sheer joy of the moment of Chauvin's conviction. seangarrison feels that it was an assertion of the value of humanity. Of course, all problems were not suddenly fixed at that moment, but for seangarrison, that important victory for humanity felt incredibly powerful. This historical moment with seangarrison documenting the energy of the people in color, on canvas and in real time garnered local (KARE11) and national (MSNBC) attention. In response to a question by MSNBC's Ali Velshi seangarrison felt as if he was "walking on air."
Learn more about seangarrison and his work on seangarrisonartist.com.