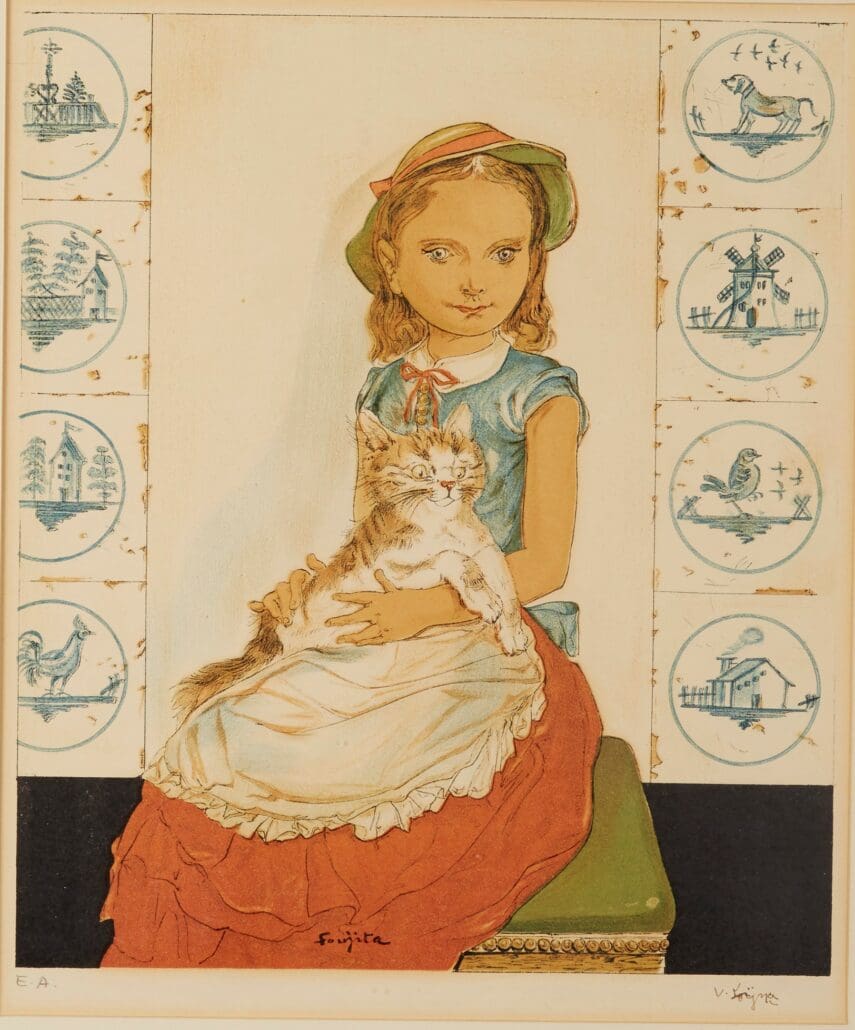 Born into a high-class family in Tokyo in 1886, Léonard Tsuguharu Foujita was a painter and printmaker and is regarded as one of the most prominent Japanese artists to work in the West. He studied Western art at Tokyo University of Fine Arts and Music and graduated in 1910. Since he was a child, he had dreams of going to Europe to be an artist, so he moved to Paris in 1913, where he met and befriended art masters, including Picasso, Modigliani, Matisse, Léger, and Cocteau. Foujita found great success in Europe– his new friends introduced him to the luxurious Parisian lifestyle, and he raked in plenty of money from his paintings of cityscapes, nudes, and cats. He was awarded both the Belgian Order of Leopold and the Legion of Honor by the French government.

 Foujita's wealth attracted an influx of models to his home, which resulted in his many paintings of nude women. Foujita was known for his huge ego, and after spending a large portion of his earnings on flashy and unnecessary material goods, he was presented with a bill he could not pay, so he fled to the Americas before returning to Japan during World War II to produce war propaganda. Foujita was known as a fascist imperialist, so his artwork during this time was widely controversial. However, after the war, he went back to France, became a citizen there, and converted to Catholicism, which inspired him to paint more religious subjects during his later years. In Reims, France, he designed and decorated the Foujita Chapel, the site where he was later buried after dying of cancer in Zurich, Switzerland in 1968.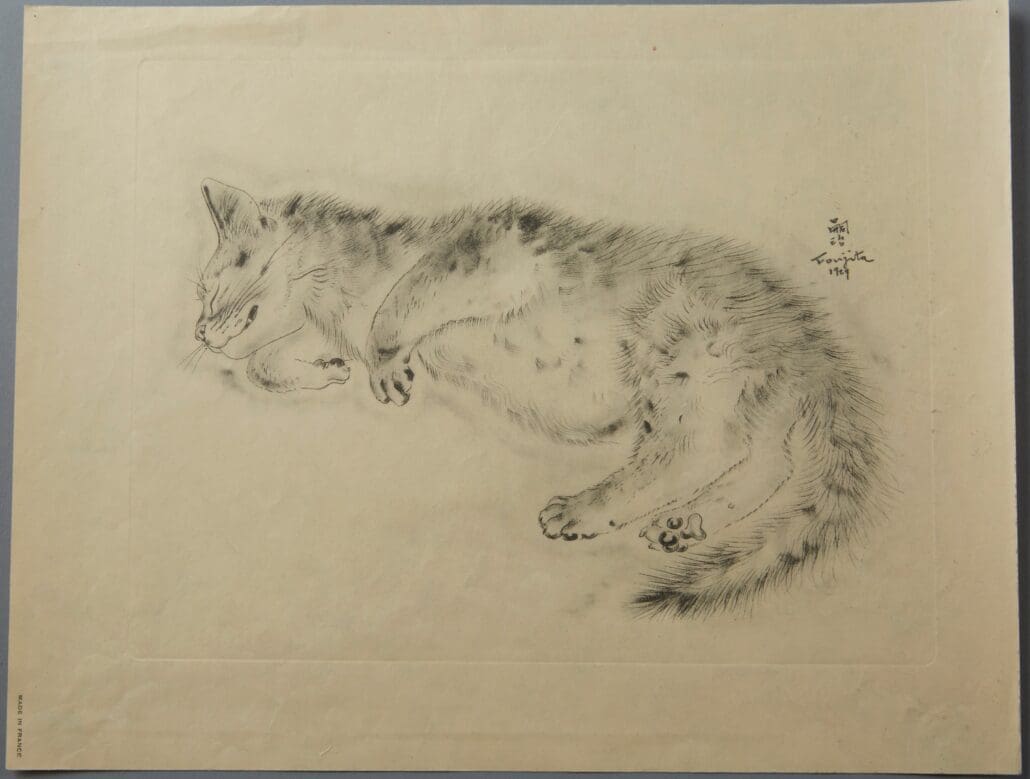 Though many beautiful women were memorialized in his prints and paintings, cats were Foujita's true muses. In numerous paintings of his, whether they be of himself or of naked women, cats were featured. In Japan, cats are seen as a symbol of luck, but Foujita especially appreciated them because they could be both wild and domestic. In 1930, twenty of Foujita's cat drawings were published in Book of Cats, which is one of the 500 most expensive rare books to ever be sold. The inclusion of Japanese style cats in Foujita's paintings brought in a new perspective to European Modernism and Art Deco, and this made him stand out from the rest of the visual artists working in Paris during the 20th century.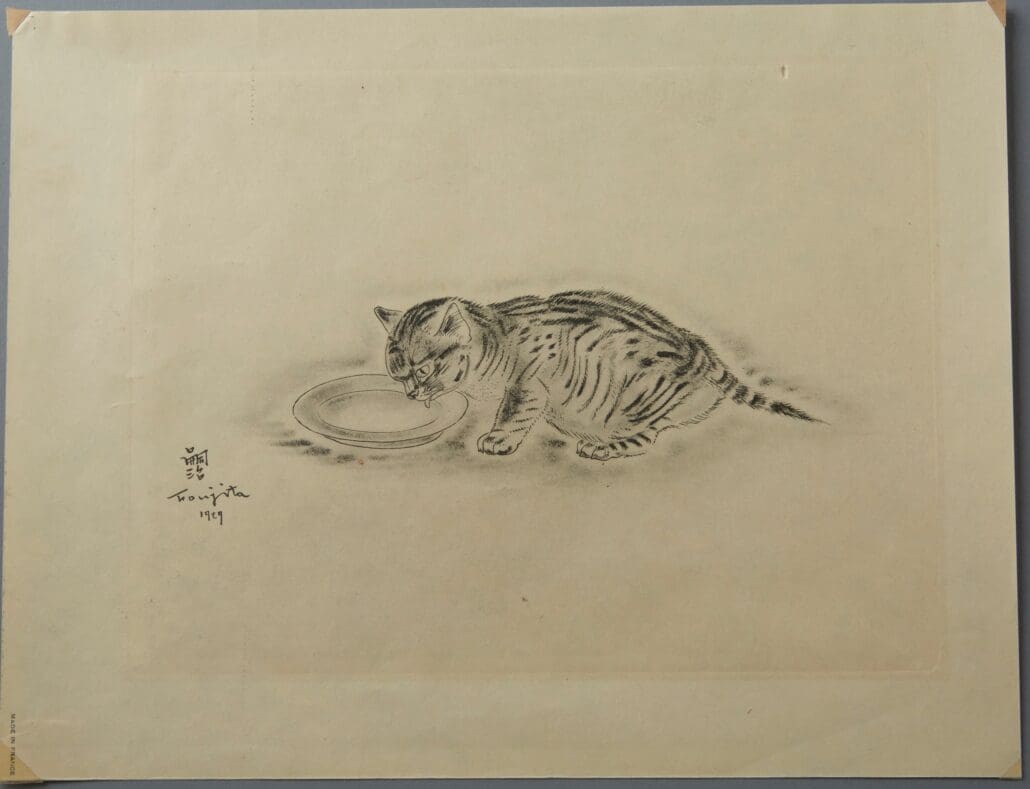 The image of the cat, however, was not the only Japanese element that Foujita brought to Paris. He notably fused Eastern and Western art with his methods of artmaking– he used both oil paint and ink often used in Asian art. He also used Japanese brushes and black outlines in his portraits of himself and female models. His signature touch was a homemade glaze of chalk, magnesium silicate, and flaxseed oil, which, combined and brushed over the paintings' surfaces, made his paintings appear glossy and pearly, unlike any other art at the time.
In addition to being one of the most famous artists to hybridize Eastern and Western art, Foujita himself was known for his striking appearance. His bowl cut hairstyle, brilliant hoop earrings, and rounded glasses could be spotted from a mile away, especially in the 1900s in Paris. His distinct style was no doubt a product of his upbringing (surrounded by sisters) and Parisian streetwear. Foujita thoroughly enjoyed dressing up for costume events, dressing in drag, wearing traditional Geisha outfits, or even wearing nothing but women's underwear. Foujita was so prominent in both the art and fashion world that one Paris store in particular had mannequins made to resemble him. It's no wonder he had such a big ego– he made quite the impression. Regardless of what people truly thought of him, there's no denying that Foujita, his cats, and his style had an impact on the Modernism movement in Paris, Japan, and everywhere in between.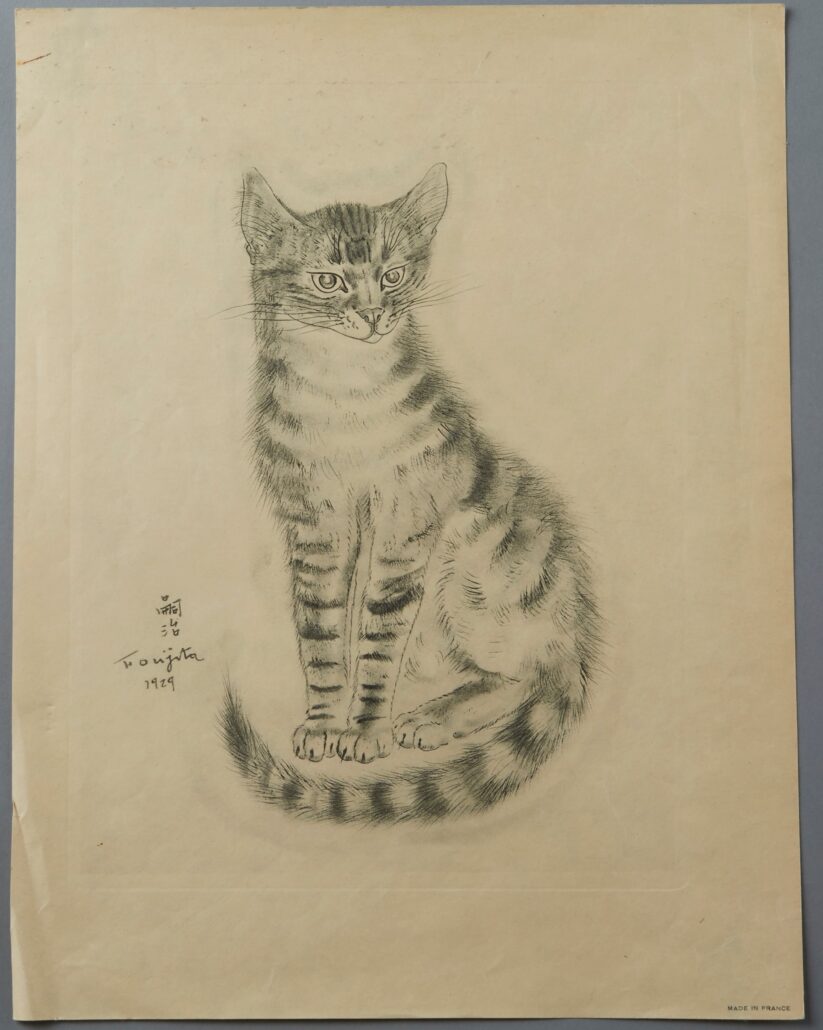 If you have artworks by Léonard Tsuguharu Foujita you wish to have appraised or sold please contact us here or at 612.440.6985.