Careers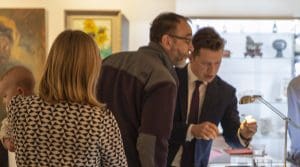 Jewelry Specialist
Responsible for all work associated with the evaluation of jewelry, timepieces and metals for auction. This will include providing auction estimates and valuing property for appraisals. You will oversee the consignment process, including cataloging, photography, condition reports, and managing the auction of jewelry and timepieces. You will be the main contact for client inquiries regarding appraisal services, consignments and auctions relating to jewelry and timepieces.
An ideal candidate will develop new opportunities for growth and maintain relationships with the top dealers, collectors, and institutions.
Job Skill Requirements
GIA Certified required
Bachelor's degree in Fine Art, Art History or related field preferred
2-4 years of experience working with jewelry, preferably within the auction industry
Knowledge of contemporary, vintage, and antique jewelry
Should be able to write and research jewelry appraisal reports
Ability to initiate new business
Ability to work in a fast paced environment
Excellent verbal and written communication skills
Internship
Internship at Revere Auctions, Minnesota's premier fine art auction house. This internship will include lots of hands-on work with art–interns will build familiarity with many styles and periods of fine and decorative art, gain object handling skills and experience, and learn inventory management techniques. Additionally, interns will have the opportunity to write about inventory objects that interest them, building writing and marketing skills. Interns will be immersed in the auction process from start to finish, assisting and learning about item intake, cataloguing, and photography, and participating in the live auction on auction day.
Example Tasks Include:
Research items for upcoming auctions.
Literary reviews.
Data management and input into inventory software.
Moving and measuring inventory.
Assisting Cataloguers and Appraisers on projects.
Organization of inventory and office space.
Assist with photography.
Assisting on auction days: this can include phone and/or online bidding, manning the front counter, and helping clients.
Internship Requirements:
10 hrs/week
Assisting with one auction
No experience necessary
This position is unpaid with the exception of auctions after the first required auction, preview days, and other optional events. However, we are happy to work with universities to help you get credit for the internship.
Application Requirements:
Writing sample of 300-500 words about an art piece.
Resume.
Cover letter explaining your interest in working at an auction house and in the art market in general.
Send applications to:
info@revereauctions.com
Please make the subject line: Internship Application.