Painter, illustrator, and printmaker Bertha Lum is recognized for her color woodblock prints utilizing Chinese and Japanese techniques. Much of her artwork reflects the style of classic Japanese ukiyo-e prints, depicting landscapes, women, kabuki actors, sumo wrestlers, and more.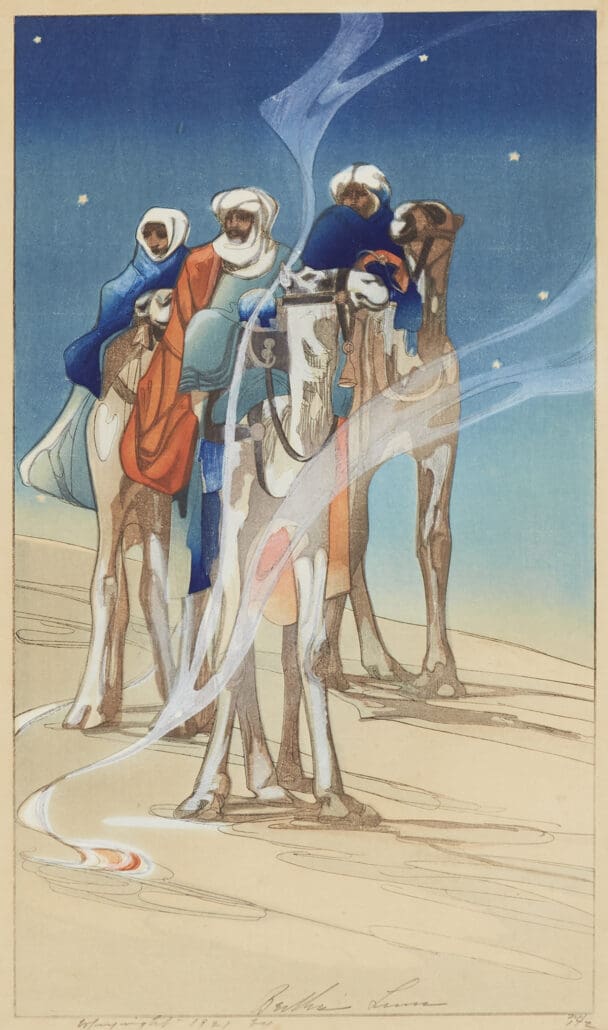 Biography
Bertha Boynton Bull was born in 1869 in Tipton, Iowa. Both of her parents were non-professional artists. She worked as an artist from 1890 to 1895 in Duluth.
In 1895, she registered in the department of design of the Art Institute of Chicago, studying with Anne Weston and Frank Holme. Bertha Bull married Burt Lum in 1903; the newlyweds went to Japan for their seven-week long honeymoon, where she wanted to learn the classic ukiyo-e method from a printmaker.
Lum's early prints were simplified improvisations on ukiyo-e classics, but the results were highly effective and poetic. On a return to Japan 1907, a professor from the Imperial Art School in Tokyo introduced Lum to Igami Bonkutsu, a block cutter in Yokohama. Lum worked with Igami for two months, and followed this apprenticeship with one with Nishimura Kamakichi. Lum's images from this period are focused on soft variations of tone and color, eschewing the black outline block of traditional ukiyo-e.
Lum's woodcuts were the only foreign items in the Tokyo Tenth Annual Art Exhibition in 1912; she was also the only female artist to participate. Later in the same year, her work was shown in a solo exhibition in Chicago and New York City at the Albert Roullier Art Gallery and the Katz Gallery. In 1915, Lum's prints were shown in Panama-Pacific International Exposition San Francisco, for which she was awarded a silver medal. Her work was also included at the Art Institute of Chicago's Exhibition of Etchings and Block Prints in 1919.
The Lum family moved to San Francisco in 1917; in 1920, she made one of her popular prints there, "Point Lobos." With her daughter, Bertha Lum went to China in 1922. She developed a technique there for "raised-line" prints, which feature block outlines hand-colored using watercolor. In 1922, her first illustrated book, Gods, Goblins, and Ghosts, was published, based on her travels in Japan.
In 1936, Lum's second book, Gangplanks to the East, was published, a collection of travel stories and Asian folklore tales. Her eyesight began to deteriorate after 1937, ending her ability to create prints. Bertha Lum died in Genoa, Italy, in 1954 at the home of her older daughter.
Lum's works are present at the Smithsonian Museum of American Art, the Fine Arts Museums of San Francisco, the Library of Congress, and private collectors. She was a member of the Print Makers Society of California, the California Society of Printmakers (then known as the California Society of Etchers), and the Asiatic Society of Japan.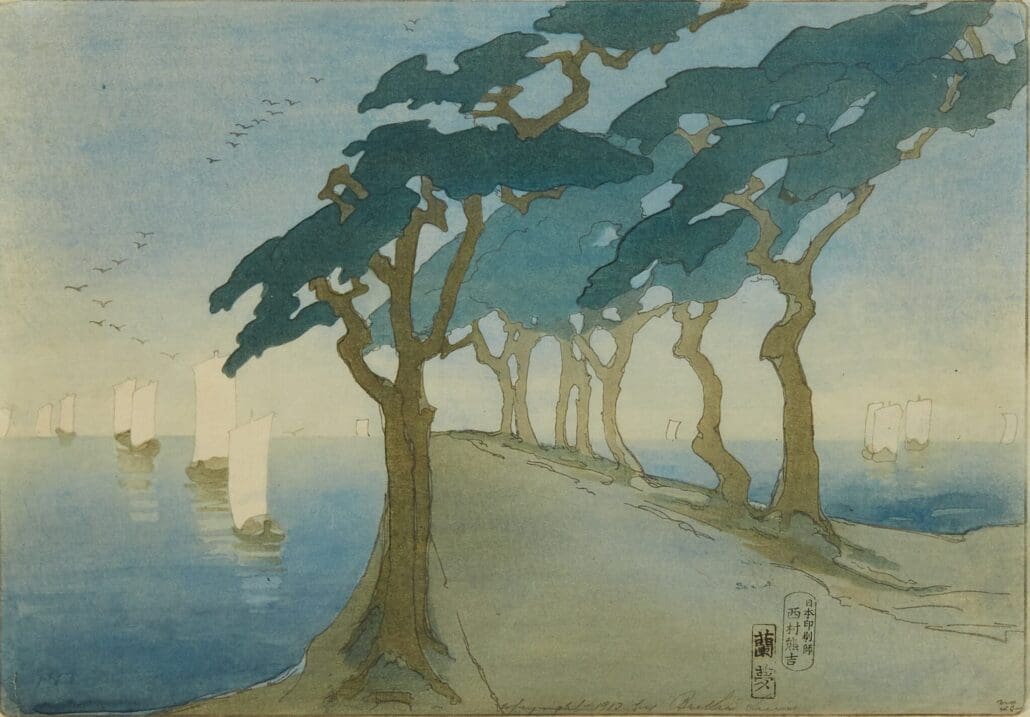 Objects
Bertha Lum's distinctive style includes fantastic and delicate Japanese woodblock prints. The influence of her travels to Japan and China can be seen in her work. Lum's prints combine Art-Nouveau curves with flat color planes that reflect 19th-century ukiyo-e.
The subject of Lum's work ranges from landscapes to children to mysterious figures from Asian legend and folklore. Scenes of flying lanterns and birds soaring in the skies demonstrate her range. Her images are detailed with rich and vibrant color with impeccable precision and techniques of Japanese woodcut techniques.
Market
The market is relatively steady for Bertha's work, with prices ranging from $100 to $9,000, depending on the medium and size of the artwork. On average, her oil paintings, mixed media, and watercolors sell for a thousands of dollars, while her gouaches sell for slightly less. Her highest value work ranges from portraiture to landscape.
Appraise and Sell Bertha Lum's Artwork
If you have any piece of art from Bertha Lum, including her woodblock prints, oil paintings, or watercolors, get in touch with our experts at Revere Auctions. If you would like to sell your Lum originals, you can auction them at our location in St. Paul, Minnesota. We also offer our services online. 

You can contact us anytime for a free auction estimate if you want to sell Lum's artwork. We have a very simple process. After you send us the photos of the work, our experts will take a look, analyze, and provide you an estimate of the amount the artwork is likely to reach at auction.
If you need an appraisal for Bertha Lum's work, we provide a certified appraisal report that can be used for estate taxes, donations, and insurance coverage. Our appraisals are compliant with Uniform Standards of Professional Appraisal Practice and are accepted by insurance companies, charity agencies, and the IRS.