A quick glance at any Charles Fazzino art piece, and you will be stunned by the detail, vibrancy, and color. But just wait until you hear about his process and technique! His ability to capture the movement and energy of a place is truly unparalleled.
---
Who is Charles Fazzino? Artist Biography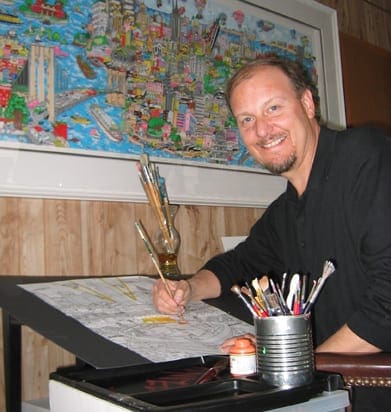 Born in Westchester County, New York, where he still resides today, Charles Fazzino grew up in a highly creative household. His father was a high-end shoe designer, and his mother was a sculptor. From a young age, he was fascinated with pop-up books and three-dimensional movies. As a 7th grader in 1967, he took his first formal art class, followed by a solo exhibition at his school the following year. Much of his artistic inspiration from childhood on came from the lights, color, and buzz of Manhattan, where he would travel by train.
Born: December 26, 1955
Nationality: American
Category: Silkscreen Serigraphs in 3D Pop Art Style
Related Artists: James Rizzi, Andy Warhol, Takashi Murakami
Sign up for Revere Auctions' newsletter to learn about upcoming events and the latest Charles Fazzino artworks.
What is the Artist Charles Fazzino Known for?
Fazzino is known for intricate details, bright colors, and a splash of humor in his art. As an artist, Fazzino has created commemorative works for major athletic events, such as the Olympic Games and the Super Bowl. He has even produced artwork for the Grammys and a rotating 3D American Airlines plane for New York City's JFK International Airport. Charles Fazzino artwork has had a tremendous impact on the art world, and his works can be seen around the globe.
All images, artwork, and designs are copyrighted under the name Charles Fazzino except where noted. Reproduction of any kind is prohibited without the prior written consent of Charles Fazzino.
What Art Mediums Did Charles Fazzino Use?
Although primarily known for silk screen printing, Charles also uses canvas, mixed media, and various objects in his work and is influenced by urban landscapes, celebrities, and sports events. His three-dimensional process involves using layers of flat cutouts that are silk screened, cut, and glued to create the 3D effect.
3D Pop Art
Charles Fazzino pop art is full of color, richness, and vibrancy. For Charles Fazzino, the 3D art is created using an extensive layering process done by hand. He created 3D limited edition silkscreens to make his art stand out. The shapes and colors are not only inspired by pop culture, but they really pop due to the level of detail with Charles Fazzino's 3D method.
Acrylic Painting
Fazzino is an artist who is meticulous in his technique and spends time ensuring every detail is just right, which can take up to six months. After all of the printing, cutting, and gluing, embellishments are done by hand with acrylic paint. For added impact, he often uses glitter and crystals on top of the paint.
Where Did Charles Fazzino Study Art?
Fazzino the artist wasn't always known for bright colors and 3D prints. His early exhibitions were pen and ink sketches. He studied art history at the Parsons School of Design and received his Bachelor of Arts in 1977 at the School of Visual Arts in New York City.
It wasn't until he came across a 3D decoupage class in 1980 that he became fascinated with three-dimensionality and started developing his techniques in 3D lithographs and silk screen printing. Charles' love for New York City can be found in countless pieces such as this one, and no two are exactly alike!
Although a primary source of creativity for Fazzino, not all of his pieces are cityscapes – check out this idyllic landscape piece on canvas.

Revere Auctions provides the best value for your Charles Fazzino works through extensive consignment and acquisition services.
How Much Are Charles Fazzino Prints Worth?
As is true for most artists, Charles Fazzino art prices will vary depending on the medium, edition, and size of the artwork. Strong collaborations with companies such as Disney, as well as licensed products such as clothing and puzzles, have boosted the popularity of the artist and increased Charles Fazzino's net worth. Charles Fazzino pieces have been sold multiple times at auction with high demand across Europe and the United States. The rising of Fazzino art prices has allowed for a pretty impressive price list for Fazzino.
Charles Fazzino Auction Prices
Historical auction sales range: $200-$5,000
Average auction estimate for original prints: $200-$4,000
Average auction estimate for original paintings: $200-$5,000
---
Valuable Charles Fazzino Paintings and Prints
Some of the most notable as far as Charles Fazzino art value goes are the cityscapes and sports-related pieces. Now that you know more about the artist, this should come as no surprise given the personal significance of New York City. Below, we take a deeper look at some of Fazzino's most valuable pieces, such as Charles Fazzino Big Apple and Charles Fazzino Broadway. Take a peek at his website for a full Charles Fazzino gallery experience!
Charles Fazzino, Big Apple
This sculpture features Fazzino's classic bright red, shiny apple with some of the most iconic New York City buildings and landmarks.
Estimate: $500-$700
Result: $1,300

Charles Fazzino, Atlantic City Boardwalk
Charles Fazzino Atlantic City is a playful take on the boardwalk in the heat of summer and even incorporates some water sports.
Estimate: $600-$800
Result: $750

Charles Fazzino, Baseball Collection
The Charles Fazzino Baseball Collection is a nod to his love of the sport, depicting a day at the ballpark, such as the piece Charles Fazzino Yankees (hot dogs included). He also hand-painted baseballs for teams like the Los Angeles Dodgers.
Estimate: $400-$800
Result: $700

Charles Fazzino, Broadway Series
This series is another Charles Fazzino New York classic and one of the most comprehensive art collections out there, capturing the true vibrant energy of Broadway in pieces such as Charles Fazzino the Best Ticket on Broadway.
Estimate: $800-$1,200
Result: $2,200

Charles Fazzino, Cityscape Series
This series includes Charles Fazzino Chicago, Charles Fazzino Boston, and Charles Fazzino Disney, but also renditions of cities and countries around the globe.
Estimate: $300-$500
Result: $700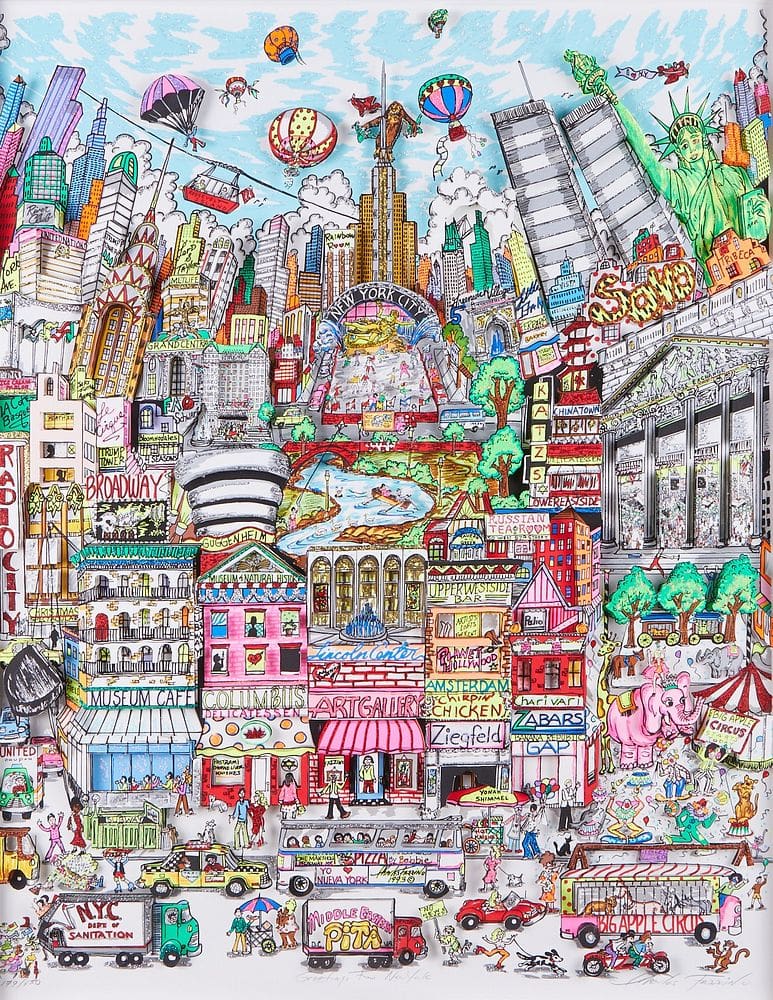 Charles Fazzino, For a Better World
One of his most ambitious releases to date, Charles Fazzino For a Better World involved over a year of planning, conveying his vision and message to the world.
Estimate: $600-$1,200
Estimated Value: $1,000
Charles Fazzino, Super Bowl Series
As an official artist of the Super Bowl, Charles Fazzino Super Bowl Series perfectly captures the energy, thrill, and love of the game, specifically his Super Bowl LVI.
Estimate: $600-$800
Result: $950
How to Identify a Charles Fazzino Signature

Charles Fazzino's signature is almost always in black ink and is in cursive with a distinctive double 'z.' You may also notice that his digital signature is bolder and only includes his last name with a flourish underneath. At Revere Auctions, you can rest assured that your Fazzino piece has been authenticated by trusted experts.
How Can I Sell My Charles Fazzino Art?
Whether you have a Fazzino original cityscape, 3D pop art, or a sports object, if you're looking to sell, there is demand. Choosing the right auction house can make a world of a difference in your selling price and overall experience, so be sure to do your research ahead of time. Find an auction house that has a dedicated team of art appraisers and will provide documentation with your appraisal.

Revere Auctions Sells Your Charles Fazzino Art
Ready to sell your Charles Fazzino art? Leave it to the trusted team at Revere Auctions to handle it all from start to finish. Our unique marketing approach provides exposure to international clients and collectors, securing the strongest selling price. We work with everyone from large corporations to estates to individual clients and offer online services as well as in-person auctions at our location in St. Paul, Minnesota.
Reach out today for your free estimate!
Discover Works From Artists Like Charles Fazzino

Another New York native, James Rizzi is an American pop artist known for bright colors and three-dimensionality in his art. 
Perhaps the most well-known pop artist of all time, Andy Warhol is known for bold colors and iconic imagery in various media.
Takashi Murakami
Japanese contemporary artist Takashi Murakami is known for utilizing mixed media and large-scale 3D objects full of color and influenced by pop culture.