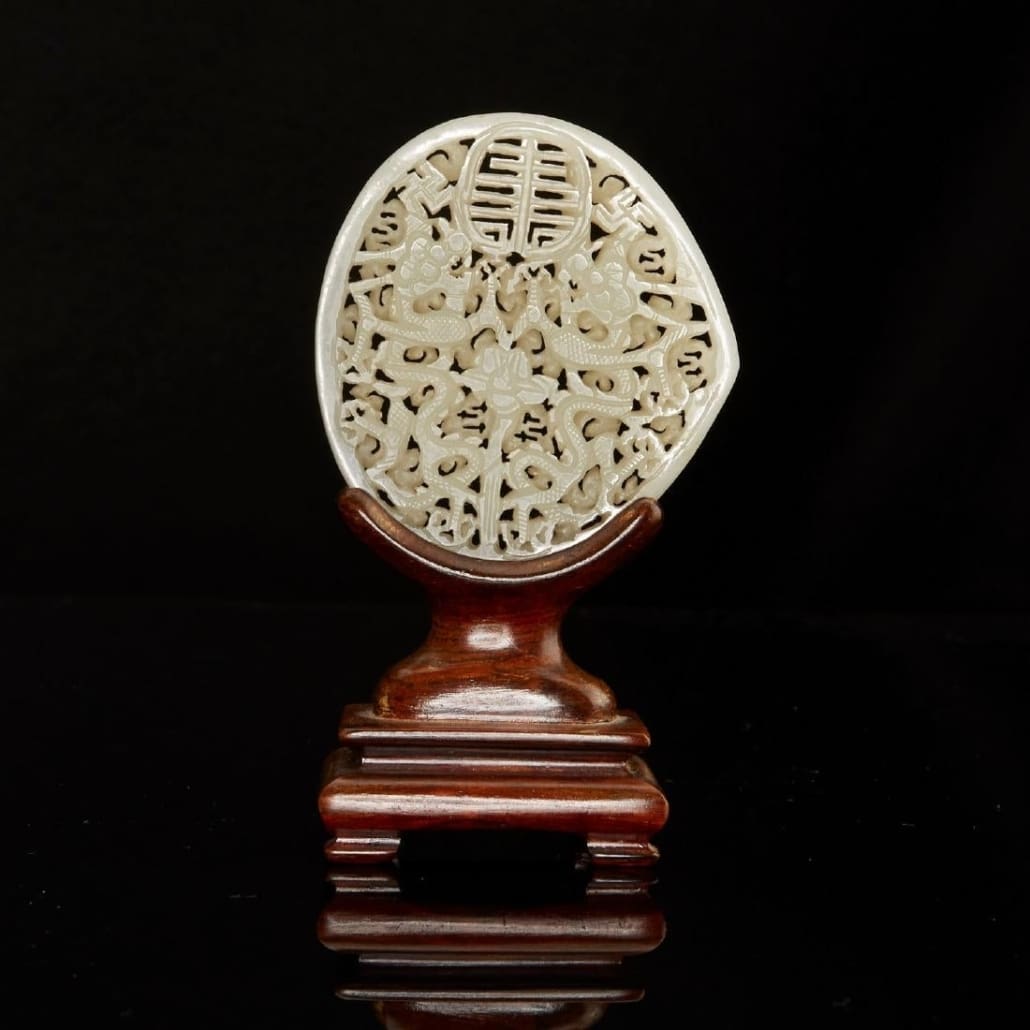 Looking for an Expert to Appraise Chinese Antique Jade in Minnesota?
Have a Chinese antique jade you want to sell? Before you put it on the market, be sure to have an appraiser assess its value. Since Chinese antique jades come from various historical eras and in a variety of shapes, sizes, and colors, getting an appraisal for fair market value can be particularly difficult.
Chinese antique jade appraisal is an art. That's why you should definitely hire a certified appraiser for the job. Not only will the appraiser tell you the value of the jade, but he or she will also teach you all you need to know about the importance and the rich history of Chinese antique jade. An appraiser will carefully examine the piece, and issue a certified document that can be used for affirming the price for sale, getting a tax refund for a donation, or for insurance purposes.
We at Revere Auctions appraise and sell more Chinese antique jade than anyone else in Minnesota (MN). It would be our pleasure to advise you through the process.
Many different factors affect the value of antique Chinese jade, including age, size, complexity, condition, and popularity within the market. Read through the following sections for an in-depth look at what brings value to Chinese jade.
Three Major Time Periods
One of the first things an antique appraiser will do is to place your Chinese jade into the appropriate era. Neolithic jades, for instance, mostly consist of tools and ritual objects, created between 2000 B.C.E. and 4000 B.C.E. High-polish jades, produced in numerous colors, most likely belong to the Ming dynasty (1368-1644), while white, translucent jades are characteristic of the Qing dynasty (1644-1911). Out of the three, Qing dynasty jades are considered to be of the highest quality.The Modern Era, after 1911, is where most other jades fall. Those have lesser value and but replicate all of the earlier styles. Their similarity to many earlier eras of jades can make them difficult to appraise.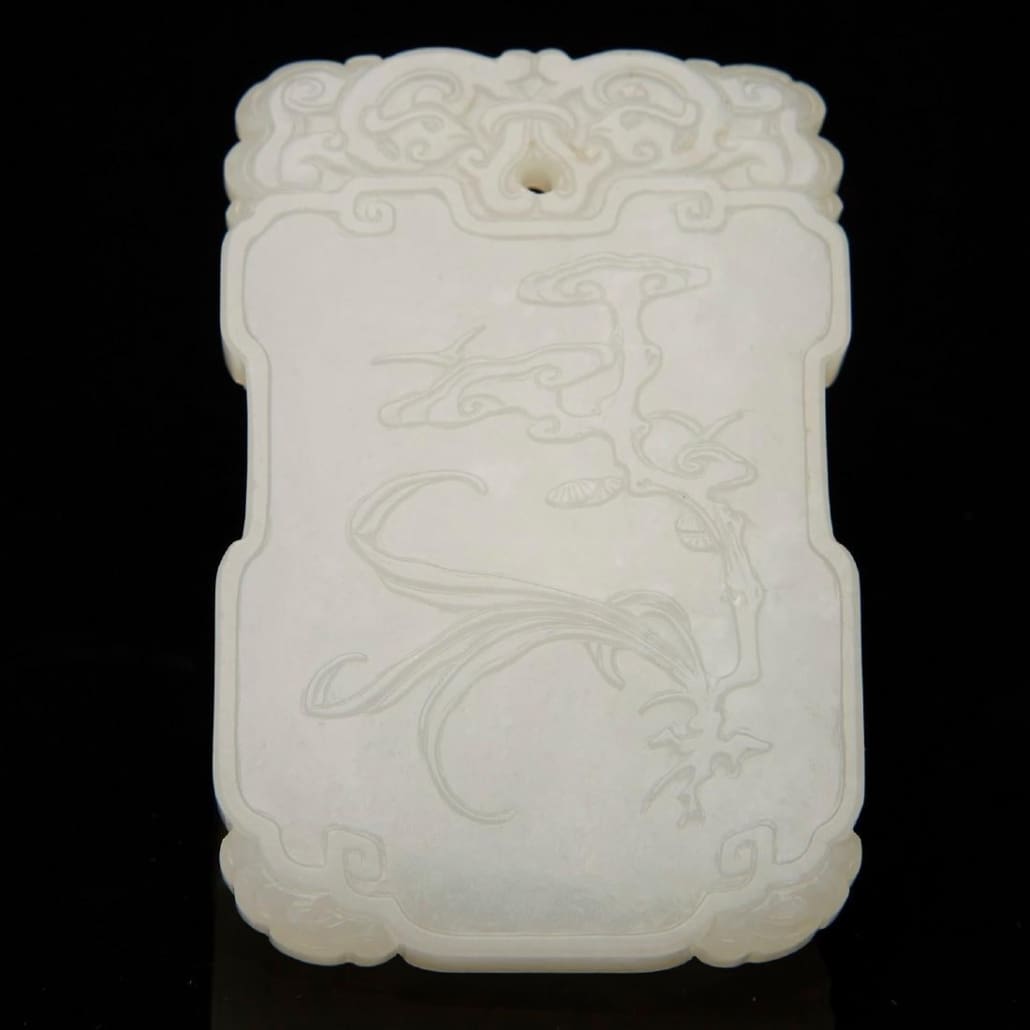 The Size of the Piece
The size of the piece is an important factor that affects its value. Needless to say, smaller Chinese antique jades are usually less valuable than larger pieces. However, there are exceptions to the general rule. Some small-scale jades are decorated with an abundance of details that powerfully showcase the maker's skills, and add life and value to the items. Small jades often take the form of pendants or small desk objects like animals or fruit. Don't discount the small ones; sometimes their value can reach into the thousands of dollars.
Hidden Messages
Many Chinese antique jade objects have hidden rebuses conveying positive messages, meant to bring luck and joy to their owners. These decorative rebuses are particularly frequent in Ming and Qing dynasty jades. These messages are often in the form of clever visual puns. Imagine, for instance, a jade that depicts ducks swimming under some flowers. The Mandarin (the main Chinese dialect) words for "duck" and "flower" when said next to each other sound like the words for "long life" or "good fortune." Creating these puns became a national pastime in China. They appear frequently in artworks, and in various forms are a common gift from people to people they care for who are going through exciting life changes. Because of the popularity of this art form, this factor should be considered in an antique Chinese jade appraisal. There are several good books on the topic in English that can help you in appraising your jade.
The Complexity of the Composition
Great Chinese carving masters were capable of engraving complex compositions into the smallest pieces of jade. This is what separated exceptional jade carvers from average ones. Each motif, whether it's a landscape, animal, human figure, or a scene from a famous Chinese story, is carved with outstanding precision, as the technique leaves no room for error. Marked with great attention to detail, these intricate compositions can really boost the price of jade. If two jades have the same quality of stone and are the same size, often the more detailed or lifelike one will be appraised for more.
The Condition: The big factor in Antique Chinese Jade Appraisals
Some Chinese antique jades come in mint condition. Others require restoration and conservation. Since certain jades were created millennia ago, it's not unusual to see some degree of damage to them. The poor condition can lower the price of jade drastically, and the costs of cleaning and repair are also added to the equation. That's why antique jade appraisers pay special attention to the condition of the jade. If the piece you are looking to sell needs repair, we at Revere Auctions can connect you to our network of conservation and restoration specialists from the Minneapolis–St. Paul metropolitan area and all over the world.
The Position of the Piece within the Art Market
The antique market is in constant fluctuation. Not long ago, collectors were on the lookout for white and spinach-green jades, but now translucent 18th-century jades are in higher demand. Following market trends is of crucial importance for appraising antique jade objects. Even the most beautiful Chinese antique jade is valueless if you can't sell it on the market. To evaluate the demand for a piece, our appraiser will research the prices similar items reached on the market, and then make needed adjustments. If the piece was already sold and resold on the market, previous sales records can also serve as a guide. Understanding an item's value relative to other recent sales which often are not very similar is key to placing the appraisal value.
Your Top Pick for Appraising Chinese Antique Jade in Minnesota
If you are an antique jade owner who's looking to appraise a piece, don't hesitate to contact us. Located in St. Paul (MN), Revere Auctions offers the Twin Cities extensive knowledge and years of experience in appraising Chinese antique jade in the Minnesota area. We provide full service–appraising not only the price but also the age, quality, size, rarity, maker, style, medium, date, subject matter, provenance, condition, etc.
If you are thinking of selling your jade, you can simply ask us for a free auction estimate of value. That is a quick verbal estimate of what similar objects are selling for at auction at the moment. It is free and easy; email us a photo to get the process started. And for a fee, Revere Auctions will issue you a certified appraisal report with detailed description and images of the jade that you can use for insurance coverage and donation tax refunds. Our appraisals are compliant with uniform professional standards, and are accepted by all insurance companies, cultural institutions, and the IRS.
If you would like to find out more about your jade, its value and how old it is I strongly recommend this book which has tons of great information.