During the 1930s, Theodor Seuss Geisel, better known by his pen name Dr. Seuss, created a series of 18 unorthodox taxidermy sculptures. Collectively referred to as The Seuss System of Unorthodox Taxidermy, these sculptures depicted colorful and strange "Seussian" creatures such as the "Cruel Hack-Biter" or the "Semi-Normal Green-Lidded Fawn."
While the original Dr. Seuss taxidermy pieces are all held in private collections, many high quality reproductions of the originals were created and released in limited series during the 1990s and 2000s. Most of these taxidermy sculptures were created in batches of about 850. These eye-catching pieces still inspire Dr. Seuss fans to this day, and they can fetch high values when they appear at auction. This article will aim to answer common questions on the history and construction of Dr Seuss unorthodox taxidermy, and give a comprehensive picture of the rarity and value of these pieces.
What is Dr. Seuss Taxidermy?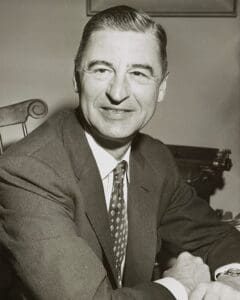 During the 1930s, Dr Seuss created a series of 18 unorthodox taxidermy sculptures of fantasy animals loosely resembling fish, birds, or mammals. These sculptures were mostly mounted around his New York City apartment, where they surprised and delighted his guests. Some of his sculptures were also displayed in bookshops around New York to advertise the release of his first children's book "And to Think That I Saw It on Mulberry Street" in 1937.
Seuss took inspiration for his creations from his many childhood visits to Springfield Zoo in Massachusetts, where he was able to view a variety of awe inspiring exotic animals. After his father became superintendent of the parks in Springfield, he sent Seuss a variety of horns, antlers, bills and other natural objects from animals who passed away at the zoo. Seuss incorporated these items into his taxidermy sculptures.
Although many of the sculptures did incorporate ethically sourced animal components, these sculptures are referred to as "Unorthodox taxidermy" since they are not made of disemboweled and restructured animal skins. Instead, the taxidermy sculptures were sculpted out of plaster and painted, then mounted on traditional wooden boards. Many, but not all, included accents such as antlers or hair from real animals.
Are Dr. Seuss Unorthodox Taxidermy Art Pieces Rare?
There are only 18 known original Dr. Seuss taxidermy pieces, all of which are currently held in private collections. However, public interest in these unique sculptures led to limited series of reproductions being released in the 1990s and 2000s. These series typically contained 850 numbered pieces each, plus some special collectors edition pieces. If a Dr Seuss unorthodox taxidermy sculpture becomes available at auction, it is almost certainly one of these reproductions. That being said, demand for these high quality reproductions far outstrips the quantity available, and they rarely fail to sell at auction.
Revere Auctions' newsletter keeps you up to date on the latest events and upcoming auctions for Dr. Seuss Unorthodox Taxidermy.
How Much Are Dr. Seuss Taxidermy Sculptures Worth?
Dr. Seuss Taxidermy sculpture reproductions are very popular with collectors of Dr Seuss' work. Prices for the sculptures vary depending on the size, quality, and relative rarity of the piece, although most sculptures sell for between $3,000 and $20,000. His mounts of hoofed animal heads are typically the most highly valued and often sell for $10,000 or more. In comparison, his fish and bird mounts generally sell for $3,000 to $6,000.

Revere Auctions provides the best value for your Dr. Seuss Unorthodox Taxidermy through extensive consignment and acquisition services.
The Values of Dr. Seuss Unorthodox Taxidermy
Here is a sample of some of Dr Seuss' most popular taxidermy pieces. The estimates and prices below are collected from finished auctions of replica pieces, as original Dr Seuss sculptures are almost never found at auction.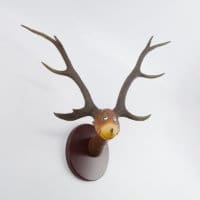 A hand-painted cast resin sculpture depicting a mounted deer head in Seuss' signature style.
Estimate: $2,000-$4,000
Result: $5,000
Andulovian Grackler
This mount is of a bird with a long pink neck, toucan-like yellow beak, and tuft of brown hair on the top of its head. It is considered harder to find than many other Dr Seuss taxidermy pieces.
Estimate: $4,000-$6,500
Result: $4,200
Carbonic Walrus
Mount of a chubby blue walrus with lopsided white tusks looking directly out from a round wooden mount.
Estimate: $4,000-$6,000
Result: $3,000
Anthony Drexel Goldfarb
Mount of a long-necked smiling animal with large floppy ears reminiscent of a hound dog or a rabbit.
Estimate: $4,000-$6,000
Result: $3,675
Goo Goo Eyed Tasmanian Wolghast
Head mount of a ram like animal with large, curved horns and expressive eyes.
Estimate: $4,600
Result: $5,000
Blue Green Abelard
This head mount of a "Blue Green Abelard" is loosely based off of a spiral-horned antelope. One of the most consistently popular pieces of Dr Seuss taxidermy, the Blue Green Abelard regularly sells for $10,000 or more.
Estimate: $15,000-$18,000
Result: $22,815
Flaming Herring
A full body mount of a frilly orange fish with a surprised expression on its face.
Estimate: $4,000-$6,000
Result: $3,250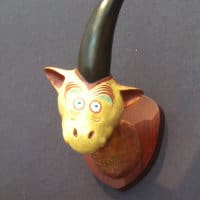 Dr. Seuss, Mulberry Street Unicorn
Originally designed in concert with his first children's book "And to Think That I Saw It on Mulberry Street" this brown animal has a large rhinoceros like horn protruding from the top of its head.
Estimate: $4,000-$6,000
Result: $10,840
Additional Unorthodox Taxidermy Works
Besides those listed above, Dr Seuss created a variety of other animal mounts. These include a large variety of marine creatures such as the "Turtle necked sea turtle," "sludge tarpon," "Powerless puffer," "Sea-going dilemma fish," "Gimlet fish," "Seasick walrus," and "Cruel Hack Biter." He also created several more hooved animal mounts like "Two horned Drouberhannis" and the "Semi-normal green-lidded fawn" as well as the "Kangaroo Bird" and the small, hippo-like "tufted Gustard."
How Can I Sell My Dr. Seuss Unorthodox Taxidermy?
Based off of Dr Seuss' imaginative sculptures from the 1930s, modern replicas of these unorthodox taxidermy sculptures are highly valued decorative pieces that showcase the fantastical world of Dr Seuss in 3D. While some individuals choose to list their Dr. Seuss unorthodox taxidermy on online shopping sites, going through an auction house will often yield better results. An appraisal from a trusted auction house can help you determine the value of your piece, as well as the best method to sell the item.

Have your Dr. Seuss works valued by experts with Revere Auctions appraisal services.
Revere Auctions Sells Your Dr. Seuss Unorthodox Taxidermy
Revere Auctions has expertise in selling Dr Seuss unorthodox taxidermy sculptures at auction for competitive prices. Our experts at Revere Auctions are ready to help you with any stage of your art journey, whether you are looking for an estimate of value, a USPAP certified appraisal, art restoration, or an effortless way to sell your art. We advertise our sales on more auction platforms than any other auction house in America, and regularly achieve record prices for our objects. If you are interested in selling with us, please reach out for a free online appraisal of your piece today.
Discover Works From More Artists Like Dr. Seuss
Here are a few additional artists who have produced work similar to that of Dr Seuss.
George Rodrigue
A pop artist contemporary to Dr. Seuss, Rodrigue created colorful paintings that always incorporated a bright blue dog.
Markus Pierson
Pierson created paintings and figures of highly stylized anthropomorphic animals engaged in modern human activities.
Tom Everhart
Everhart created highly colorful and childlike paintings of Peanuts characters, especially Snoopy the dog.