"Instead of a long-running and bloody battle with Nature to dominate her, we can walk in step with a tree to release the joy in her grains, to join with her to realise her potentials, to enhance the environments of man." -George Nakashima
In the late 90s, a resurgent mid-century aesthetic began dominating set designs, urban eateries, and jet-set style profiles. Since then, demand has driven up prices for original mid-century classics. Meanwhile, mass-market stores like CB2, West Elm, and Room and Board offer more affordable takes on these popular, pared-back silhouettes.
But while reproductions may be able to approximate a Saarinen tulip table or Arne Jacobsen egg chair, furniture-maker George Nakashima's creations can be much harder to emulate. That's because Nakashima let his materials shape his designs and used time-consuming, traditional techniques to make them. The resulting pieces were unique constructions that preserved and celebrated knots, wormholes, and cracks—souvenirs of a tree's life.
Nakashima oversaw the milling of every log and frequently spent weeks or even years with a piece of wood, believing that each board had only one ideal use that would reveal itself in time. Clients who commissioned pieces frequently visited Nakashima at his Pennsylvania workshop, where he helped them select boards best suited for their end-use and aesthetics.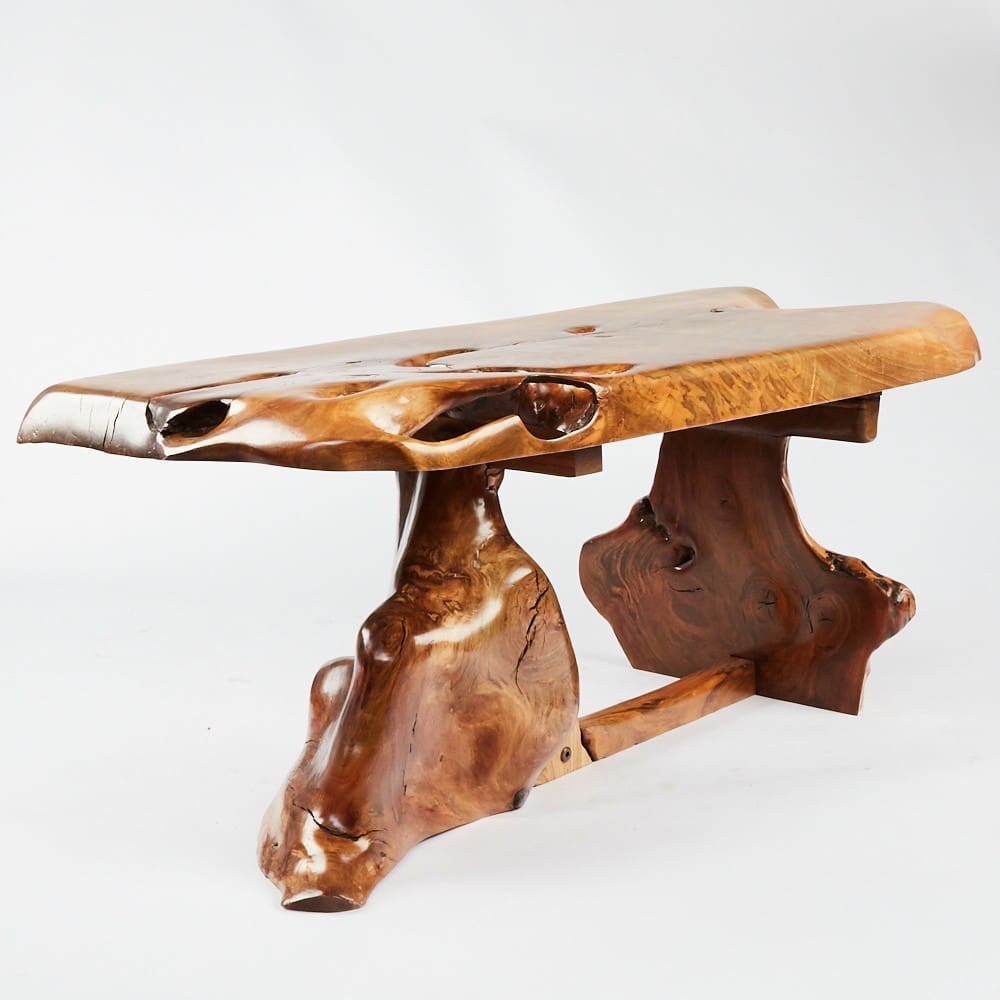 Who was George Nakashima?
George Nakashima was born in Spokane, Washington in 1905 to Japanese immigrants. After earning his Master's Degree in architecture at MIT, he traveled the world and worked as an architect until 1941, when he switched to woodworking.
In 1942, the U.S. government forcefully relocated and imprisoned 120,000 Japanese immigrants and American citizens of Japanese descent. Nakashima, his American wife Marion, and their infant daughter Mira were among them. In their Idaho barracks, Nakashima met master carpenter Gentaro Hikogawa and continued honing his furniture-making practice and philosophy.
Hikogawa taught Nakashima to use Japanese hand tools as well as the rigorous art of Japanese joinery, whose precision and ingenuity evolved to withstand the country's frequent earthquakes. Joinery became a hallmark of Nakashima's pieces—so much so that the butterfly joint is sometimes called the Nakashima joint because of its frequent appearance in his work.
Where can you see Nakashima furniture?
While butterfly joints and live-edge tables now abound online, the superior warmth and artistry of Nakashima's designs are best experienced in-person.
Following his death in 1990, Nakashima's daughter and apprentice Mira took over the family business and continues to produce George's original designs as well as her own innovations. George Nakashima Woodworkers in New Hope, PA have open studios on Saturday afternoons (call ahead to check on pandemic restrictions). The Metropolitan Museum of Art in New York City has several pieces on-view, and The Moderne Gallery in Philadelphia has a rotating exhibition of Nakashima works.
But the Andersen Horticultural Library in Chaska, Minnesota is perhaps the best way to experience Nakashima's creations as he intended—as functional, comfortable, and lived-in furniture. The library has the largest public collection of Nakashima furniture in the world and is outfitted with custom works from both George and Mira Nakashima. For a $15 admission fee, you can tour the Minnesota Landscape Arboretum and spend your afternoon among Nakashima bookshelves in a Nakashima chair, gazing at a Nakashima table made from 400-year-old English oak (even the wall clock is Nakashima).
Have a Nakashima piece you'd like to consign? Contact Revere Auctions at info@revereauctions.com for a free auction estimate.