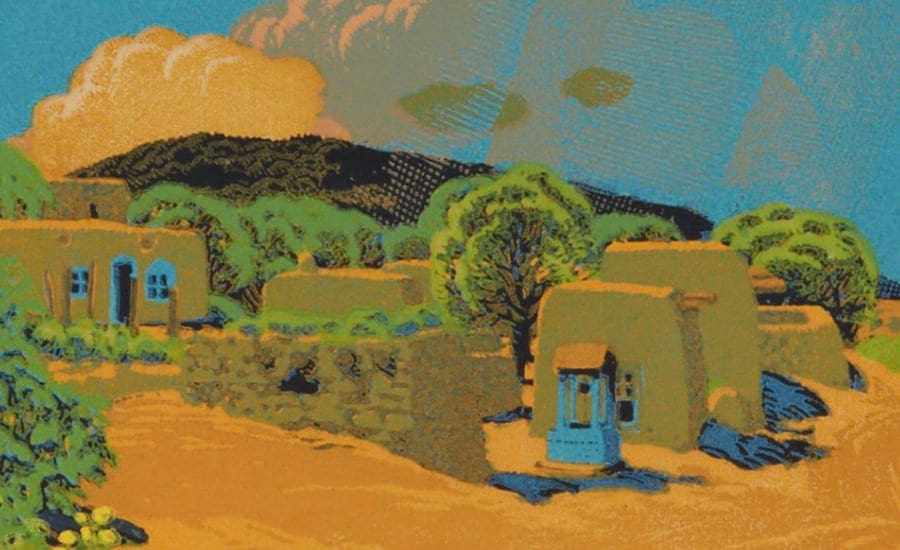 Gustave Baumann (1881-1971) was a German-American artist best known for his role in the Arts and Crafts movement. His most well known work includes several series of woodblock prints depicting landscapes in Indiana and the American southwest. Besides woodblock prints, Baumann also created oil paintings, wooden marionette dolls, and much more.
Baumann had a long career as a craft artist, changing the style and subject matter of his prints many times over the years, in addition to branching out into a wide variety of other mediums. Because his work is so varied, an expert appraisal can be very useful in determining the age and value of your Gustave Baumann pieces.
Who is Gustave Baumann?
Artist Biography
Gustave Baumann was born on July 27, 1881 in Magdeburg, Germany. His family immigrated to the United states when he was ten years old, and eventually settled in Chicago. He was hired as a full time employee at Franklin Engraving Company when he was sixteen. His work there and at several other local engraving companies marked the start of Baumann's long career as an artist. Eventually in 1901, he started his own advertising firm, and in 1904, returned to Germany for a year to further his education at the Kunstgewerbe school.
Not long after returning to the United States, Baumann and several other members of the Palette and Chisel Club moved to Brown County, Indiana. The woodcuttings Baumann created of the landscape here would command national attention. In 1917, he moved to Santa Fe, New Mexico, where he would live for the next 50 years until his death in 1971.
Born/Died: July 27, 1881-October 8, 1971
Nationality: German-American
Category: Printmaker, craft artist
Related Artists: Evelynne Mess Daily, George Joseph Mess, Carl Oscar Borg
What is the Artist Gustave Baumann Known for?
Baumann was best known for his highly detailed woodblock prints depicting landscapes from the midwest and southwest. The main circulators of Gustave Baumann's prints in the US were The American Federation of the Arts and the National Association of Women's Clubs, although he exhibited with many other groups as well over the course of his career. Today, his works are displayed in over 100 museums across America and the UK.
After moving to Santa Fe, Baumann became very involved in the local community. He created a series of over 60 puppets, which he would use to put on scenes in his marionette theater there.
In 1940, he wrote and illustrated a book called Frijoles Canyon Pictographs which contained prints of his woodcuts of the Native American pictographs he visited in northern New Mexico. It was listed as one of the top 50 books of the year at that time.
What Art Mediums Did Gustave Baumann Use?
Baumann was a skilled craftsman and woodcarver, and he experimented with a wide variety of materials and subjects throughout his career. While he is perhaps best known for his use of woodblock prints and color woodcuts, Baumann also created furniture, toys, marionette dolls, paintings, poetry, prose, and more.
Color Woodcuts and Woodblock Prints
Baumann first started creating basic woodblock prints of landscapes while still living in Chicago, where he would hand cut a woodblock for each color and overlay them until he was satisfied with the final result. His first limited series of woodblock prints was produced in 1909, and pieces from it were exhibited in the Art Institute of Chicago. After moving to Brown county, Illinois, Baumann's prints became larger and more detailed. He continued to produce color woodcuts after moving to New Mexico, and adapted his designs to match the southwestern landscape where he now lived.
Illustrated Books and Cards
Gustave Baumann created multiple illustrated books over the years, which centered on different collections of woodblock prints, The most famous of these being "Frijoles Canyon Pictographs". This book contained 25 color woodcut prints of pictographs that the artist viewed on a trip to northern New Mexico. Another interesting example is "Gustave Baumann's Book of Saints", which contained 32 two color prints of various saints venerated in Santa Fe.
Baumann also created many seasonal linoleum block prints which he used to make greeting cards for his friends and family. He created at least one new card a year between 1919 and 1970, which often included jokes or commentary on major news of the time.
Marionettes
While living in Santa Fe, Gustave Baumann began creating hand carved wooden marionette dolls. He and his wife would put on marionette shows for their daughter Anne, as well as guests in their home. During the 1930s, the couple toured around the southwest with these dolls in order to generate additional income during the depression. The dolls are highly intricate and often represent creatures or characters from local mythology.
Where Did Gustave Baumann Study Art?
Gustave Baumann first began his printmaking career in Chicago in 1896, where he worked for a series of local engravers before opening his own firm in 1901. In 1904, just months after gaining his American citizenship, Baumann returned to Germany to study at the Kunstgewerbeschule, a college of arts and crafts in Munich. It was here he learned the European style of making woodblock prints, which involved making multiple single color blocks overlaid with one another. This contrasted with the more popular style in America at the time, in which artists painted multiple colors onto a single block in order to conserve materials and simplify their process. 
How Did Gustave Baumann Die?
Baumann lived in Santa Fe for over 50 years, where he married his wife Jane Devroux Henderson in 1925. She gave birth to their only daughter Ann in 1927. Baumann died in Santa Fe on October 8, 1971 at the age of 90.
How Much Are Gustave Baumann Prints Worth?
The value of Gustave Baumann prints can range from a few hundred dollars to over $20,000. Factors that influence the price include quality of paper and other materials, number of colors used, size, and subject matter.
Paintings by Baumann are far less common than prints, and tend to be from his later years when arthritis made wood carving more difficult. Because of their relative rarity, paintings tend to sell for more than prints on average.
Gustave Baumann Auction Prices
Historical auction sales range: $500-$50,000
Average auction estimate for original prints: $5,000-25,000
Average auction estimate for original paintings: $10,000-$40,000
Valuable Gustave Baumann Paintings and Prints
Here is an overview of some well known Gustave Baumann prints which have sold at auction. Because multiple copies of each print exist, there may be some variation in sold price between copies due to differences in condition, quality and demand at the time of sale.
Gustave Baumann, Spring in Santa Fe
Gouache on paper woodcut print of pale flowering trees in Santa Fe.
Estimate: $20,000-$30,000
Result: $18,000
Gustave Baumann, Cottonwood in Tassel
Color woodblock print of a large cottonwood tree covered in pink blossoms.
Estimate: $7,000-$9,000
Result: $18,000
Gustave Baumann, Grand Canyon
Color woodcut print of scene overlooking the Grand Canyon.
Estimate: $5,000-$7,000
Result: $19,000
Gustave Baumann, Rain in the Mountains
Color woodcut print of rainy blue mountains over vivid yellow pueblo scene.
Estimate: $10,000-$15,000
Result: $28,000
Gustave Baumann, Grandma Battin's Garden
Highly colorful woodblock print of a flower garden in front of a thatched roof cottage.
Estimate: $3,000-$5,000
Result: $13,000
Gustave Baumann, A Lilac Year
Color woodblock print depicting flowering lilac bushes growing along a dirt path.
Estimate: $10,000-$20,000
Result: $15,000
Gustave Baumann, Southwest
Book entitled Gustave Baumann's Southwest which includes color illustrations of some of his woodblock prints of southwest scenes.
Estimate: $10-$1,000
Result: $60
How to Identify a Gustave Baumann Signature
Gustave Baumann used three different ciphers on his prints over the course of his career. While living in Chicago and Illinois, he used a mark that looked like a stylized G and B. He briefly switched to a swan shaped mark of these two letters for about one year, before developing what would be his most enduring and recognizable mark- the hand in heart. This mark consisted of a hand with a spiral in the palm inside of a heart.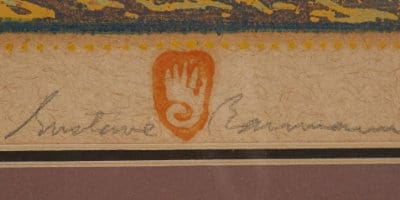 How Can I Sell My Gustave Baumann Art?
Gustave Baumann produced thousands of woodcut prints and other art objects over the course of his 70 year long career. Because even multiple copies of the same print could vary in final sale price by thousands of dollars, an expert appraisal is highly recommended in order to determine the value of your Gustave Baumann piece.
Revere Auctions Sells Your Gustave Baumann Art
Revere Auctions has expert experience selling Gustave Baumann prints at auction for competitive prices. Our experts at Revere Auctions are ready to help you with any stage of your art journey, whether you are looking for an estimate of value, a USPAP certified appraisal, art restoration, or an effortless way to sell your art. We advertise our sales on more auction platforms than any other auction house in America, and regularly achieve record prices for our objects. If you are interested in selling with us, please reach out for a free online appraisal of your piece today.

Discover Works From Artists Like Gustave Baumann
Evelynne Mess Daily
An American printmaker who was another printmaker and member of the Brown County artists colony alongside Baumann.
George Joseph Mess
Husband of Evelynne Mess Daily. Best known for his aquatint etchings as well as his prints.
Carl Oscar Borg
Was a Swiss-born painter and printmaker, best known for his paintings of the landscapes around Santa Fe.