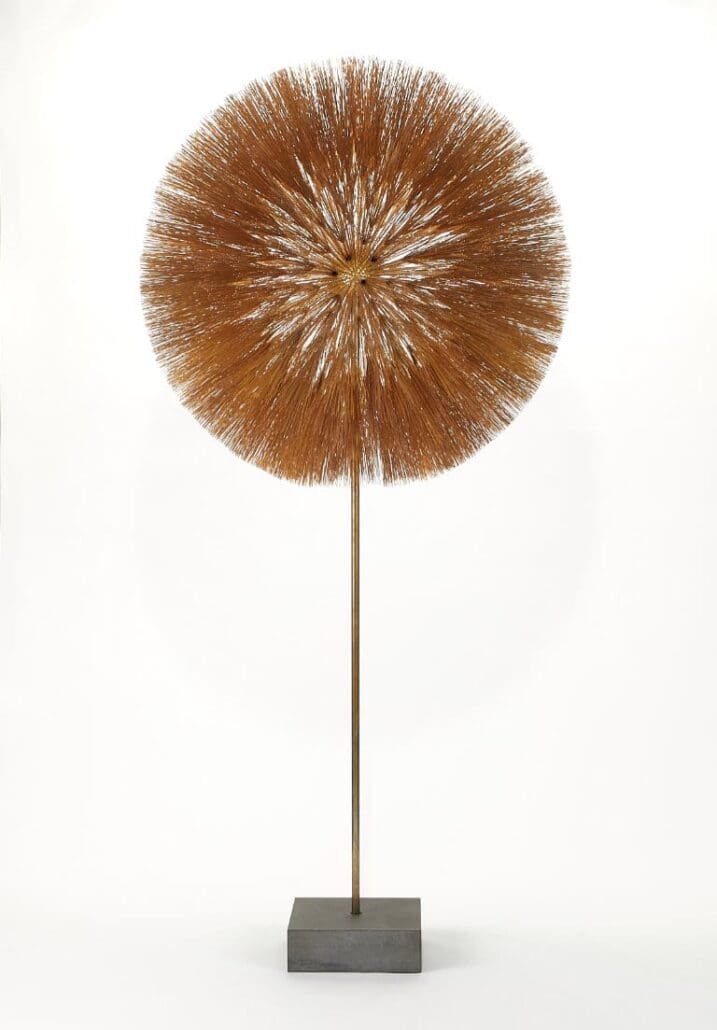 Harry Bertoia (1915–1978) was one of the most prolific, materially innovative artists of the twentieth century. Perhaps most well-known for his iconic furniture designs and pioneering sounding sculptures, his creative output was diverse and extensive, also encompassing jewelry, metalwork, monotypes, and thousands of unique sculptures including large-scale commissions. Bertoia's body of work speaks to a fluid movement across the fields of art, design, and architecture, unified by his career-long exploration of the possibilities of metal and a desire that art should belong to everyday life.
Born Arri Bertoia on March 10, 1915, in San Lorenzo, Italy, about fifty miles north of Venice, Bertoia immigrated to the United States in 1930, arriving in Detroit where his older brother Oreste was already established. He had shown artistic aptitude as child, and after undertaking additional basic education and Americanization courses, he enrolled at Cass Technical High School, which had an arts program. In 1936, he received a one-year scholarship to the School of the Detroit Society of Arts and Crafts and began publicly exhibiting his artwork. The following year he was accepted to the Cranbrook Academy of Art in Bloomfield Hills, Michigan. A part of the Cranbrook Educational Community and modeled after the Bauhaus, the Art Academy became one of the most important incubators of design talent in the United States during the mid-twentieth century.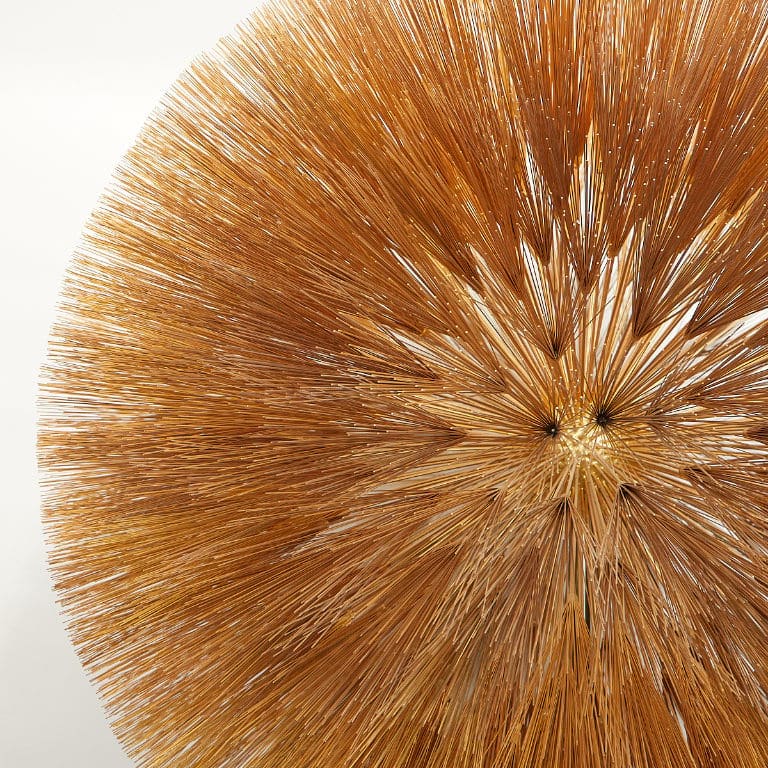 Bertoia arrived Cranbrook with a scholarship to study painting, but soon turned his attention to creating monotypes, or single impression prints. He had first been introduced to printmaking while at Cass and though some of his earliest graphic works at Cranbrook used more traditional woodblock techniques, he quickly gravitated toward the freedom and spontaneity offered through the direct monotype process. Bertoia's monotypes help the young artist establish a national profile. He sent a portfolio to Hilla Rebay, the influential founding director of the Museum of Non-Objective Painting (now the Solomon R. Guggenheim Museum) for feedback in the early 1940s. She not only exhibited this work but also acquired the whole group for her museum. The Art Institute of Chicago, Phillips Collection in Washington, D.C., San Francisco Museum of Modern Art, and Wadsworth Atheneum in Hartford, Connecticut also acquired portfolios and his first solo exhibition, which included both monotypes and a selection of unique metal jewelry, opened in 1945 at the noted Nierendorf Gallery in New York.
Jewelry and other metalwork, in addition to his robust monotype practice, occupied much of Bertoia's time while at Cranbrook. In 1939, he assumed the role of "metal craftsman" at Cranbrook, managing the metals shop before being promoted to an instructor of metalcraft in 1941. Bertoia created numerous pieces of jewelry, many as commissions or gifts for classmates, friends, and family, including his future wife Brigitta Valentiner, whom he met at the Academy. Institutions like the Museum of Modern Art in New York and the Walker Art Center in Minneapolis exhibited Bertoia's jewelry widely during the 1940s and 50s, often alongside other modern artists and craftspeople like Alexander Calder, Margaret de Patta, and José de Rivera. Collectively their midcentury designs are sometimes referred to as Modernist Studio Jewelry, which was almost exclusively handmade, hand-hammered, and produced by the artist in their studio.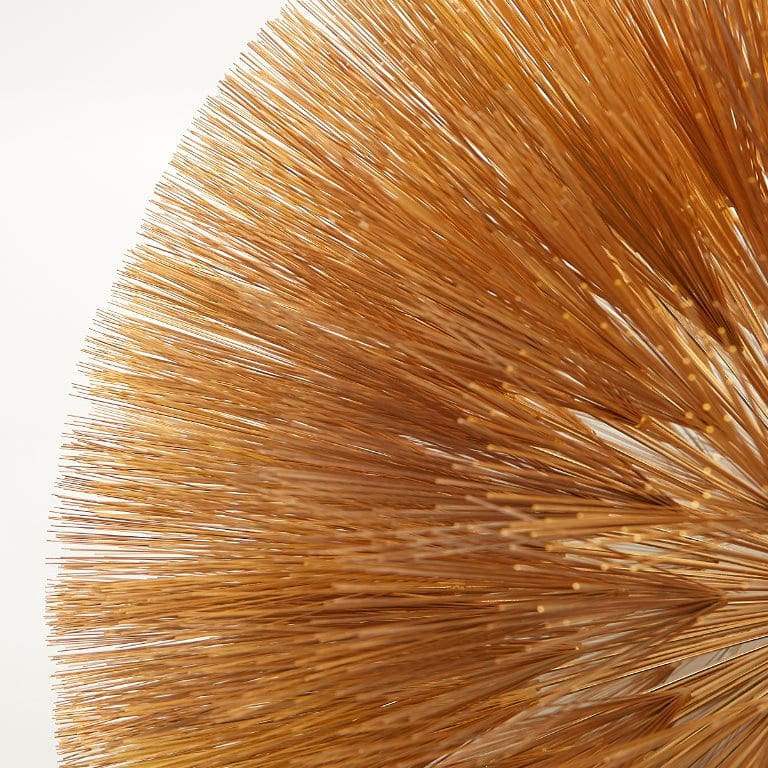 In addition to jewelry, Bertoia also created holloware—metal tableware used in serving that included utensils, platters, sugar bowls, creamers, teapots, and vases—while at Cranbrook. This type of metalwork is created by joining together sheets of metal through soldering, spinning, and other handcraft techniques. Bertoia created relatively few full tea services during the waning years of the Great Depression and the early years of WWII. Each one, however, was unique and revealed a desire to effortlessly blend aesthetic sophistication with innovative functionality. He added wooden or acrylic handles of his modern designs and created air space between the sheets of silver to better insulate coffee and tea pots. Bertoia drew inspiration for his metalwork from his Cranbrook colleagues, like Eliel and Eero Saarinen, as a well as from the broader modern movements of Art Deco, Art Moderne, the Bauhaus, and Constructivism. Examples of his holloware were included in notable design exhibitions in the 1940s at like the Metropolitan Museum of Art in New York and the Detroit Institute of Arts.
Bertoia had been heavily involved as a student and instructor with metalwork and printmaking while at Cranbrook, but no course of study was isolated at the school. Bertoia helped construct models and prototypes in the architecture department and worked on Saarinen and Eames's famous submission to MoMA's 1940 Competition for Organic Design in Home Furnishing.  Cranbrook closed the metals shop in 1942 due to shortages caused by WWII and while Bertoia also taught printmaking by this point, he left the school that year to work with Charles and Ray Eames in Southern California, which had secured important wartime contracts to explore the possibilities of molded plywood. Bertoia married Brigitta Valentiner on May 10, 1943, and the first two of their three children, Lesta and Val, were born while the young family was living in California. He learned to weld at the Santa Monica City College and worked at the Eames Office until 1946, leaving due to what he felt was a lack of credit for his contributions. That same year he became a U.S. Citizen and in 1947, took a job as a technical and scientific illustrator at the Point Loma Naval Electrical Lab in La Jolla.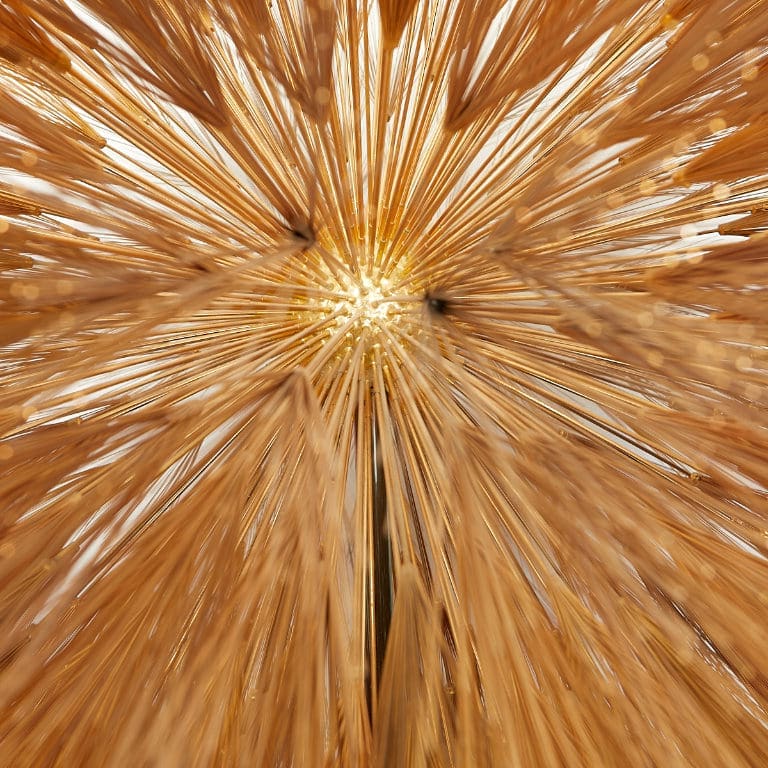 In 1950, Bertoia received an open-ended offer from Hans and Florence Knoll, one of his Cranbrook colleagues and friends, to come and design furniture for their eponymous company in rural Pennsylvania. Given the option to move to either New York or the Lehigh Valley of Pennsylvania, where Knoll's manufacturing headquarters were based, Bertoia chose the latter. He and his family initially arrived in New Hope before eventually moving to Bally, where Knoll had established a metalworking studio and model shop. The first piece of furniture Bertoia created for Knoll was the Bertoia Bench, comprised of long wooden slats and a welded wire base. The signature element of Bertoia's now iconic furniture, however, became the grid of steel wire rods shaped and welded into several distinct graceful, sinuous forms that included the Diamond and Side Chairs, the child-sized versions of these two designs, as well as the Large Diamond Chair, Barstool, Bird Chair, Asymmetric Chaise, and Ottoman. The Diamond and Side Chairs have been in continuous production since they were first introduced in 1952.
With the money he received from his design work for Knoll, he purchased not only the studio shop he had been using in Bally, but also the farmhouse he had been renting in nearby Barto, Pennsylvania. The Bertoia's had their third and final child, Celia, there in 1955 and the artist would remain based at these two properties for the rest of his career. Bertoia amicably left Knoll in 1952 to work fulltime on his artistic practice. While developing his suite of seating, Bertoia began making sculptures with wire. The size of Bertoia's constructions grew progressively larger and more intricate through the 1950s, though they retained a similar mixture of organic and geometric characteristics. This shift toward a more organized, gridded structure in his wire constructions would become even more pronounced in his so-called multiplane sculptures. Over the next twenty years, Bertoia created a staggering number of distinct sculptures, almost all made from various metals and metal alloys. He became a master welder over the course of his career and utilized the technique across much of his sculptural output in novel ways, including the development of spill casting, fused shot, and melt-coating processes.
Bertoia rarely signed, dated, or titled his works, preferring to remove himself from the interpretation of the work and allow viewers to make their own associations without the influence of a title. During his lifetime, however, various nicknames, descriptive labels, and titling conventions began to emerge, and many remain in use today. These convenient references often reflect Bertoia's distinctive forms and technical processes, as well as the immense inspiration he drew from nature: bushes, trees, flowers, sunbursts, galaxies, clouds, reeds, cattails, straws, and dandelions. Though represented by the Fairweather Hardin Gallery in Chicago and Staempfli Gallery in New York, Bertoia was largely unconcerned with the mechanics or politics of the postwar artworld in the United States. He frequently exhibited and sold his sculpture through Knoll showrooms and the Knoll Planning Unit often integrated Bertoia's sculptures into its interior design schemes.
Bertoia also realized over fifty large-scale commissions—a sculpture or group of sculptures made for a specific site, architectural project, or outdoor civic space, in close collaboration with the client or architect. Bertoia created sculptures for lobbies, corporate offices, banks, shopping malls, libraries, performing art centers, airports, and even one ambitious private residence, in cities across the United States as well as Belgium, Germany, Norway, and Venezuela. He worked with some of the most noted modernist architects of the postwar period, including Gordon Bunshaft, Saarinen, Edward Durell Stone, and Minoru Yamasaki, often on multiple projects, over multiple decades. The large-scale commissions became a core part of Bertoia's artistic practice, giving him a high-profile platform to share his work with the public. These projects also provided economic stability and independence, enabling Bertoia to work fulltime as an artist without any teaching or gallery obligations. He received more requests that he could handle, usually due to scheduling conflicts, but also because each was handcrafted by the artist and a small group of studio assistants.
While Bertoia's commissions occupied an increasingly large amount of Bertoia's time and effort, he continued to cultivate a consistent monotype practice following his relocation to Pennsylvania, often working late into the night in the barn on his property that he used as a home studio. This space would also support the development of his Sonambient, a term coined by the artist to describe a body of work that innovatively explored the ability of sculpture to create an ambient sonic environment. Bertoia first noticed the aural qualities of vibrating metal in his wire works in the late 1950s but began creating his sounding sculptures in the 1960s. The most ubiquitous type of this work are the tonals, composed of vertical rods secured to a base. Bertoia placed the rods in single rows and grouped them in rectangular or circular grids, either perpendicular to the base or angled. He also employed different metals to produce a variety of tones, variances further amplified by leaving the tops unadorned or by adding pieces of metal in shapes resembling cattails, plant buds, or cylinders. Bertoia's sounding sculptures also included gongs, made of either a solid metal plate or a double wall of two sheets welded at the edges, and singing bars, thick metal rods suspended in closely hung pairs that reverberate off each other when set in motion. No two sounding sculptures are the same–a particularly astounding fact in the case of tonals, which number in the high hundreds.
Bertoia, alongside his musically inclined brother Oreste, often "played" the sounding sculptures in the studio barn, making numerous recordings, and even producing eleven LPs, which have recently been re-released as CDs and digital files. The term Sonambient is sometimes used as a shorthand or synonym for the tonals, and frequently appears as a modifier for untitled sounding sculptures that were placed and played inside what is now called the Sonambient Barn. Bertoia had mixed feelings about the term and rarely used it, though he did consult with lawyers about trademarking and copyrighting Sonambient. Only Bertoia's published recordings, and a 1971 film of the artist playing his sculptures in the barn made by Jeffrey and Miriam Eger, however, are legally associated with the term.
Bertoia died of lung cancer on November 6, 1978, and was buried under a large gong on his Barto property. He left behind a tremendous legacy in art and design, which included thousands of unique two- and three-dimensional works, many of which are now in the permanent collections of numerous leading arts institutions. His papers are held at the Vitra Design Museum in Germany and at the Archives of American Art, Smithsonian Institution. Bertoia's youngest daughter Celia Bertoia established the Harry Bertoia Foundation, which supports the ongoing Harry Bertoia Catalogue Raisonné.