"Every time I view the sea, I feel a calming sense of security, as if visiting my ancestral home; I embark on a voyage of seeing." -Hiroshi Sugimoto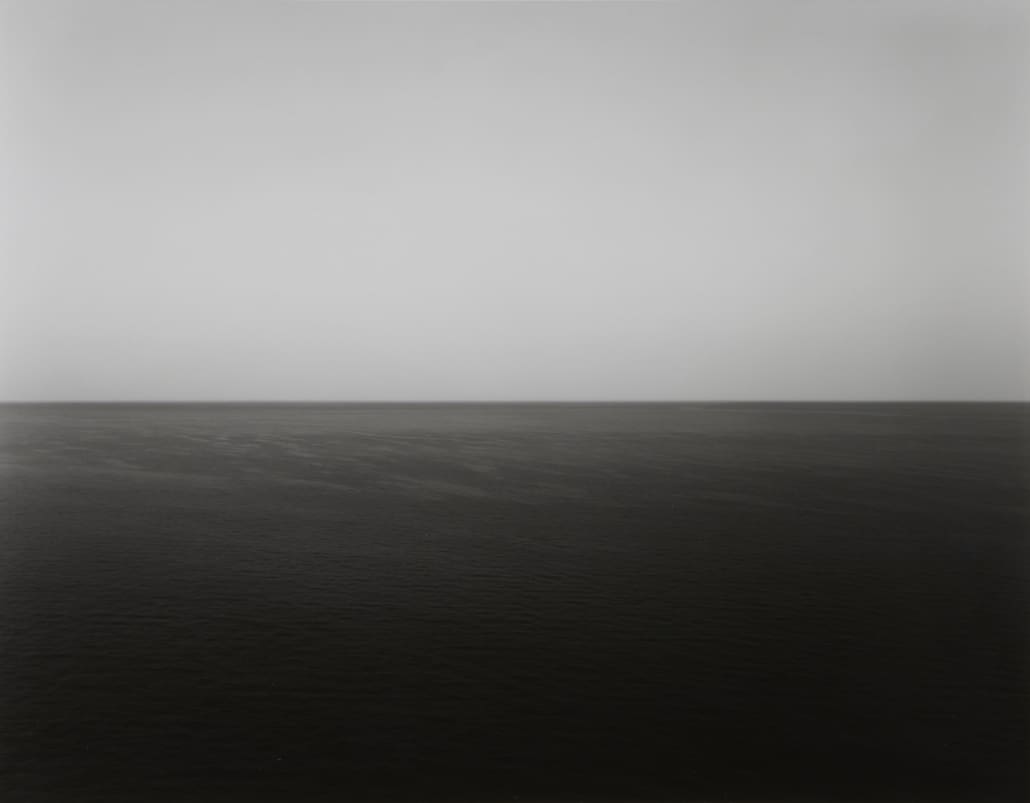 In Mirtoan Sea, Sounion, Hiroshi Sugimoto captures the essence of the sea and his relationship with it, which make up the heart of his Seascapes series. Gentle grayscale ripples fade up to the horizon and stretch off the edges of the photograph, uninterrupted by any signs of human or animal life. It is desolate without being frightening; Sugimoto has imbued it with the security he feels in his relationship with the sea. Everything is gentle, and the photo has clear edges, almost like a window looking out over the sea.
Sugimoto was born in Tokyo in 1948, and one of his earliest memories is being taken to the sea. He developed an interest in photography during childhood, photographing trains and and other local sights. He pursued other interests for several years, dabbling in painting in high school and receiving his degree in Political Science at St. Paul's University in Tokyo. However, shortly after his graduation, he returned to photography and moved to Los Angeles to attend the Art Center College of Design. In 1974, Sugimoto moved to New York City, where he was influenced by many of the up-and-coming art movements he interacted with there, notably the minimalists.
In his photographic works, Sugimoto works exclusively in black and white with a large format camera, often varying the exposure length or using intentional blurring to create his desired effect. He is known for his technical expertise with the camera, which he uses to explore his artistic preoccupation with the human presence in space and time. His works cleverly make the viewer question what they are seeing, utilizing the flattening effects of black and white photography to make dioramas and wax figures seem real, or using long exposures to blur a movie theater screen to a square of pure light. In his later career, Sugimoto has extended these preoccupations to his artistic practice outside of his photographic work, making forays into architecture and the performing arts. His work has received great acclaim; throughout his career he has received many prestigious awards and grants, including the Guggenheim Fellowship, and in 2017 he was honored by the Japanese government as a Person of Cultural Merit.
In the Seascapes series, Sugimoto focuses on water and air, the two substances he describes as most "commonplace" and yet most intrinsic to life. Life, Sugimoto notes, was created out of them, and continues to require them to exist. The sea, as the place where these two things meet in isolation, is the perfect place to explore their relationship to one another and to humanity at large.
In this photograph, the genius of the Seascapes series becomes clear, as Sugimoto lays clear the universality of the sea as humanity's "ancestral home." Devoid of any context, even color, that might indicate to the viewer which sea they are looking at, this photograph presents the sea as it has been viewed by all people in all places and times. The water and the sky stretch in all directions, unimaginably vast and yet intimate. The only point the viewer has with which to ground themself is the horizon line, hardly a real, tangible point in space. We're adrift, held tightly only by the knowledge that this is a view, an experience, universal to all humans since the first one laid eyes upon the sea.
Mirtoan Sea, Sounion will be offered in Fine and Decorative Art, May 20, 2020.
Please contact Revere Auctions if you have a work by Hiroshi Sugimoto you are interested in selling or having appraised. You can reach us at info@revereauctions.com or (612) 440-6985.