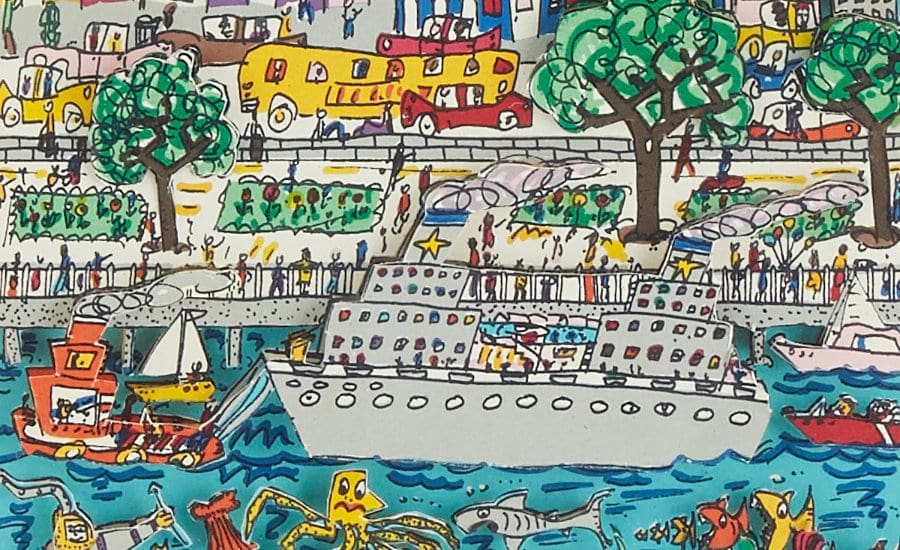 James Rizzi was an American pop artist based in New York City. His unique style incorporated bright colors and bold outlines with fantastical anthropomorphic objects that frequently smiled out at the viewer. He experimented with combining 2D and 3D mediums to create layered lithographs that popped out of the page.
Who was James Rizzi?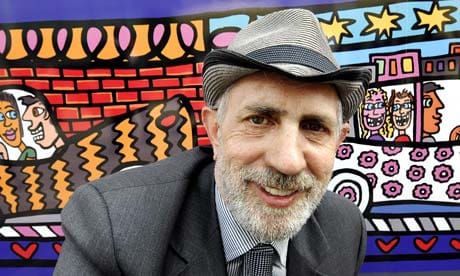 James Rizzi (1950-2011) was an American pop artist born on October 5, 1950 in Brooklyn, New York. He graduated from the University of Florida in Gainesville, where he first developed his unique style of 3D printmaking.
In 1975, Rizzi moved to the SoHo neighborhood of Manhattan and began selling his art at outdoor markets in Washington square and elsewhere around the city. His work eventually achieved worldwide popularity, especially in Germany and Japan.
Over the course of his career, James Rizzi was invited to create designs for many influential projects, including a series of china for Rosenthal, a limited edition NYC metro card, a series of German postage stamps, three New Beetles for Volkswagen, the shell of a Boeing 757, and many more. His most high profile commission came in 1996, when James Rizzi was the official artist of the Olympic summer games in Atlanta, Georgia, and created a series of paintings which were displayed during the opening ceremony.
Rizzi died on December 26, 2011 in New York City at age 61 from a heart condition. He was remembered by friends and family as an outgoing and optimistic man.
Born/Died: October 5, 1950 – December 26, 2011
Nationality: American
Category: Pop art
Related artists: Andy Warhol, Charles Fazzino, Roy Lichtenstein
Revere Auctions' newsletter keeps you up to date on the latest events and upcoming auctions for James Rizzi artwork.
What Art Style is James Rizzi Known For?
James Rizzi is best known for his colorful and imaginative paintings and prints, which drew more from his imagination than real life subjects. Like other pop artists, he used bright contrasting colors and solid lines in his work to make vibrant, eye-catching designs. His images often captured a sense of childlike wonder and happiness, with subjects like buildings, suns and moons, and animals often smiling out at the viewer.
James Rizzi: 3D Art
While studying art at the University of Florida, James Rizzi developed one of his trademark techniques, which involved hand coloring a silkscreen print, then attaching additional colored sheets to it using foam cut outs to create a three dimensional work. Many of his most famous works in this style are cityscapes depicting a highly colorful and fantastical New York City, complete with anthropomorphic skyscrapers smiling down on the streets below.
James Rizzi: Pop Art
Like many pop artists, James Rizzi focused on relatively simple techniques depicting colorful and cluttered designs with bold outlines. Besides his paintings and prints, Rizzi was commissioned to create many 2d and 3d designs for various companies and organizations.
Although he lived in New York City most of his life, Germany became the largest and most reliable market for James Rizzi's art. It was here that he created some of his most ambitious projects, including designing the exterior of an office block in Saxony called the "Happy Rizzi House", as well as the dome of a shopping mall in Oberhausen, Germany.
What Mediums Did James Rizzi Use?
Rizzi started his career creating predominantly hand painted silk screen prints, oftentimes incorporating 3D elements. Later in life, he created more oil on canvas paintings. Besides his original pieces, Rizzi created a huge number of designs to adorn everything from teddy bears to airplanes.
How Much Are James Rizzi Paintings Worth?
Original works by James Rizzi have sold at auction for anywhere between $2 and $100,000+, although the average price for a Rizzi original piece is around $1,000-$5,000. The highest price ever achieved for a Rizzi piece at auction was $134,620 for the acrylic on canvas painting "My City is Now Your City" in 2022.
Objects with Rizzi designs, such as Rosenthal china or German postage stamps, can also vary greatly in price depending on the rarity and quality of the item, although many limited edition Rizzi print items can expect to be sold for between $50 and $300.
Historical auction sales range: $2-$133,455
Average auction estimate for prints: $50-$300
Average auction estimate for original paintings: $1,000-$5,000

Have your James Rizzi artwork valued by experts with Revere Auctions appraisal services.
What Determines The Value of James Rizzi Art?
Rizzi personally produced thousands of paintings and other art pieces during his lifetime, and contributed designs to a huge range of products in the US, Germany, and elsewhere. A few major factors can help point to the potential value of a Rizzi art object.
Medium: Rizzi's acrylic or oil on canvas pieces tend to be the most valuable compared to works on paper or other media.
Size: Rizzi's larger pieces are generally the most valuable. His larger works are often richly detailed and highly colorful.
Rarity: One of a kind pieces are typically worth more than those produced as a limited series. Pieces personally produced by Rizzi are more valuable than those which incorporate prints of his designs.
Valuable James Rizzi Paintings, Prints, and Artwork
Here is a sample of some of James Rizzi's popular series of lithographs and other prints. Most were released in series of 100 to 500 and may contain 3D cutout elements.