Revere Auctions is excited to present this sculpture for sale. If you are interested in bidding or purchasing the sculpture please send us an email receive updates. Info@RevereAuctions.com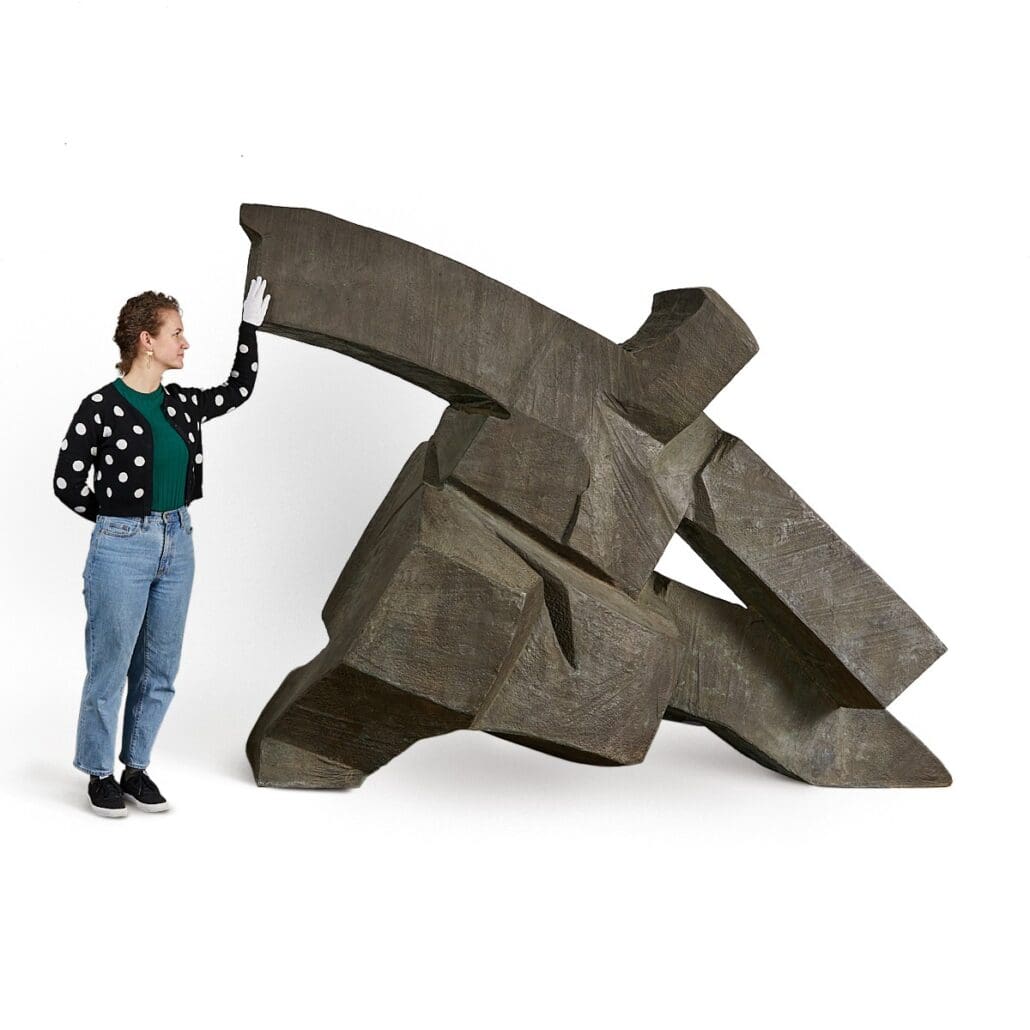 Ju Ming (Taiwanese, b. 1938-2023). One cast bronze sculpture titled "Single Whip" from the "Tai Chi" series, depicting an abstract figure in a tai chi pose, 1998. The blocky limbs are in geometric forms that create smooth lines in space. The finish of the bronze is intentionally uneven, creating a rocky effect. The sculpture's mixture of hard angles and soft lines are intended to mimic the variety in the movements of tai chi. The practice of tai chi is an important part of the artist's life, and this sculpture is a celebration of that practice, and the way tai chi uses energy to interact with space. Signed along the base and numbered 3/8.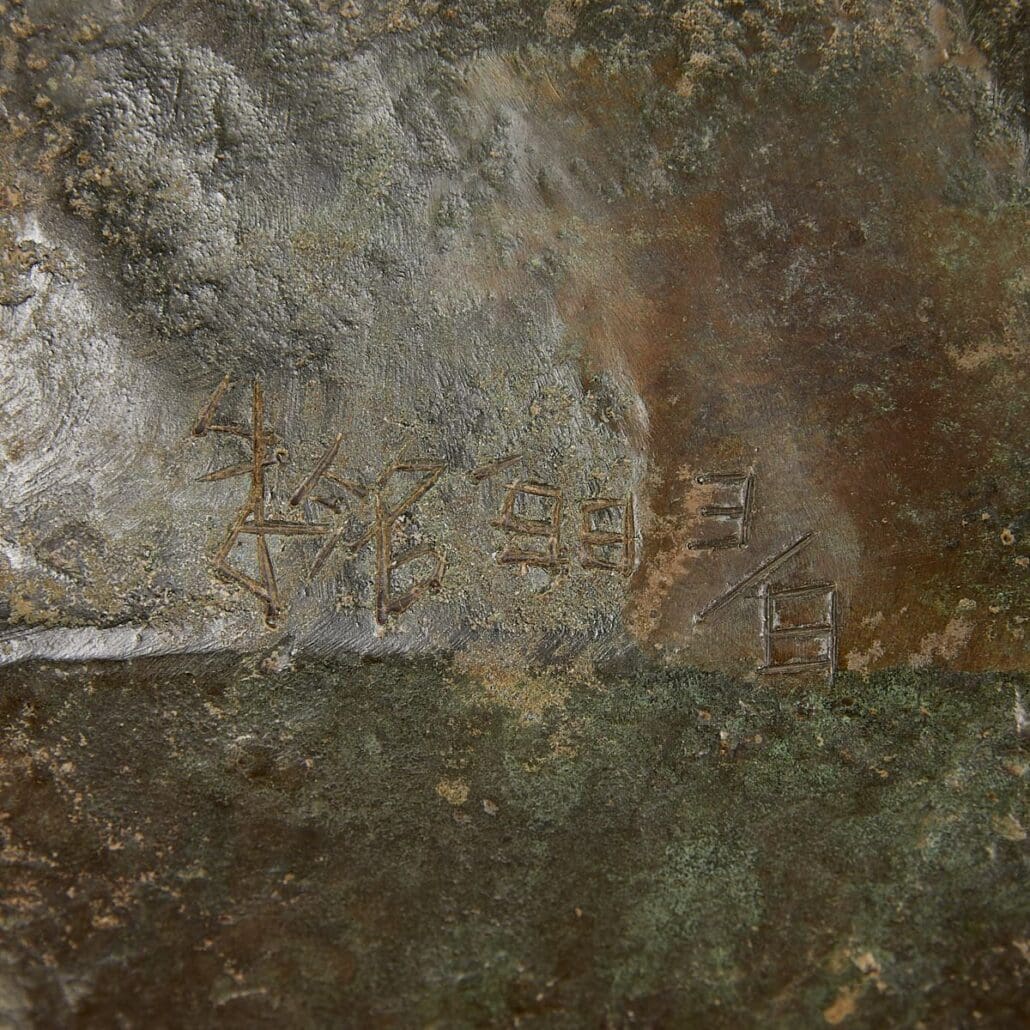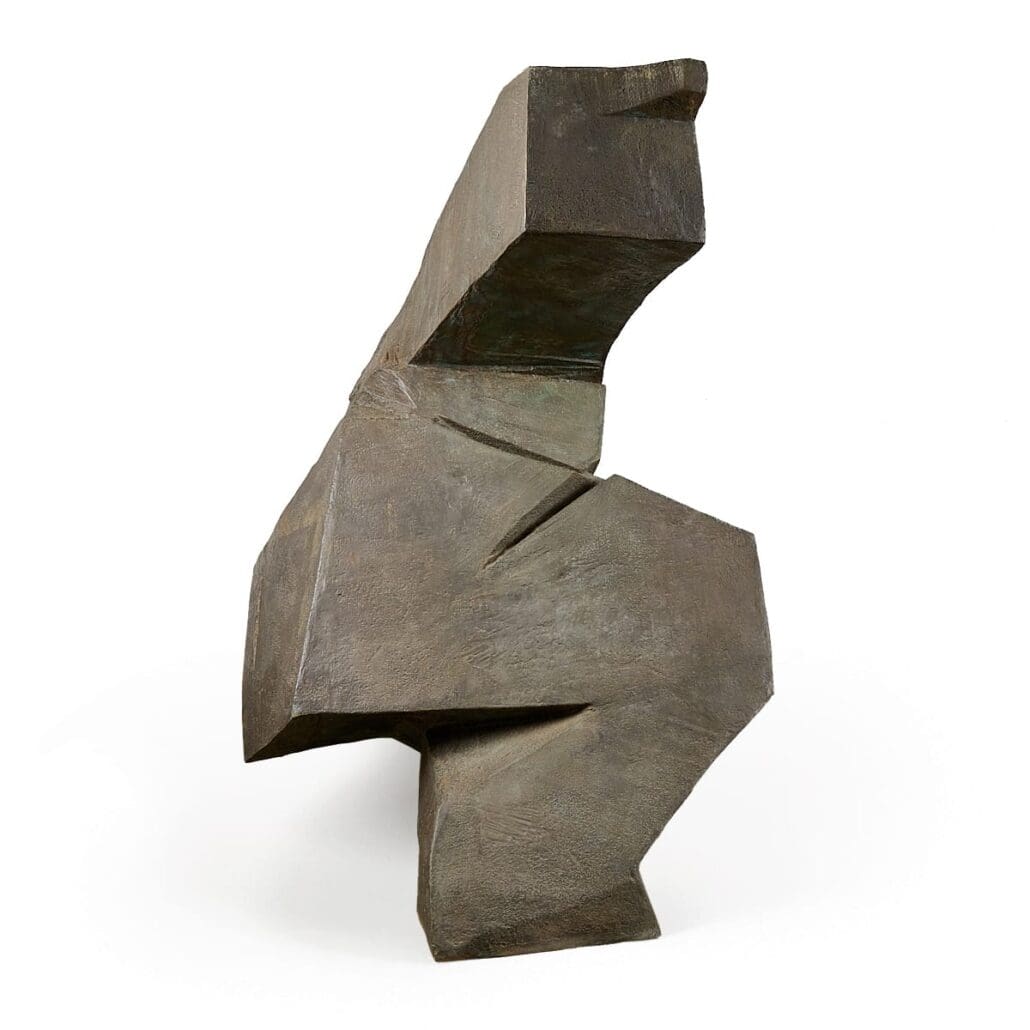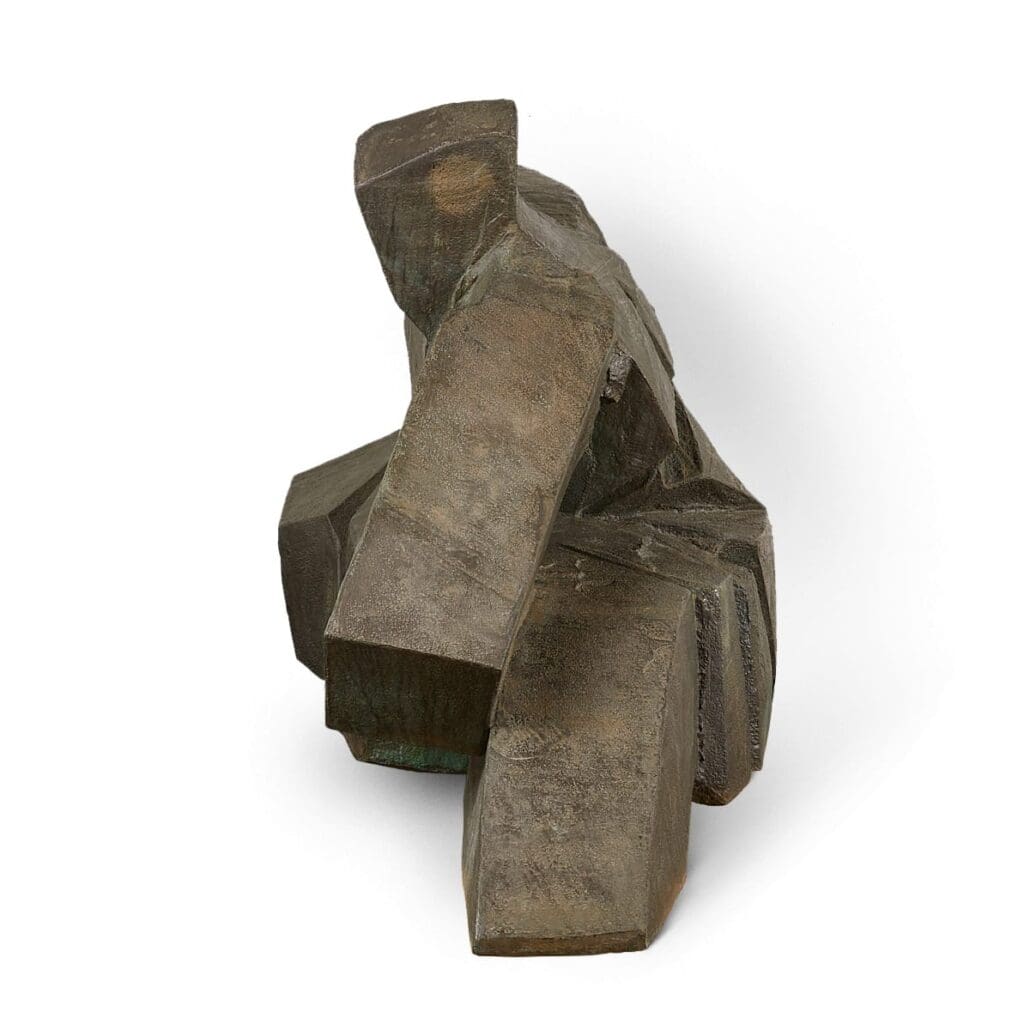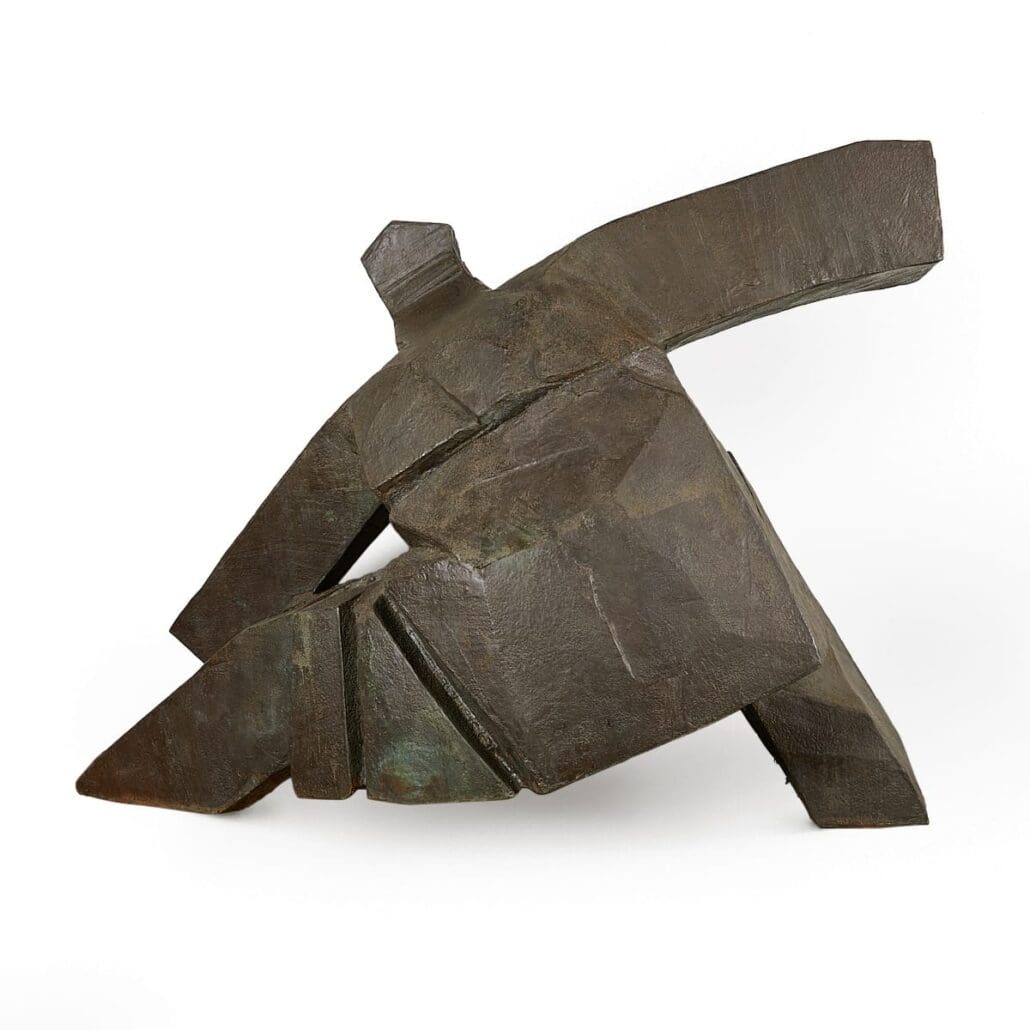 Provenance: iPreciation, Singapore; Private Collection, Asia; Lot #1604 Sotheby's Hong Kong, "Contemporary Chinese Art – Part 1," October 9, 2006; Acquired from above.
Ju Ming is a sculptor who was born in Tung-Hsiao, Taiwan. Except for a few years in New York City (ca. 1981-1983), he has lived in Taiwan his whole life. He currently lives in the suburbs of Taipei.
His mediums include bronze, wood, painted wood, stainless steel and ceramics. The primary subjects are figures created for two series of works that he has been adding to for decades. The Tai Chi Series, started in the 1970s, are angular figures frozen in Tai Chi exercise poses. The Living World Series, started in the early 1980s (while he lived in New York City) examines urban life, depicting people in groups, talking, standing, sitting, sleeping and in sporting activities. His expressionist style is recognized by its distorted shapes, rough angular carving and simply drawn features. The pieces are in sizes ranging from tabletop versions to monumental public space works.
Ju's formal schooling ended when he was 13. His art studies involved two periods of apprenticeship. From 1953 to 1956 he studied traditional carving methods, creating Buddhas, mythological figures and doing commissions, under Lee Chin-Chuan in his home town. From 1968 to 1976 he studied modern sculpture under Yuyu Yang (1926-1997) in Taipei. He explains his artistic philosophy thus: "Art cannot be learned. The creation of art depends on self-cultivation. What I am most proud of after all these years of artistic creation is not what I have produced, but the concepts I have eventually come to understand. When you study art, you unconsciously absorb the styles and experiences of other people. In the process, you lose yourself, your innate nature. You have to cultivate yourself to find your true self and at the same time discard all your teachers' genres, so that you can establish a unique style of your own."
His first solo exhibition was in 1976 at the National Museum of History in Taipei. Since then the venues have included: the Tokyo Central Museum, Japan (1978); the Hong Kong Arts Centre (1980); the Spring Gallery, Taipei (1981); the Max Hutchinson Gallery, New York City (1983); the Birashri Institute of Modern Art, Bangkok, Thailand (1984); the Ayala Museum, Manila, Philippines (1984); the National Museum of Singapore (1986); the Taipei Fine Arts Museum (1987); the Taiwan Art Museum, Taichung (1988, 99); the Southbank Centre, London, England (1991); the Dunkirk Contemporary Art Museum, France (1991); the Hanoke Open-Air Museum, Japan (1995); the Place Vendome, Paris (1997); the Brandenburg Gate, Berlin (2003); the Singapore Art Museum (2004); the Vancouver Sculpture Biennial, Canada (2005); and the National Museum of China, Beijing (2006). In May 2008, the National Museum, Jakarta, Indonesia had an exhibition of 33 of his works; and in October of that year 19 of his monumental sculptures were exhibited in three public spaces in Montreal, Quebec, Canada. In 1999 the Ju Ming Museum was opened in Chin-Shan, Taiwan (about one hour from Taipei). More than one thousand sculptures by the artist are displayed in its galleries and 27 acres of park.
His numerous awards and honors include an Honorary Doctor of Arts degree from Ju Jen Catholic University, Taipei in 2003; and Taiwan's highest award for a lifetime of achievement in the arts, The Executive Yuan Cultural Award in 2004.