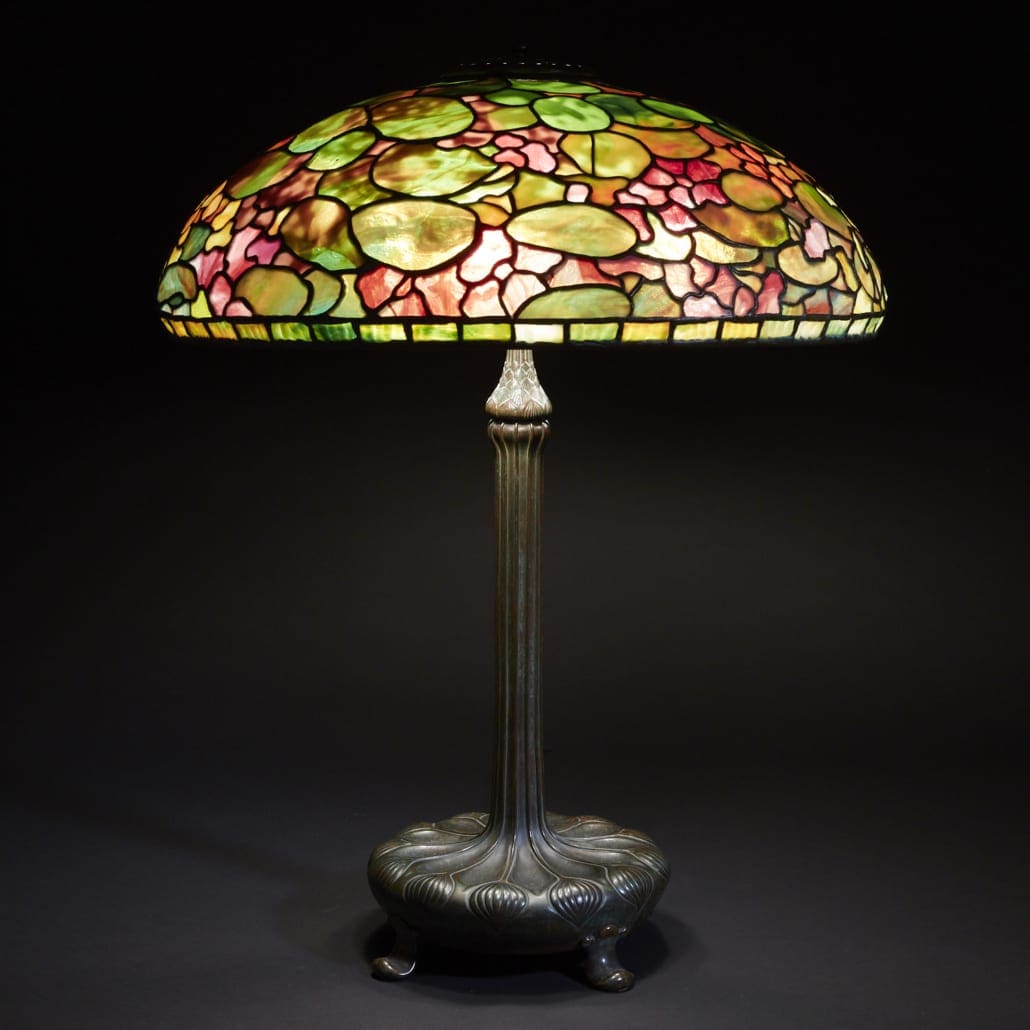 Interior designer and artist Louis Comfort Tiffany is known as one of the great contributors of art and design in the Art Nouveau movement. From his studio in Queens, NY, Tiffany created his famous lamps, a staple of turn of the 20th century art. Tiffany started his company with the development of stained glass and eventually expanded to the design of intricate leaded glass floor, table, and hanging lamps. These lamps took inspiration from his travels around the globe and the natural world around him, and were distinguished by their bronze base and stained glass designs featuring natural motifs in harmonious color schemes.

Tiffany's lamps are notable for many reasons, but one of them is the integration of new techniques for creating intricate stained glass designs. This includes his use of favrile glass, which is created by the mixing of different colored glasses when hot to avoid the use of artificial colors and paints. Additionally, Tiffany developed a thin and flexible foil to connect pieces of glass without heavy lines or joints. These developments allowed him to make shades that kept true to his natural inspiration.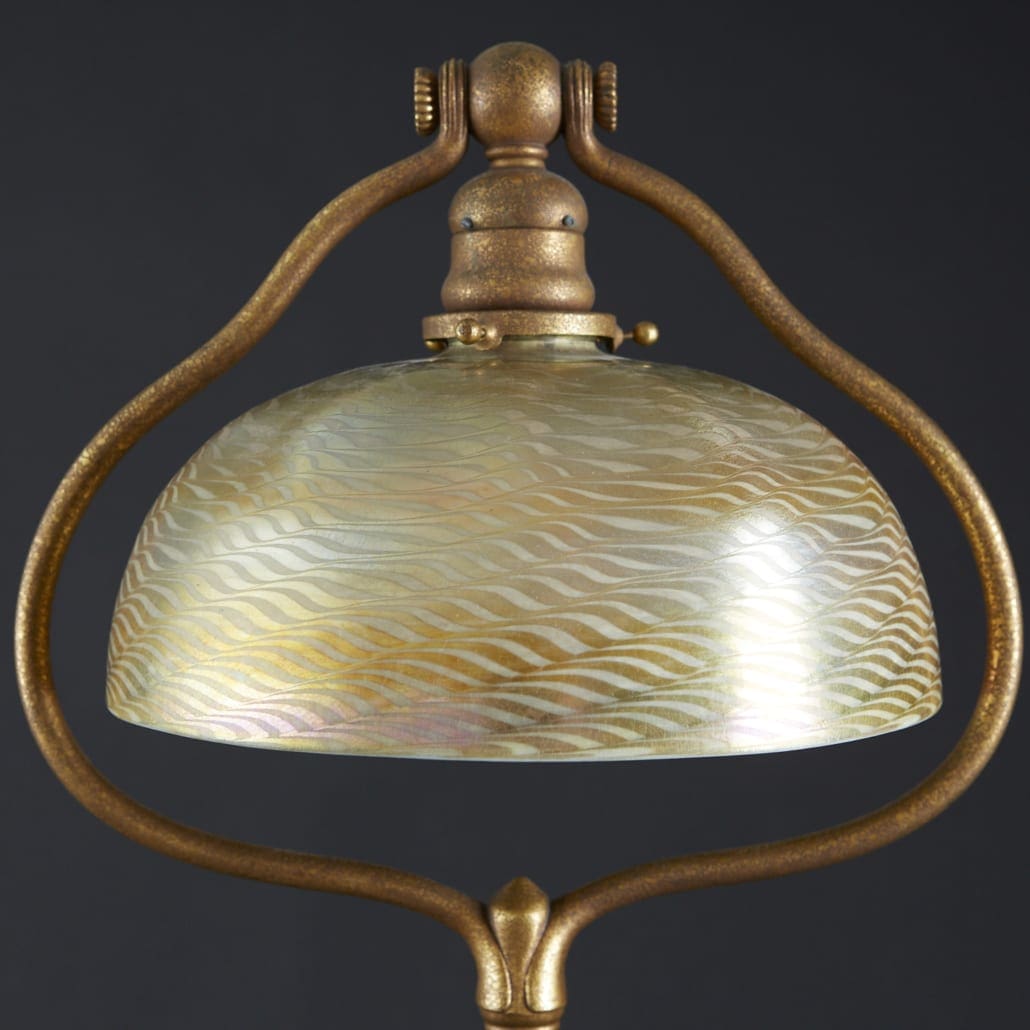 Although there were some motifs and images that came up on the lamps with more frequency than others, most draw on inspiration from the natural world. They incorporate designs of flowers, plants, animals, or insects. The form of the lamp was usually intended to look like a tree, with the scalloped and uneven edges of the shade replicating the shape of petals, leaves, or even wings, and the base often in the shape of a tree trunk. Some more common motifs were dragonflies and flowers, although some Tiffany lamps incorporate more geometric shapes and designs. The vibrant color schemes on the shades and sometimes in the base correspond to colors found naturally in the environment. For example, the peacock table lamp shade's stained glass colors coincide with the beautiful feathers of a real peacock. The proportion of shade to base was very crucial, especially since most were made to replicate proportions and irregularities found in nature, and a lamp with odd proportions would be less harmonious. There were certain shade designs that are meant to be paired with certain bases, but other designs had more flexibility in their creation.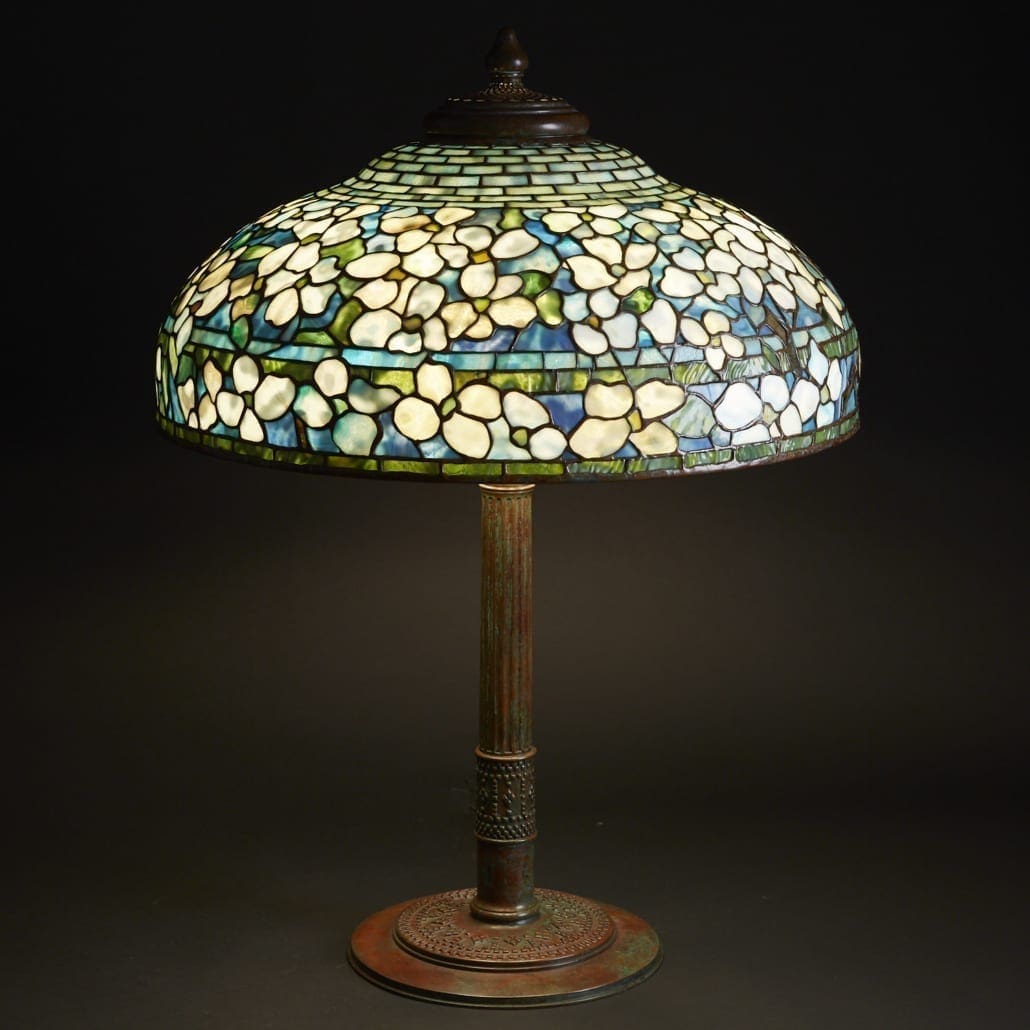 These lamps were so desirable, and still are in the auction market today, that even with cracks and imperfections they can sell for thousands to even millions of dollars, depending on the rarity of the lamp. Most sell between $4,000 and over $1 million, but the most expensive, the rare Pink Lotus lamp, sold for $2.8 million. With their technical craftsmanship, beautiful design, and continued popularity, these lamps are truly a shining example of Art Nouveau art and design.
Revere Auctions is actively seeking consignment of Tiffany lamps. If you are interested in finding out how much your Tiffany lamp is worth, reach out to us at info@revereauctions.com for a free auction estimate!