A full moon illuminates draped wisteria vines that seem to float along a dark blue sky. The delicate composition is unbroken, smooth, and betrays no hint of the complexity behind its existence, except for the golden white moon. This moon plays a larger role than just a light source for this deceptively simple vase. It is the chrysanthemum Imperial Seal of Japan, bestowed only to imperially commissioned pieces for presentation to the royal court and the Emperor. An honor reserved for Japan's most valued and skilled craftsmen. This vase, though not bearing Namikawa Yasuyuki's signature, undeniably came from his workshop in Kyoto, and was presented to the Emperor Meiji's court in the late 19th or early 20th centuries. The vase represents the evolution and merging of Western and Japanese science and craftsmanship and is a beautiful example of the effects of the Meiji Restoration and the Golden Age of Japanese cloisonne. Namikawa Yasuyuki, cloisonne's leading light.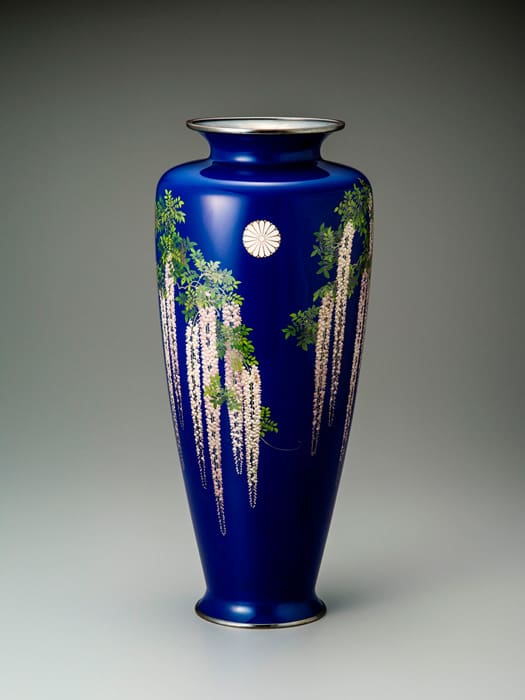 Large cloisonné Vase with Chrysanthemum Crest and Wisteria Blossom Motif, Namikawa cloisonné Museum of Kyoto
Meiji Restoration
The Meiji restoration is a multifaceted and complex period of history that could not be adequately summed up with just a few hundred words. Broadly speaking, the Restoration (or Revolution) consolidated the Japanese political system that had since the 17th century been under a feudalist system in which nobility ruled their provinces under the leadership of the Tokugawa shogunate in Edo (Tokyo). When Emperor Meiji declared himself to be the unilateral ruler of Japan in 1886 this system came to an end. Following American navy Commodore Perry's arrival in the late Edo period, and subsequent militarial intimidation, Japan opened its borders to the Western world. With the upheaval of government structures and a re-entry into global commerce, much of Japanese and Western life changed. These permeable borders meant there was now an influx of goods, culture, innovation, and industrialization to and from Japan, to and from the West. The 'goal', or more appropriately the result, of the Meiji Restoration or Revolution was a sythenization of Western production and output with Japanese artistic and cultural value. With Japan now providing new sources for inspiration and art, Western desire for Japanese pieces, or at the very least aestheticized orientalist pieces was at a peak. Among those objects which were so highly coveted by foreigners was Japanese cloisonné, unparalleled in its technique and execution when completed by a master, of which Japan had many during this Golden Age of cloisonné in the late 18th and early 19th centuries. Namikawa Yasuyuki of Kyoto was a cloisonné artisan of the highest caliber, his work rivaled only by artists like the Ando family or Namikawa Sosuke of Tokyo.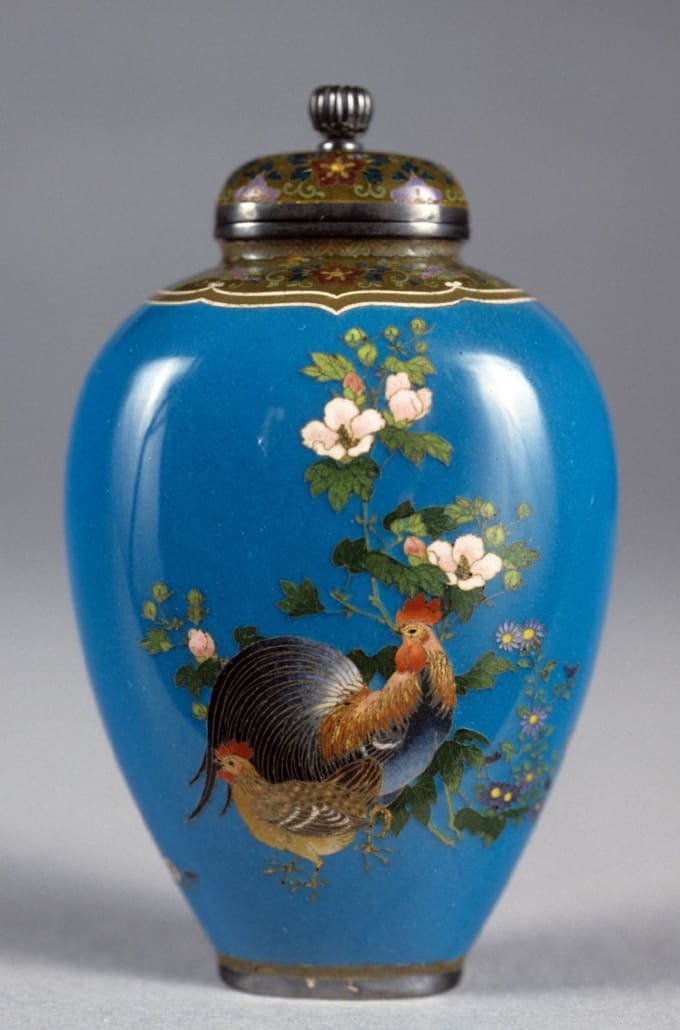 Jar and Lid with Design of a Rooster, a Hen, Two Butterflies, and Flowers, Philadelphia Museum of Art
Namikawa's Life
Namikawa Yasuyuki was born in 1845 into a rural family and was adopted at the age of eleven by the Namikawa samurai family in Kyoto. With them, he trained to become a samurai and went on to be the personal attendant of the prince-abbot Kuni Asahiko. Asahiko lost power in the years before the Meiji restoration whereupon Namikawa left his service and returned to Kyoto to become a cloisonné artist. It seems that he appraised the quality of his life as a samurai and decided to turn to cloisonné as a full time career at the age of twenty three in 1868. He worked for the Kyoto cloisonné Company between 1871-1873/4 and in 1876, Namikawa established his own studio at his home in Kyoto.
He went on to exhibit internationally in Philadelphia in 1876 and Paris in 1878, as well as the first National Industrial Exhibition in Tokyo in 1877. By 1896 Namikawa was granted the title of Imperial (Household) Artist by the Emperor Meiji and he continued running his public studio as he served the court.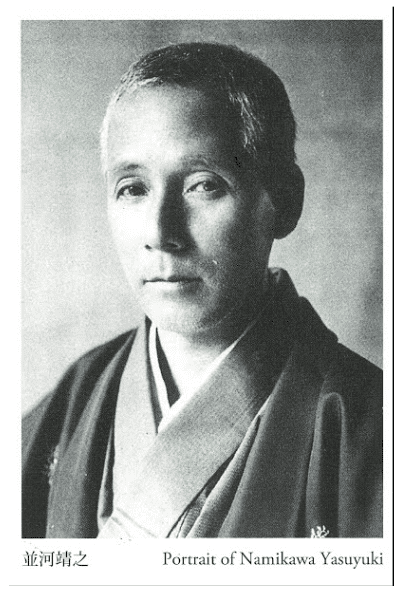 Portrait of Namikawa Yasuyuki (1845-1927), Google Arts and Culture
By the time he was granted his position as an Imperial artist it had been many years since he personally crafted a vase. However Namikawa closely monitored the creation of each piece, as well as doing much of the design, and the entire firing process himself. The cloisonné industry dropped during the Taisho era (1912-1926) and Namikawa retired from mentoring and overseeing the artists and work in his studio in 1915. The Western demand for his wares was no doubt impacted by the First World War and his workshop closed entirely a few years later. He died at the age of 82 in 1927.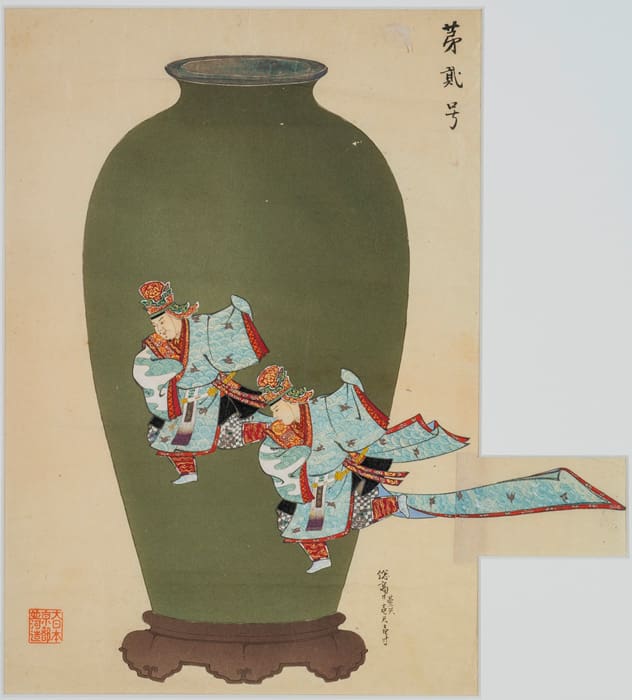 Drawing, Design for a Vase with Court Dancers Motif Namikawa Cloisonne Museum of Kyoto
Namikawa's work, even during his lifetime surrounded by hundreds of masters of cloisonné, stood out from those working in Kyoto and elsewhere. A Western visitor to his studio, Herbert Ponting, observed that, "I [Ponting] was glad I had seen the other places [workshops] first, as I was thus better able to appreciate, from what I saw that day, the excellence of the workmanship which has placed the Namikawa product in a class which few of his contemporaries ever reach." Ponting's appraisal of Namikawa's work was not without merit as the demand for his pieces surpassed the workshop's ability to produce and sell vases.
His designs were taken from nature, as so many cloisonné artists' were and are. He was overwhelmingly drawn to flowers with many vases swathed in delicate, soft petals, leaves, and branches, a motif that dominates the Wisteria vase. In tandem with the flora, Namikawa also employed black breasted roosters, hawks in flight, and darting dragons in his retinue of imagery. The occasional landscape, scene of water, or royal procession were also featured.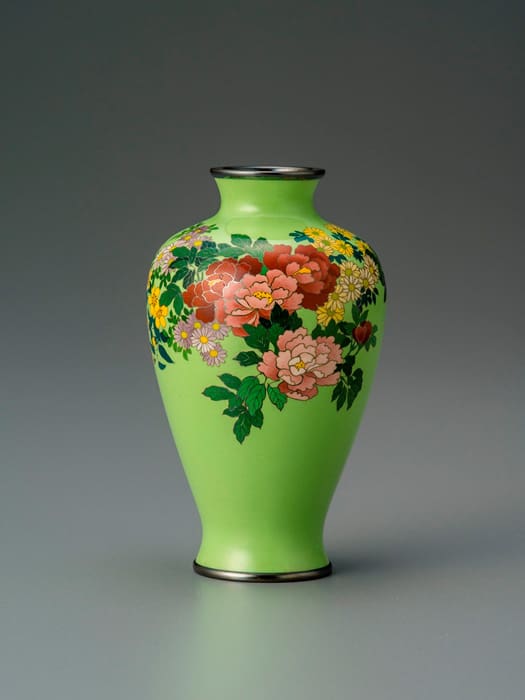 Small Cloisonné Vase with Cherry Blossom, Peony, Chrysanthemum, and Butterfly Motifs, Namikawa Cloisonne Museum of Kyoto
Something other than beauty is visible in Namikawa's work; innovation in glazing, enameling, and firing during this Golden Age of cloisonné. Namikawa demonstrably took advantage of new technology developed by the Ahern company and German chemist Gottfried Wagener, an expert on firing and glazing, scientific developments that changed the face of Japanese cloisonné forever. Namikawa's technique was unparalleled with his use of the new translucent enamels and wiring techniques, and his pioneering approach to design.
Technique
There are multiple types of cloisonné within Japan that have developed over the centuries. They are essentially variants on cloisonné and champleve, and the term shippo is applicable to both in Japanese. There is musen-jippo in which the wires are removed from the metal base once the enamel paste has been applied, leaving a seamless finish to the work. There is also "bodiless enamel" called shotai-jippo ( plique-a-jour cloisonné), in which there is no backing for the cloisons and a translucent enamel (suki-jippo) is used to allow light through the piece. Namikawa Yasuyuki worked in suki-jippo, translucent enamel with metal bodies for backing. This smooth, translucent enamel was the pivotal point in transforming Japanese cloisonné from an offshoot of Chinese techniques to its own truly unique form, looking unlike anything else in Eastern Asia.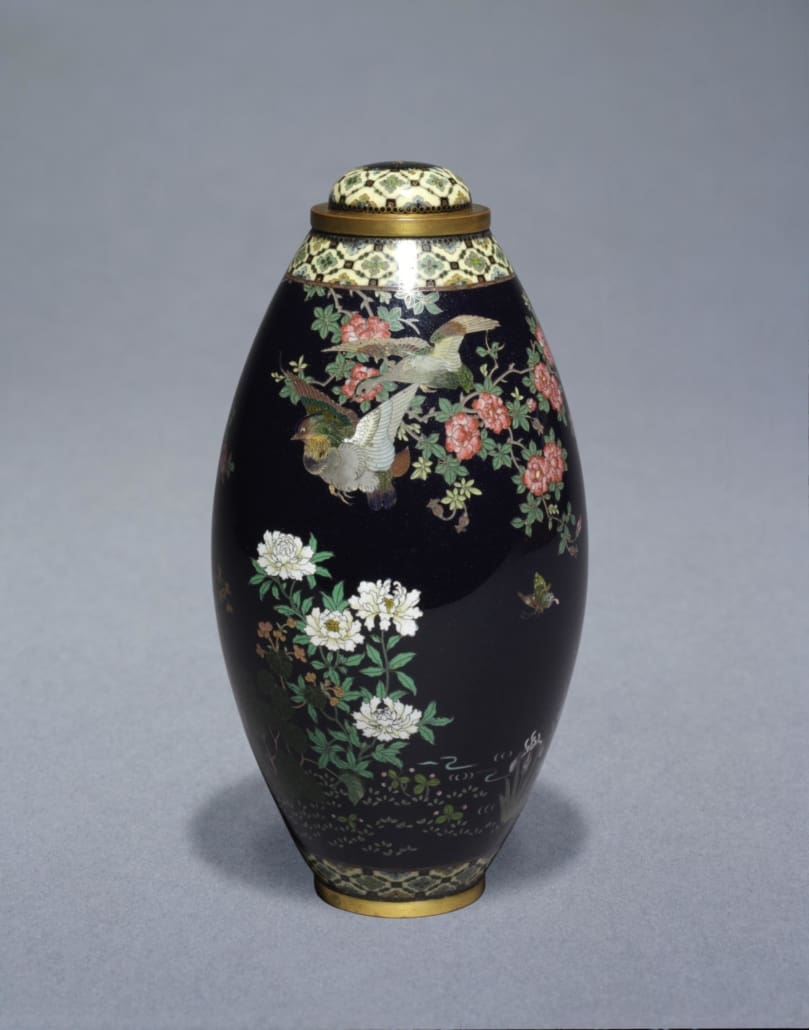 Lidded Vase with Hawk and Flower Motifs, Victoria and Albert Museum
This was a very concentrated effort on the part of Japanese cloisonné craftsmen to improve the quality of enamel and wiring work they could achieve. The Golden Age of Japanese cloisonné technique was brought about from collaborations with German chemist Gottfried Wagener and Japanese institutes, companies, and artists and their workshops like Namikawa Yasuyuki.
The work of Wagener and other Japanese cloisonné masters led to a major shift in styles, especially in Namikawa Yasuyuki's workshop. Enamel was now able to cover larger sections without wire support; for Namikawa and his contemporaries this meant that the once heavily brocaded scenes dominated by wiring were now obsolete. Namikawa shifted to a more minimalistic approach, containing the heavy wiring to the rims of a piece while the central design was left to drift in a pool of enamel. Before this, design trends in Japanese cloisonné, much like Chinese cloisonné, were heavily reliant on the capacity of the cloisons and the maneuverability of the wiring. Now there was an approach of 'pictorial emphasis', meaning more attention could be given to the enamel design itself rather than the wiring, and greater value was placed on blank space. We see all of this executed in the Wisteria presentation vase. The vines float in a pool of deep blue enamel, a color which was highly experimented with as shades of blue were particularly difficult to concoct. Namikawa adopted this design process fairly early into his artistic career and in order to bring the technique to its full potential he perfected firing and smoothing methods ensuring there was no more graininess or texture in a finished piece. Again, the unbroken texture and pockmark-free Wisteria vase is an excellent example of this effect.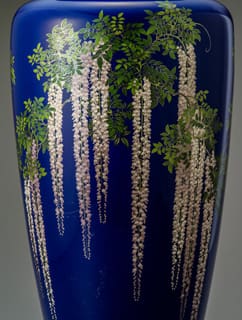 Part of Large cloisonné Vase with Chrysanthemum Crest and Wisteria Blossom Motif, Namikawa cloisonné Museum of Kyoto
More complete sections of enamel meant that there was no need for decorative scrolls and other marginalia and allowed for a less cluttered scene. Instead of an entire background taken up by cloisons, there is a smooth ground of enamel. Namikawa clearly took advantage of this, a trademark of his distinct style being a sense of minimalism. That is not to say every piece he designed followed this blueprint: several of his vases are covered in floral and faunal designs that overlap and fill space. The difference between Namikawa's busier designs and the over-embellished designs of the past is that these elements were now placed purposely rather than as support structures that did not add to the overall story of the design. He was clearly alternating in style on a piece by piece basis, as it appeared that the more traditional, busier scenes were for imperial commissions, while his floating designs, suspended in an enamel pool, were for the commercial market and appealed more to Western buyers.
This aspect of minimalism in the Wisteria vase is what makes this piece so interesting. There are one or two other examples of imperial commissions done by Namikawa in a similar style to this vase; however, the majority appear to lean towards more traditional scenes that bustle with the activity of parades or butterflies.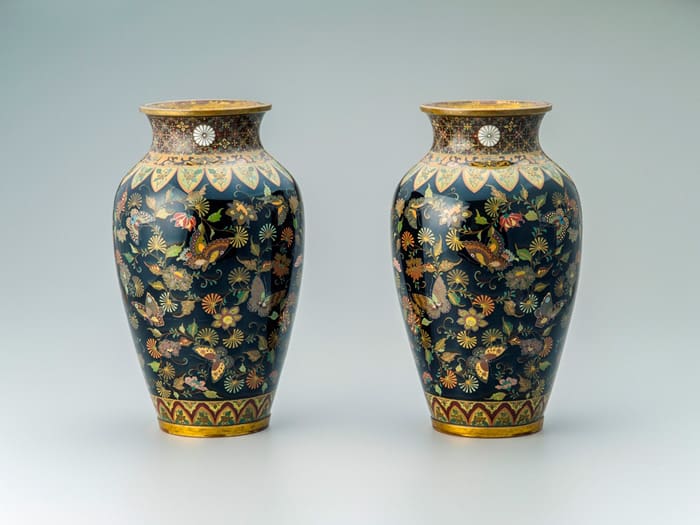 Pair of cloisonné vases with Butterfly and Chrysanthemum Arabesques, Sennyuji, Kyoto, Namikawa Yasuyuki
Another hallmark of Namikawa Yasuyuki's work was his use of shaped metal inserts, both regularly and irregularly shaped. Irregularly shaped inserts created more naturalistic leaves, bamboo reeds, rocks, and wisteria vines. This is how he achieved the effect of such delicate, floating petals in the vase that cast shadows upon one another as if the moon was truly shining down on them. He was no longer beholden to bulky support wires and could create any illusion he wished, like Wisteria vines gently blowing in the night. Or are they floating down a still stream with the reflection of the moon upon the deep blue water? Even in his busier scenes the wire work is impeccable, the wings of a butterfly do not give them the appearance of wiring, just the natural joints and veins of a wing. His designs, both busy and simple, also provide an accompaniment to the flower arrangement or Ikebana that the vases held. The Wisteria vase is an obvious receptacle for wisteria vines, or for brighter and more contrasting flowers.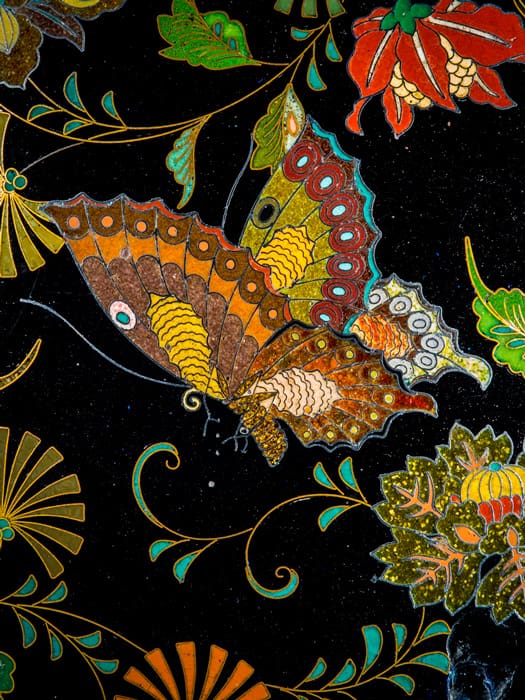 Part of cloisonné vase with Butterfly and Chrysanthemum Arabesques, Sennyuji, Kyoto
The Continuity of the Golden Age
Though Namikawa's workshop shut down during the Taisho era (1912-1926), along with many other esteemed workshops, cloisonné and the scientific innovation and research made during the Meiji restoration have not gone to waste. Cloisonné is still purchased and valued by museums and private collectors alike, and new artisans tend to their enamel crafts everyday. The Ando Company is an institution that has managed to survive to this day since its opening in the early 19th century. It continues to sell beautiful cloisonné work and provides an opportunity for traditional Japanese techniques and artisans to continue to improve and be enjoyed.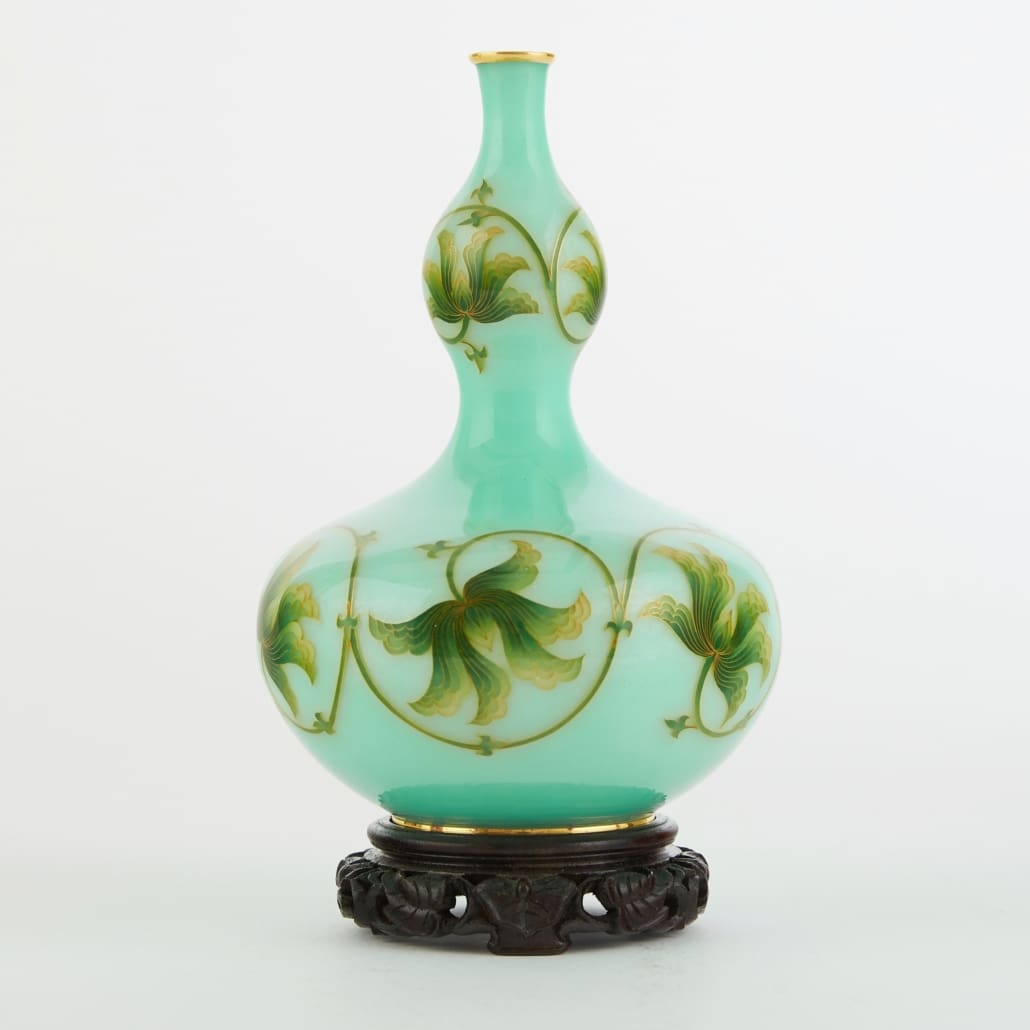 Japanese Ando Company cloisonné Vase ex H.Humphrey Collection, sold by Revere Auctions in September 2019
Namikawa Yasuyuki's work is astounding and has maintained its popularity and value throughout the last century. This is due, in a large part, to the way it embodies the combination of Western and Japanese science and art. However, detailed research on Meiji history is not necessary to appreciate the brilliance of an object like the Wisteria Vase. The immersive nature of Namikawa's work takes a viewer in, regardless of their previous knowledge of Japanese art history. You see the vase and suddenly you are walking down a wisteria lined path on a humid summer night, the moon lighting your way and perfectly highlighting the delicate pink and purple petals. The sweet and powerful scent of the flowers drifts through the warm air and guides you home, or to the nearest sake house.
If you have Namikawa Yasuyuki cloisonné you wish to have appraised or sold please contact us at here or 612.440.6985.