PB Sticker on Vases, Paintings and Antiques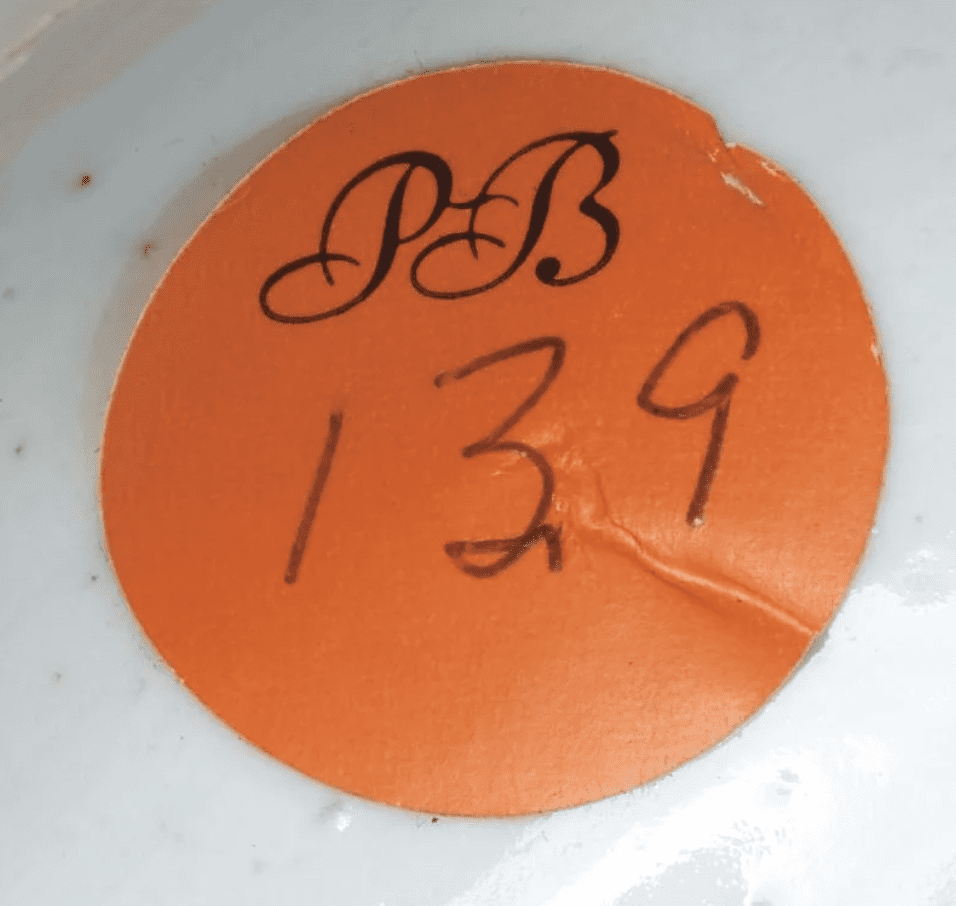 The ownership of art and antiques is not just restricted to snooty collectors and prestigious museums. In fact, more often than not, the average person will come in possession of vintage artwork or an antique item at some point in their life. For example, you may have recently inherited heirlooms, trinkets, and the like from a relative that has recently passed. If so, you might have seen a PB sticker on art and antiques that you now own.
What do the initials PB stand for? What is the purpose of a PB sticker on art and antiques? Perhaps you found a PB Sticker on a Chinese vase or PB sticker on an old oil painting.
The answers to these questions and more can be found several decades in the past. We need to take a look back through the history of art collection, appraisal, and auctioneering during the early to mid-20th century in the United States; and more specifically in New York City.
An Exodus from the American Art Association and the Rise of Parke-Bernet Galleries
During the Gilded Age – the decades that followed the Civil War – economic growth in the country skyrocketed at a breakneck pace. This was especially evident in the North, with states like Massachusetts, Pennsylvania, and New York as prime examples. It was during this era that the American Art Association was established.
Today, the American Art Association is most notably remembered as being the very first auction house that was established in the United States. However, during its time operating in Manhattan, the institution earned a reputation as the premier location for art acquisition in the country.
A few decades later, in 1937, the American Art Association suffered a seemingly devastating blow, when a set of its former employees – about forty or so of them – founded Parke-Bernet Galleries. As its name suggested, this new auction house was spearheaded by Hiram H. Parke and Otto Bernet, who were without a doubt, two of the most notable individuals that had been associated with the American Art Association.
In fact, it was only a year later in 1938, that the American Art Association (at that time known as the American Art Association-Anderson Galleries, Inc) was acquired by Parke-Bernet Galleries. This left Parke-Bernet Galleries as the most dominant auction house in New York City – and in fact the country at large – for decades to come.
Parke-Bernet's Association with the Talented and the Wealthy
During this era, Parke-Bernet Galleries oversaw the sale of works by countless esteemed artists, including but not limited to: Impressionist painter Pierre-Auguste Renoir and Fauvist painter Raoul Dufy.
However, what is now most notable about Parke-Bernet Galleries, is the fact that they oversaw the sale of the estate of several high profile clients. Some of these included less mainstream names, like Armenian archaeologist and collector Hagop Kevorkian and also French banker and collector Georges Lurcy. Some of Parke-Bernet's more well-known clients include: Henry Ford II, the Vanderbilt family, and the Rockefeller family.
By being associated with the artwork of countless talented artists and also by doing business with some of the most wealthy names in the country, Parke-Bernet Galleries easily became (the undisputed) largest auction house in the United States.
What Does the PB Sticker on Art and Antiques Mean Today?
First and foremost, if you find that you have an item that has a corresponding PB sticker, do not dispose of or lose track of it!
Stickers like this can come in several colors but they will always feature the signature "PB" lettering and a number. These stickers were used by Parke-Bernet Galleries to track lot numbers and owners of valuable art and antiques.
We've already spoken about the history and reputation of Parke-Bernet Galleries and so, you can more often than not expect that an item that is associated with a PB sticker will be relatively valuable and sought after.
What Should I Do if I Find a PB Sticker on Art and Antiques?
Well, above all, you should keep the item and any documentation related to it safe. Like we've said, a PB sticker is usually a telltale sign that an object could be valuable.Don't sit around and remain oblivious to the true value of your art or antique. If you or someone you know owns an object with a PB sticker, contact us today for a free auction estimate of value. We would love to see it.