Roberto Matta was a formative surrealist of the twentieth century, best known for his influence on the development of abstract expressionism. His works reject the notion of a single vantage point in favor of social commentaries from his time spent in South America, Central America, and Europe, and center on the exploration of the unconscious.
Biography
Roberto Matta was born in 1911 in Santiago, Chile to a family of French, Spanish, and Basque descent. He attended the Catholic University of Santiago for architecture, and graduated in 1935. However, he abandoned his career in architectural studies a year after graduating to begin formal training in the fine arts. He joined the Merchant Marine program after graduating, which allowed him to expand his education outside of Chile. He traveled throughout Central and South America before settling in Paris to work for the school of Le Corbusier, who combined sculptural expressionism with urban planning. From there, his studies led him to Madrid, where he was able to form connections with Salvador Dalí, and André Breton, among others. They had a strong influence on his artistic formation, and were the catalyst for his rise into surrealism. Matta's early works coincided with the height of the avant-garde movement, which played a role in the development of geometry and abstraction in his work. His friendships with Gertrude Stein, Marcel Duchamp, and André Breton led to his introduction to painting, which would go on to become his most prominent medium.
Matta's development in oil painting solidified after 1938, when he moved to New York. This shift away from drawings is notable in his dappled light patterns and ambiguous settings, with subject matter that dealt with the inner psyche. This theme expanded with the start of World War II, when Matta's work began to reflect the anxiety and disturbance felt throughout the world. His work was influenced by his friendships with Ashile Gorky and Robert Motherwell. The combination of his European influences with his found-community in New York led to the development of his unique style, and ultimately, to his downfall. In the early 1940s, Matta had an affair with Gorky's wife, followed by Gorky's suicide. Ostracized and shamed from his community, Matta fled to Europe, where he married Malitte Pope in 1955. There, he spent time weaving together the political and the metaphysical in studios throughout the 1950s and 1960s.
Matta's first marriage collapsed in the early 1960's, with Pope eventually marrying Pierre Matisse. Matta remarried to Gemana Ferrari in 1968. Matta's political awareness led him to the campaign of Salvador Allende in Chile in the late 1970s, where his murals became a symbol of the socialist President. In an effort to suppress rebellion, his work was covered up or destroyed by the military dictatorship that followed; this reinforced Matta's belief that art can impact lives. One such mural was rediscovered in 2005, and later restored before being placed on display in Santiago. His political work is also seen in his works based around the writing of Miguel de Cervantes, Alfred Jarry, and William Shakespere, for which he was recognized in 1995 with the Japan Art Association's Praemium Imperiale prize for painting.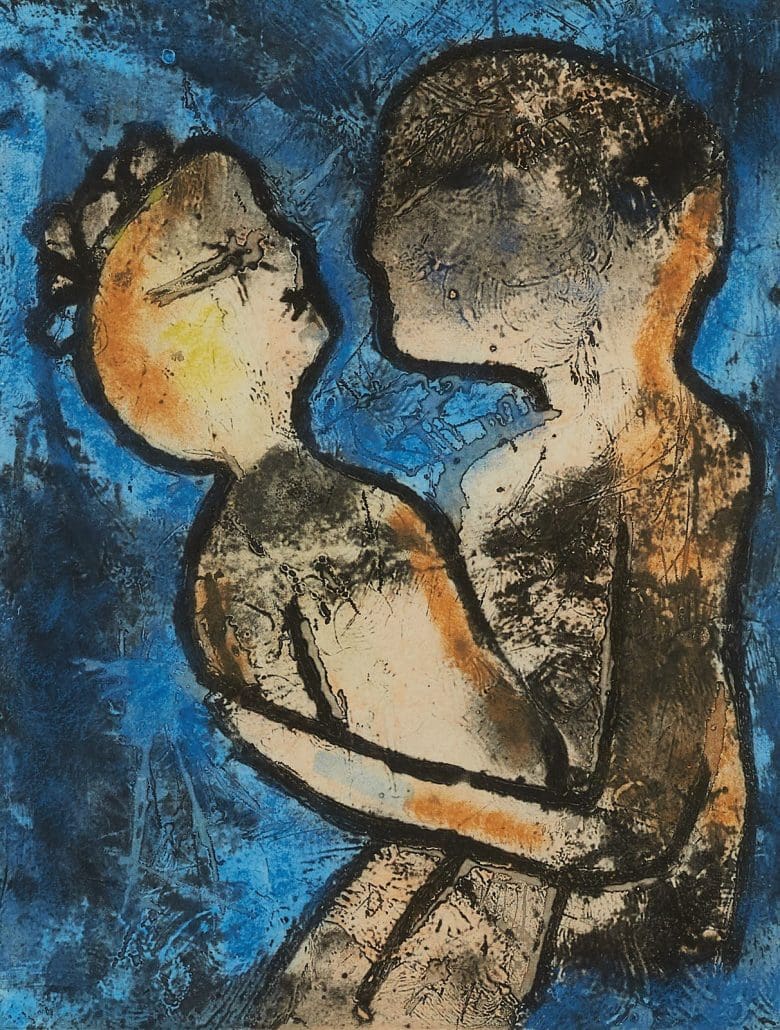 Roberto Matta's Artworks
Although his work is born from a background in architectural design, Roberto Matta is known for his paintings. The attention to detail and spatial awareness that he gained through this formal training, and then honed in France, is evident across his oeuvre, but especially in his early works. Most of Matta's works produced after 1938 are done in oil, but he was known to work in mixed media, especially in the digital landscape towards the end of his life. His early works, filled with biomorphic forms, are a testament to his friendship with Salvador Dalí. The impact of the Avant-Gardé can be seen at the height of his artistic training, as the setting became increasingly ambiguous in his work.
This ambiguity morphed into existentialism with the dawn of World War II, as did Matta's exploration into print-making, for which he is also well-known. The multidimensional imagery and bold use of primary colors in a chaotic pattern reflect the influence of New York artists, who he fell in with after leaving Europe. Throughout the war, he lived with artists such as Breton, Tanguy, Ernst, and Masson, and his work evolved into fantastic subjective landscapes and abstraction.
Later into his career, Matta's work in painting shifted from abstract themes on the human psyche to tangible moments in history. His number series based on written work by Migel de Cervantes, as well as William Shakespere, earned him global recognition, as did his political murals produced in the 1970s in response to the turbulent Chilean political landscape. Matta's work is easily identifiable by the triadic or split-complementary colors within his paintings. The feature of the human body is a constant in his work, and very popular with both collectors and critics. The distortion of the body increased as Matta came more into contact with the abstract expressionism that dominated the United States following World War II. His paintings balance color and form throughout the composition, with emphasis consistently placed on the figure. Throughout all media, movement is emphasized, which reflects his binding of social and political movements to his art.
How much is my Roberto Matta worth?
The market for Roberto Matta's work has remained fairly steady for the past decade. Following his receipt of the Japan Art Association's Praemium Imperiale prize for painting in 1995, his work has been highly desirable throughout Asia, as well as Europe, South America, and the United States. Matta was most active in New York, and his contemporary works post 1960 that engaged directly with political, social, and spiritual themes are valued higher.
In the past decade, about six hundred of his oil paintings have sold, with his wood, watercolor and ink valued more commonly under five figures. Much of his more prominent political work remains on display in museums or government buildings in Chile, and his work tends to increase in value with an increase in size.
Appraise and Sell Roberto Matta Artwork
If you own a Roberto Matta artwork that you would like to sell or have appraised, don't hesitate to reach out to Revere Auctions. We are based out of St. Paul, Minnesota, and provide full-service appraisals as well as auction services.
If you would like to sell your Roberto Matta, you can start the process by contacting us for a free auction estimate of value. This is a free service; all you have to do is send us a photograph of your artwork and we will let you know how much your object will most likely sell for at auction.
We can provide a certified appraisal if you need an appraisal for your Roberto Matta artwork. You can use this for insurance coverage, as well as donation and estate taxes. Our appraisals are accepted by all insurance companies, as well as the IRS, and are compliant with the Uniform Standards of Professional Appraisal Practice (USPAP), providing the highest professional standard of appraisal.