Born in 1876 as Hiroshi Ueda in Kurume to a school teacher father, Hiroshi Yoshida grew up during the Meiji period (1869-1912), a time in Japanese history that was strongly influenced by Western culture. At the age of fifteen he was adopted by his art teacher, Kasaburo Yoshida. Both Kasaburo Yoshida and his wife, Rui, were artists who nurtured Hiroshi's artistic talents, craftsmanship, and creativity. At twenty years old Hiroshi left Kurume to study painting in Kyoto. One year later he moved to Tokyo and entered Koyama Shotaro's Fudosha private school as well as the Meiji Fine Arts Society, where he was trained in traditional Western-style oil painting. During the early 1900s, he found success as a painter, and won many exhibition prizes, taking many trips to the United States and Europe.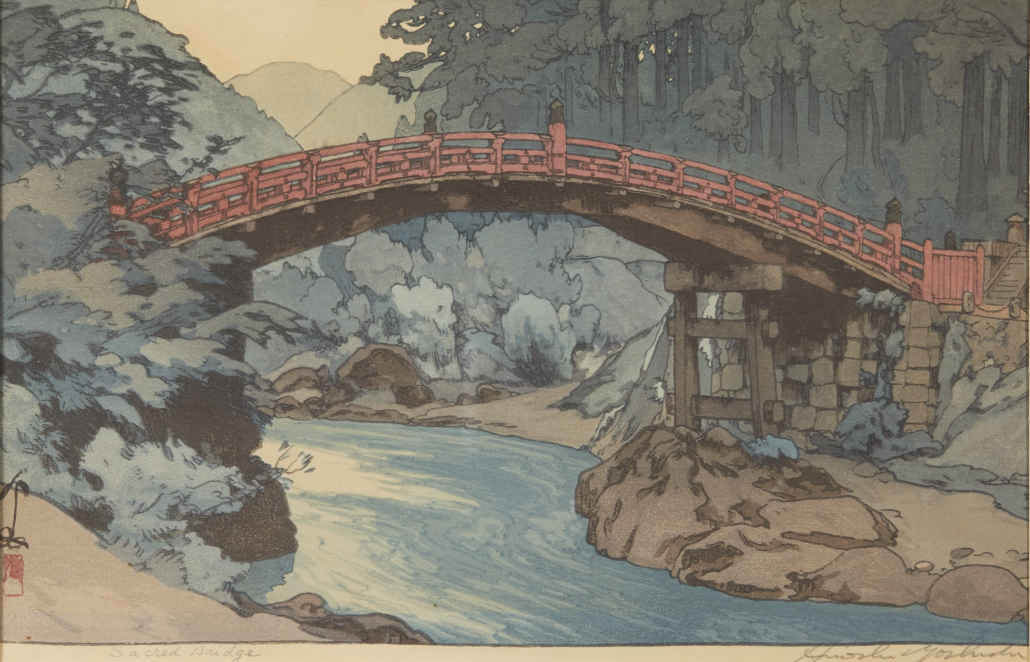 He began his woodblock printing career in 1920, when he was hired to design woodblock prints for a publisher, Watanabe Shozaburo (1885-1962). Unfortunately, these early prints were lost after Shozaburo's shop was damaged during the Great Kanto earthquake of 1923. After the earthquake, he traveled around the United States again in order to accumulate funds for himself. There he realized how quality ukiyo-e prints, a style of Japanese art that depicted images of everyday life, were valued in the West. When he returned to Japan, Yoshida turned to woodblock prints due to Western infatuation and opened up his own shop where he acted as director and supervised every detail among his workers. His prints were made with the perspective and composition of Western-style paintings but with the precise technique of ukiyo-e woodcuts. His innovative style led him to be a pioneer of shin-haga, the revitalized tradition of ukiyo-e art.
Although he is largely known and for his woodblock prints, Hiroshi Yoshida did not limit himself to prints on paper. His work includes marble sculptures, stained glass windows, and prints on silk instead of paper. Additionally, he used different types of wood and not just the traditional cherry wood for his blocks. He signed and stamped his works, often in the left margin above the title and date. Prints after his death do not have his jizuri kanji stamp and are deemed less valuable. Today his net worth is approximately $1.9 million, and his original prints have been sold for at least $2,500 and have gone as high as $10,000.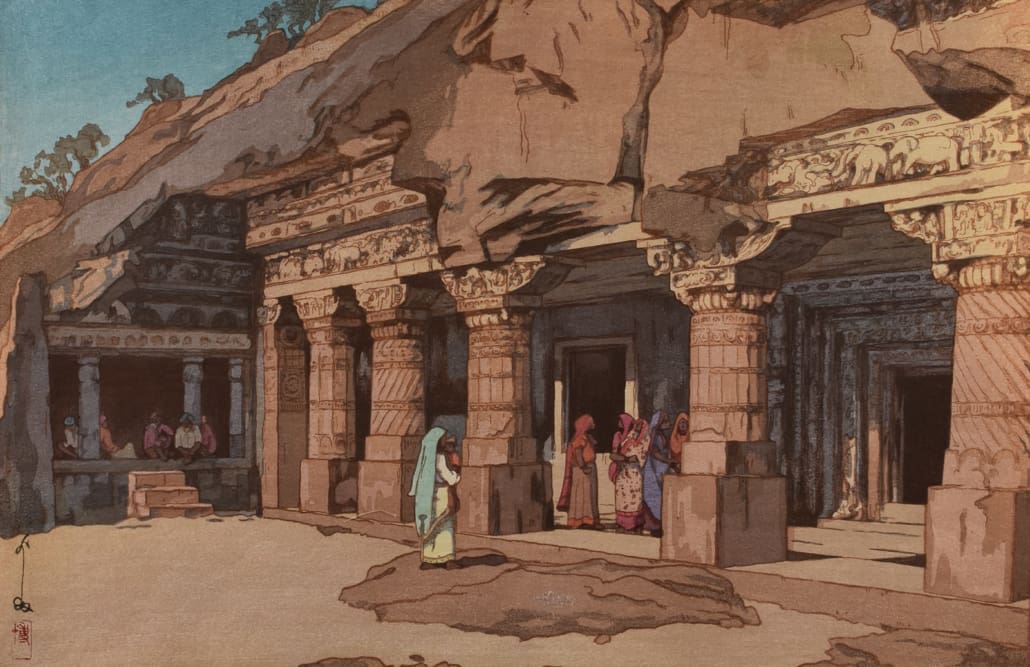 With the push and guidance of his adoptive father, Hiroshi Yoshida eventually became one of Japan's most influential artists and the patriarch of an ever expanding family of generations of artists. His children and grandchildren have carried on his legacy but have also made their own name as artists with unique styles.
Hiroshi married Fujio Yoshida (1887-1987), the daughter of his adoptive father. She is the first female artist in the Yoshida family. Fujio was trained at an early age in the Western style and went on to create naturalistic and abstract watercolors, oil paintings, and woodblock prints. She and Hiroshi had a daughter but sadly she passed away in 1911. That same year, their second child and first son was born, Tōshi. After the death of her first child, Fujio fell into a depression and stopped creating artwork for nearly a decade. Eventually she picked up woodblock prints again, and at the age of sixty-two, she began creating more abstract and sensual prints after being influenced by her second son, Hadoka. Her abstract floral prints have often been mistaken for Georgia O'Keeffe's paintings, as they are bright, colorful, organic, and fluid in movement.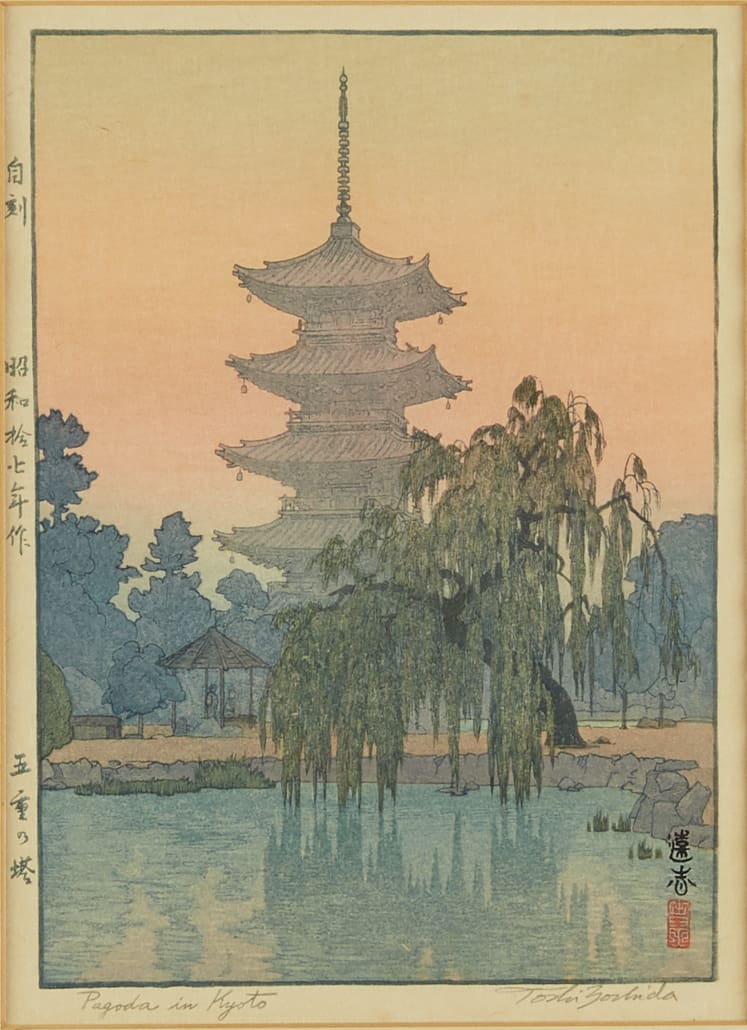 Tōshi Yoshida (1911-1995) was the first son of Hiroshi and Fujio Yoshida, and like his parents, he became an artist and was trained by his father. At a young age, Tōshi struggled with keeping and carrying on his father's legacy. To distinguish himself from his father, who was best known as a landscape artist, Tōshi began focusing on animals as his main print subjects in 1926 and leaned more towards abstract imagery. In 1940 he married Kiso Yoshida (1919-2005), another artist. Kiso excelled in the older and more traditional Japanese arts. Together they had five sons, one of them grew up to be an artist as well. Tōshi traveled extensively to Mexico, Great Britain, the near East, and the United States in 1953. During his travels, he made presentations in thirty museums in eighteen states. Around the age of sixty-nine, he opened up a woodblock print making school in Nagano and in Miasa. After his death, his second son Tsukasa Yoshida (born 1949) took over and is currently the director of the Yoshida Hanga Academy.
As the director of the Yoshida Hanga Academy, one of the most influential schools for Japanese woodblock printing, he organizes annual exhibitions that are open for former and current students to attend and display their artworks. As an artist, his woodblock prints are very similar to his father's and grandfather's. Tsukasa's prints are simple and straightforward compositionally, and is he known for his vibrant colors and use of subtle gradation in the backgrounds to create a soft atmosphere.
Hodaka Yoshida (1926-1995), unlike his brother Tōshi, was encouraged to study science at a young age and graduated college as a scientist. However, after World War II, when Japan became less strict about art, he decided to follow his passion in the arts. During his mid-twenties, he began his artistic career with abstract oil paintings. He exhibited his early paintings in the Second Nihon Independent exhibition in 1948. One year later he began experimenting with woodblock prints, and in 1951 he exhibited both his oil paintings and prints in one show. After some time traveling to foreign countries and being inspired by indeginous art, he influenced his family with his more energetic and abstract works. His wife, Inoue Chizuko (1924-2017), was also an artist. She was trained as an abstract painter, and, with Kiso Yoshida, makes up the second generation of female artists in the Yoshida family.
Ayomi Yoshida, born in 1958, is the daughter of Hodaka and Chizuko and is the third generation of women artists. Although she was not pressured to pursue an artistic career, like her parents and grandparents, she studied art on her own accord at Wakō University, a private school in Tokyo, Japan. Being the most conceptual artist in the family, she has broadened the family's artistic landscape through her unconventional approach to woodblock prints. Her prints from 1979 to 1997 focused more on the carving process more than the finished work itself. At the age of twenty-three, she won her first award for a woodblock print in the Sunshine Print Gran Prix exhibition. However, she is best known for her room sized installations. She has exhibited her works in the College Women's Association of Japan, the Minneapolis Institute of Arts (Mia), and the Minneapolis College of Art and Design, as well as other international venues. In 2002 she had her largest installation at the Mia, and her only permanent installation is at the Target Corporation Headquarters in Minneapolis.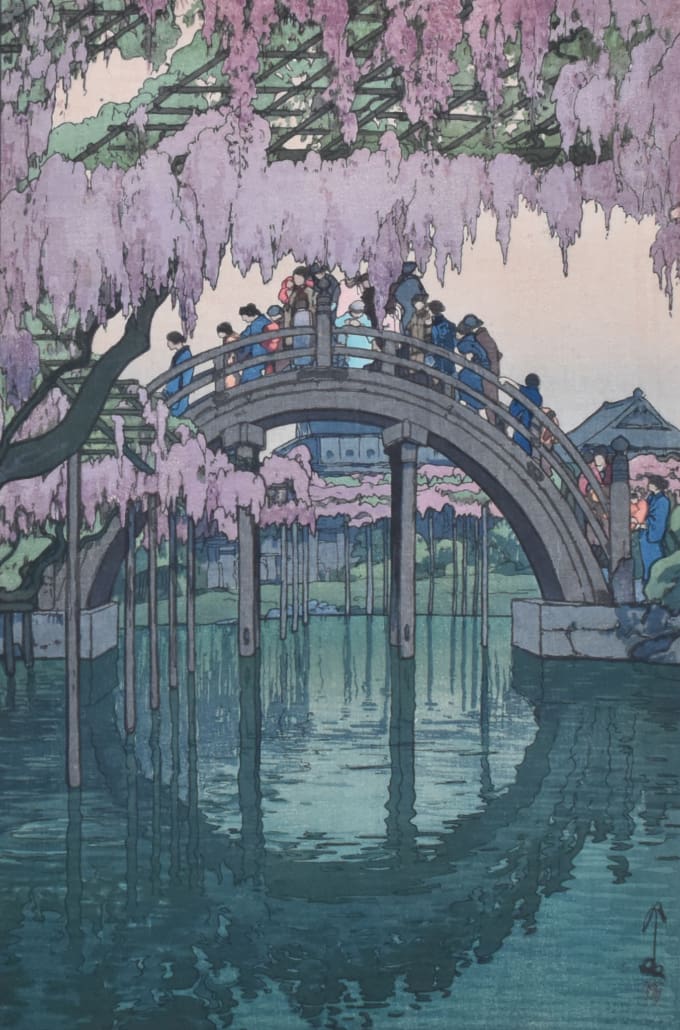 The Yoshida family of artists spans four generations of artists, four male artists and four female. These artists provide perspective in Japanese history and art development through their work during the influential times of the 20th century. Although they have a very strong foundation and background with woodblock prints, each artist is uniquely their own and has experimented with other forms of art. From shin-hanga, abstraction, surrealism, and conceptual installations, each artist has contributed to the ever expanding growth of the family legacy.
If you have an artwork by a member of the Yoshida family that you are interested in selling or having appraised, please contact Revere Auctions at info@revereauctions.com or (612) 440-6985.