Toko Shinoda (1913-2021) was a Japanese artist who combined elements of Japanese calligraphy and American abstract expressionism in her unique abstract works. She is most famous for her sumi ink on paper pieces, which can be found in museums throughout America, Europe, and Asia.
Who Was Toko Shinoda?
Toko Shinoda was born in Dairen, in modern day Northern China, on March 28th, 1913. Her given name was Masuko, with Toko being an artistic pseudonym she took on later in life. Shinoda's family moved to Tokyo in 1914, where she began learning the basics of calligraphy at just 5 years old.
In 1925, Shinoda entered a women's school in Tokyo, where she was instructed in kana calligraphy and composing poetry. Although she was very skilled, kana calligraphy was considered a woman's hobby at the time, rather than a potential profession. In 1936, Shinoda ran away from home and began teaching calligraphy on her own.
Shinoda had her first independent exhibition in 1940, at a retail store in Ginza, Tokyo. Her unorthodox work received lackluster reviews, particularly since the female dominated Kana calligraphy was less respected than the male dominated field of Mana (Chinese) calligraphy at the time.
After World War II, Shinoda began to create increasingly abstract works of calligraphy. However, it was her move to New York City in 1956 for two years that marked the most dramatic shift in her style. Inspired by the American Abstract Expressionists, Shinoda developed her unique style of abstract calligraphy.
By the time she returned to Japan in 1958, Toko Shinoda had become an internationally recognized artist. She continued to innovate and show her art throughout her life, even beyond her 100th birthday. Shinoda died of natural causes on March 1st, 2021 in Tokyo. She was just weeks shy of 108 years old.
Born/Died: (March 28, 1913- March 1, 2021)
Nationality: Japanese
Art Mediums:, Calligraphy, Painting, Printmaking
Related Artists: Kumi Sugai, Kiyoshi Saito, Jun Dobashi
Revere Auctions' newsletter keeps you up to date on the latest events and upcoming auctions for Toko Shinoda artwork.
What is the Artist Toko Shinoda Known For?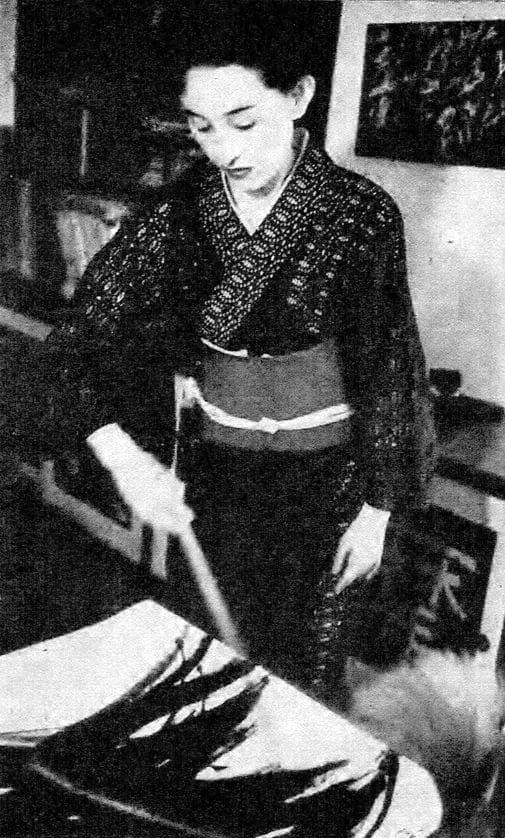 Toko Shinoda was best known for her abstract calligraphy compositions. The most well known of these were executed with Sumi ink on paper, although Shinoda also produced lithographs and large scale murals as well as many original poems.
Abstract Japanese Calligraphy
When Toko Shinoda first began showing her work in the 1930s and 40s, she mostly produced kana calligraphy of her original poems. As her style progressed, her work became more abstract. After her two year stay in the US, she began producing fully abstract works which, although they incorporated many stylistic elements of Japanese Calligraphy, were not meant to represent words or phrases. These pieces showed large scale strokes of ink, typically wide on one end and narrow on the other like those produced by a calligraphy pen.
Sumi Ink
The majority of Toko Shinoda's works consisted of Sumi ink on paper. Sumi ink is the traditional ink used in Japanese calligraphy. It is made of natural materials such as lamp soot or burnt pine and is traditionally black, red, or blue. Unlike her American contemporaries, who used a broad assortment of colors in their works, Shinoda focused on altering the shade and consistency of her ink to create a layered effect using a far more limited color palette. The shape, size, and directionality of her lines were deeply intentional and drew from her studies of both traditional Japanese calligraphy and western Abstract Expressionism.
How Much Are Toko Shinoda Artworks Worth?
Toko Shinoda's artwork has sold at auction for anywhere between $100 and $80,000. Interest in her art remains strong, and she achieved her highest ever sale price of $81,250 at auction in 2020. A typical auction price for a Shinoda lithograph is between $500 and $4,000, while paintings and sumi ink pieces typically sell for between $3,000 and $40,000
Average Estimate for Lithographs/Prints: $500-$4,000
Average Estimate for Paintings: $3,000-$40,000
Have your Toko Shinoda art pieces valued by experts with Revere Auctions appraisal services.
What Determines The Value of Toko Shinoda Art?
A variety of factors influence the final price that a piece of art sells for. For Toko Shinoda's work, a few key aspects to look at are the materials used, whether the piece is unique or part of a series, and the style of the piece.
Materials Used: Many of Shinoda's most valuable pieces incorporated platinum or gold leaf in addition to Sumi ink. In comparison, her less valuable pieces typically used only black ink, or occasionally a single red highlight.
Original or Lithograph: Shinoda's original works are worth considerably more than her lithograph prints, which were generally released in limited editions of 10 to 35.
Style: The more bold, abstract work Shinoda produced after her visit to America is generally more popular and more valuable than her early works.

Revere Auctions provides the best value for your Toko Shinoda works through extensive consignment and acquisition services.
The Values of Toko Shinoda Paintings and Prints
Here is a sample of a few notable Toko Shinoda pieces, and their value at auction.
Toko Shinoda, Shady-Sunny
This lithograph is split between dark on the left and light on the right. It was released in an edition of 35.
Estimate: $2,000-$2,500
Result: $1,400
Toko Shinoda, Soaring
Lithograph incorporating various shades of black sumi ink as well as a red marking added by the artist. Released in an edition of 25.
Estimate: $2,000-2,500
Result: $2,000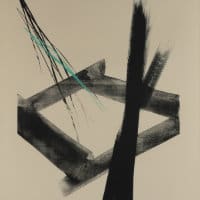 Lithograph combining thin and thick sumi ink brush strokes, including a single, needlelike green mark. Released in an edition of 30.
Estimate: $1,000-$2,000
Result: $1,600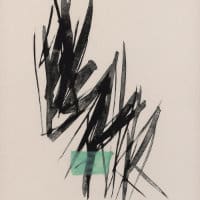 Lithograph with intersecting black sumi ink brush strokes, and a single wide green stroke. Released in an edition of 35.
Estimate: $1,000-$2,000
Result: $1,500
Sound
This unique piece includes wide swatches of sumi ink in different concentrations over a base of platinum leaf.
Estimate: $35,000-$45,000
Result: $81,250

Have your Toko Shinoda artworks valued by experts with Revere Auctions appraisal services.
How to Identify a Toko Shinoda Signature
Toko Shinoda typically signed her name in black ink on the verso or occasionally on the front of her piece. She sometimes added her name in Japanese characters as well. She often included the date, name of the piece in English, and number in a series when applicable on the verso as well.
How Can I Sell My Toko Shinoda Artwork?
Toko Shinoda's creative calligraphy pieces have continued to inspire viewers for decades, and interest in purchasing her works remains strong. While some individuals choose to list their Toko Shinoda lithographs on online shopping sites, going through an auction house will often yield better results. An appraisal from a trusted auction house can help you determine the value of your piece, as well as the best method to sell the artwork.
Revere Auctions provides the best value for your Toko Shinoda works through extensive consignment and acquisition services.
Revere Auctions Sells Your Toko Shinoda Art
Revere Auctions has expertise in selling Toko Shinoda paintings and prints at auction for competitive prices. Our experts at Revere Auctions are ready to help you with any stage of your art journey, whether you are looking for an estimate of value, a USPAP certified appraisal, art restoration, or an effortless way to sell your art. We advertise our sales on more auction platforms than any other auction house in America, and regularly achieve record prices for our objects. If you are interested in selling with us, please reach out for a free online appraisal of your piece today.
Discover Works From More Artists Like Toko Shinoda
Kumi Sugai
Kumi Sugai was a Japanese artist who combined French Expressionist and traditional Japanese techniques in his paintings.
Kiyoshi Saito
Kiyoshi Saito was a Japanese artist who used sumi ink to create lithographs and drawings of predominantly natural subjects such as animals and Japanese landscapes.
Jun Dobashi
Jun Dobashi was a Japanese artist who created abstract oil paintings and lithographs.