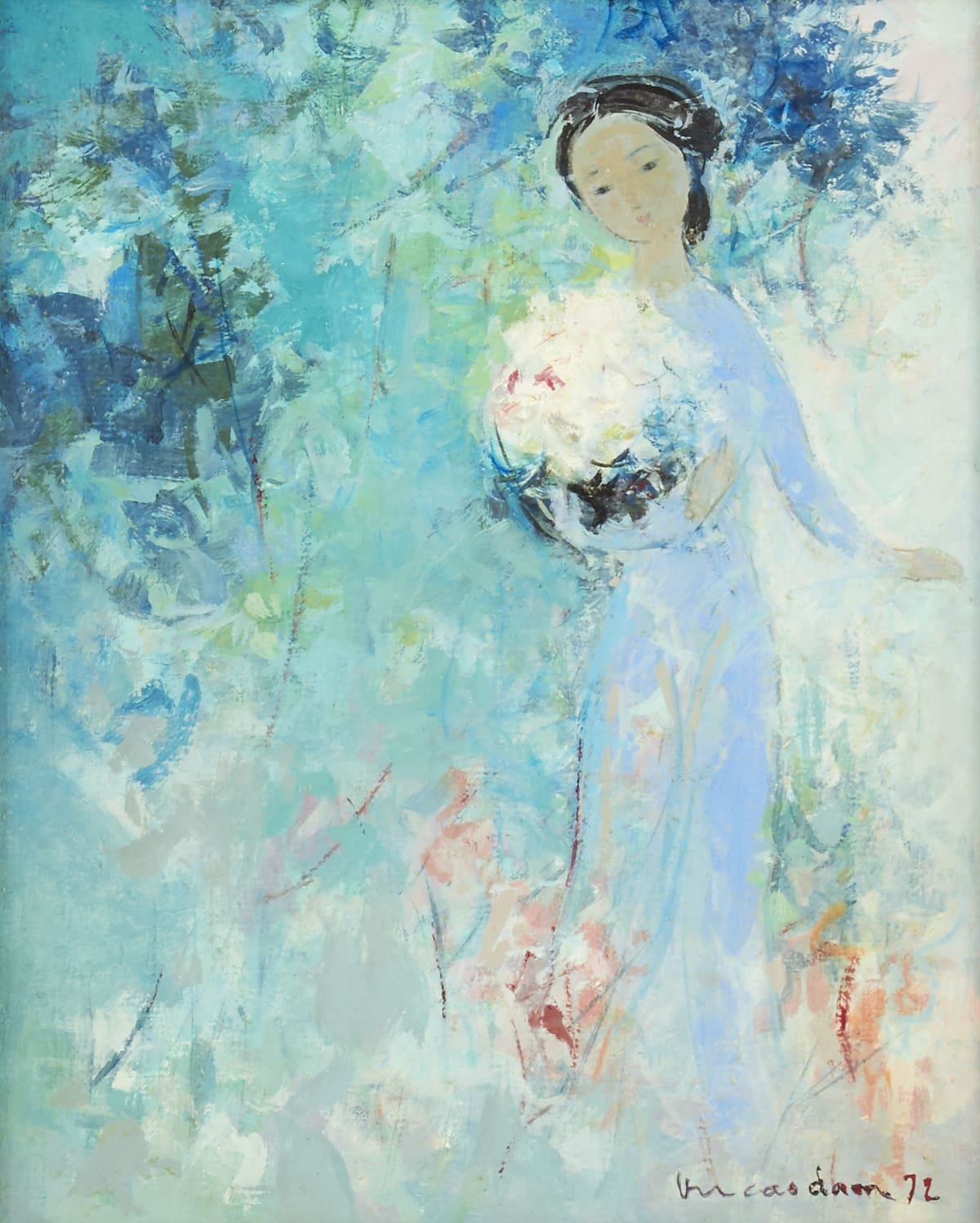 Vu Cao Dam, La Cuillette, sold for $27,500.
Vu Cao Dam is one of the most notable Vietnamese artists of the 20th century. His works depict graceful, idealized scenes of traditional Vietnamese life while blending in the progressive artistic styles of his adopted country, France. 
Biography
Born in Hanoi in 1908 to a well-to-do family, Vu Cao Dam displayed an early interest in the arts. His father, a well-educated Catholic, brought him up in a home surrounded by traditional Chinese calligraphy and a wide range of cultural influences. In 1926, he began his formal artistic education at the painter Victor Tardieu's École des Beaux-Arts de l'Indochine, now the Vietnam University of Fine Arts. Tardieu and his instructors taught academic European painting to his students as well as decoration, architecture, anatomy, and sculpture. It was at sculpture that young Vu Cao Dam most excelled, and he joined the newly minted sculpture program at the École des Beaux-Arts, where he created several bronze busts that won him early acclaim. 
In 1931, following his graduation from the École des Beaux-Arts de l'Indochine, Vu Cao Dam received a scholarship to continue his art education in Paris. He began his Parisian studies at the Cité Internationale Universitaire de Paris. During his first year there, Vu Cao Dam received the prestigious honor of an invitation to display his works in the Exposition Coloniale Internationale. He then continued his studies at the École du Louvre, where he was able to view the works of the great European academic masters he had been trained to emulate. However, he was most compelled by more recent works of the impressionists and post-impressionists, as well as great sculptors such as Auguste Rodin and Alberto Giacometti. 
Vu Cao Dam's career took off following the completion of his education. He and fellow Vietnamese expatriate Le Pho, a dear friend with whom he had studied in Hanoi, found success and popularity on the Paris art scene. Vu Cao Dam began sculpting what would become his most famous subject matter: elegant Vietnamese ladies. He continued to paint as well as sculpting, often painting on silk, a form of painting taught at the École des Beaux-Arts de l'Indochine. He also began to put down personal roots in France, marrying and having two children. 
When World War II broke out, Paris became a dangerous place to live and work; Vu Cao Dam sent his family to the countryside to escape the Nazi-occupied city. However, he stayed in Paris, frantically creating art out of any material available under strict rationing, and bicycling the 100-km distance to see his family whenever he could. During this time, he executed several of what are now seen as his finest works out of terracotta, demonstrating his resourcefulness and commitment to his art. 
In 1949, plagued by ill health, Vu Cao Dam moved to the south of France with his family, to a villa named Les Heures Claires. The bright, airy atmosphere of southern France had a large impact on his painting, as did the work of his new neighbor, Marc Chagall. His works take on a sunny, pastel air at this point. Throughout the 1950s and into the early 1960s, Vu Cao Dam gained international success, exhibiting throughout France, particularly in Nice, as well as in Sweden, Belgium, and the UK. In the early 1960s, Vu Cao Dam signed an exclusive contract with Wally Findlay Galleries in the United States. This brought his work notoriety in the United States, and there are many fine examples of his work in the United States that originate from this partnership. Vu Cao Dam remained in France for the rest of his life, continuing to create art until his death in 2000. 
Vu Cao Dam's Artworks 
Despite his early passion for sculpture, much of Vu Cao Dam's oeuvre is paintings. His early works clearly show the influence of this early academic training. His figures are executed with great precision and realism. These earlier paintings are often in ink and gouache on silk, a medium taught and encouraged at the École des Beaux-Arts de l'Indochine with strong ties to traditional East Asian art forms. As his career progressed, his works became increasingly impressionist, with bright sprays of abstract color in thick, forceful brushstrokes making up the background of his compositions. His depictions of figures, too, became increasingly stylized throughout his career, with simplified, graceful forms. He began increasingly working in oil on canvas; nearly all his works from his Wally Findlay period are executed in oil on canvas. 
Vu Cao Dam's sculptural work consists primarily of busts, although he also created some full-length sculptures. Like his paintings, the style of these sculptures shifted throughout his career, becoming increasingly stylized with time. Many were cast in bronze, although he often worked in terra cotta, particularly during the war years. Several of his sculptures were initially sculpted in terra cotta and later cast in bronze, such as his famous bust of Ho Chi Minh, executed in 1946. 
Throughout his career and in all media, his favorite subject matter was elegant women. He often depicted them seated, gazing serenely at the viewer. Many are portrayed cradling a child, playing musical instruments, or carrying a bouquet of flowers. Occasionally the women are part of a larger scene, with handsome men or horses framing them. He painted his figures in traditional Vietnamese garb, and in scenes and compositions reminiscent of his homeland. Often these scenes were pulled from Vietnamese stories and poems.
His varied influences and distinct preferences make Vu Cao Dam's work easily recognizable. His paintings are vibrant, featuring lush coloration and flowing brushstrokes. The central figures of his composition seem to emerge from the mist of the blurry, impressionist field of flora that often makes up his backgrounds.  They are often dressed in colors that contrast with the background, their long, graceful lines distinct from the choppy strokes forming the impression of flowers and trees behind them. His paintings are serene and intimate, the figures often arranged with their heads together, as though in whispered conversation.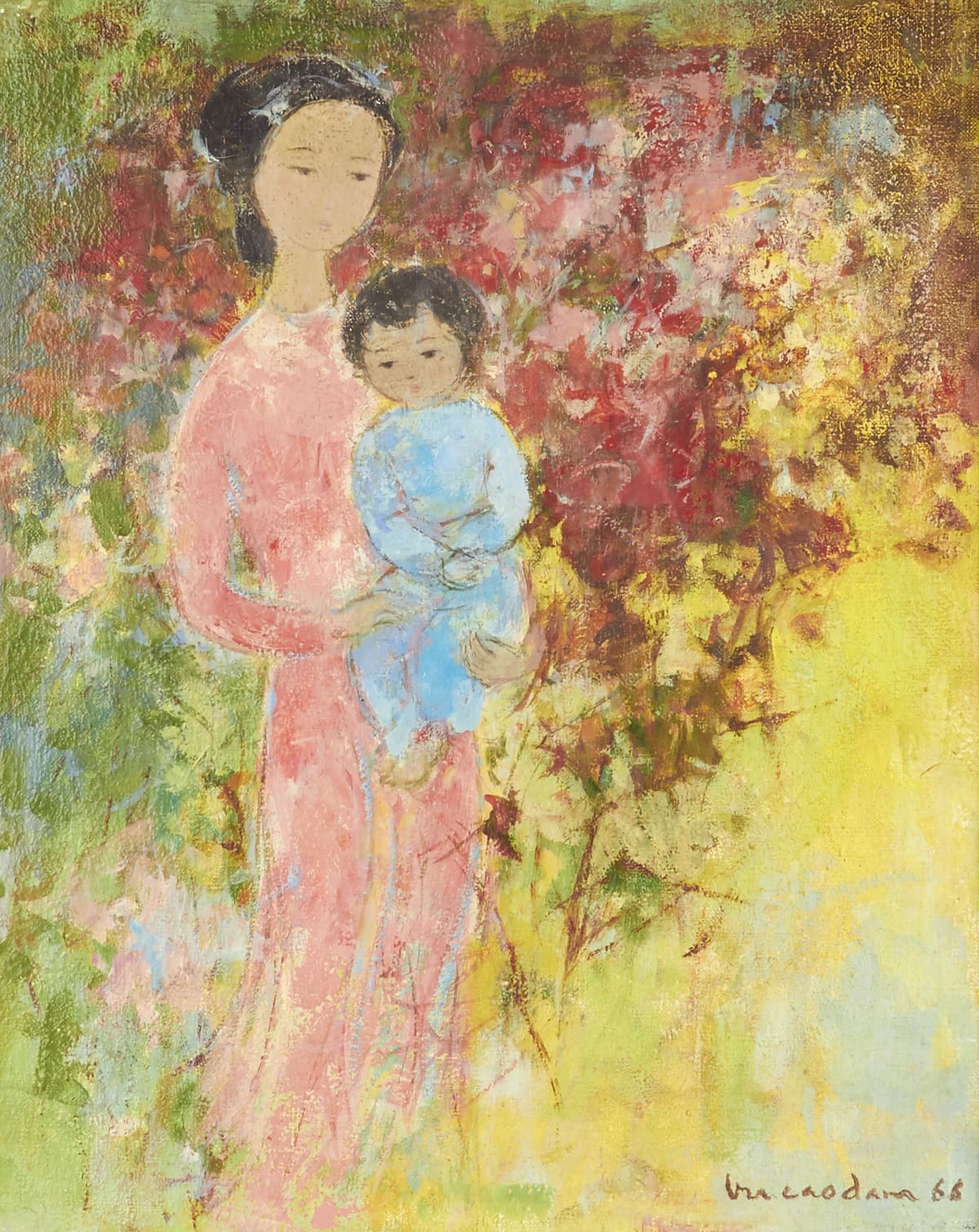 Vu Cao Dam, Maternity, sold for $40,000.
How much is my Vu Cao Dam worth?
The market for Vu Cao Dam's artworks has been steadily growing over the last five years. His work is highly desirable throughout Europe, Asia, and the United States, with his paintings regularly selling for five figures and his sculptures often selling for six. There are a number of factors that determine how much his artworks are worth. 
Subject matter is the most important factor in deciding the value of a Vu Cao Dam artwork. His figural works are generally valued higher than his landscapes or other artworks, such as those depicting animals. Works depicting his iconic graceful women are particularly popular on the market. There is a premium for works that are particularly delicate and beautiful in their composition.
Of lesser importance but still notable is size. This is a common factor in the valuation of many painters' work, and Vu Cao Dam is no exception. Larger Vu Cao Dam paintings consistently sell for higher prices than his smaller paintings. However, smaller works with more desirable subject matters do often surpass larger works with less desirable subjects in price. 
Appraise and Sell Vu Cao Dam Artwork 
If you own a Vu Cao Dam artwork that you would like to sell or have appraised, don't hesitate to reach out to Revere Auctions. We are based out of St. Paul, Minnesota, and provide full-service appraisals as well as auction services. 
If you would like to sell your Vu Cao Dam, you can start the process by contacting us for a free auction estimate of value. This is a free service; all you have to do is send us a photo of your artwork and we will let you know how much your object will most likely sell for at auction.

If you need an appraisal for your Vu Cao Dam artwork, we can provide a certified appraisal report that you can use for insurance coverage, as well as donation and estate taxes. Our appraisals are accepted by all insurance companies and the IRS, and are compliant with the Uniform Standards of Professional Appraisal Practice (USPAP), providing the highest professional standard of appraisal.