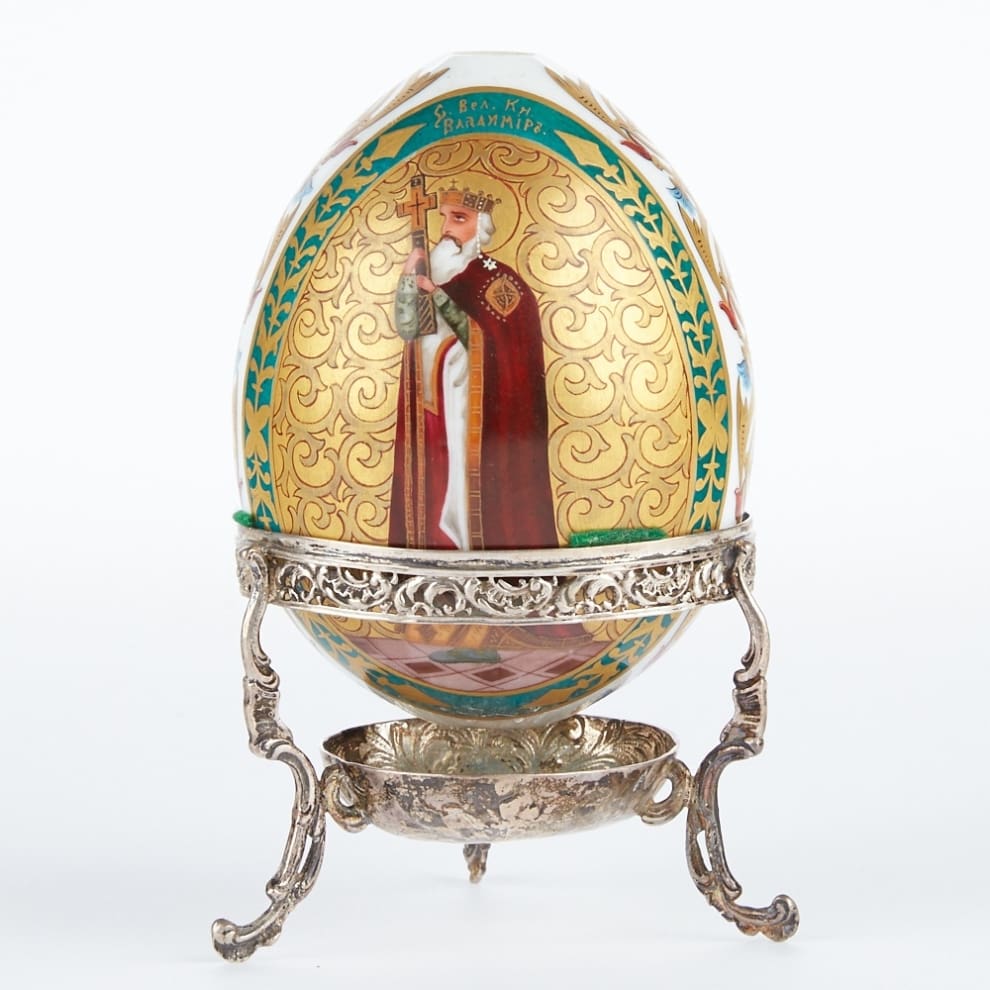 Russian Porcelain Egg with Sterling Stand, for sale May 20th
A saint, Prince Vladimir the Baptizer of Kievan Rus, is doubtless an appropriate image for a finely decorated, Russian porcelain Easter egg. Vladimir's clothing is simple yet regal, swathed in a blood red cloak from which green silk sleeves and a white gown protrude. The regal robes are punctuated by a large gold brooch and his Byzantine crown bedecked with pearls and semi precious stones. The colors, fabric, and jewels are enough to tell you that this is a king. But don't be fooled by his long philosopher's beard and serious, devout face gazing at a cross with adoration, Vladimir's history may yet sway your opinion on his place upon an Easter egg. Through his transformative reign he solidified not only his place as a significant Russian and Ukrainian historical figure, but also became one of its earliest saints.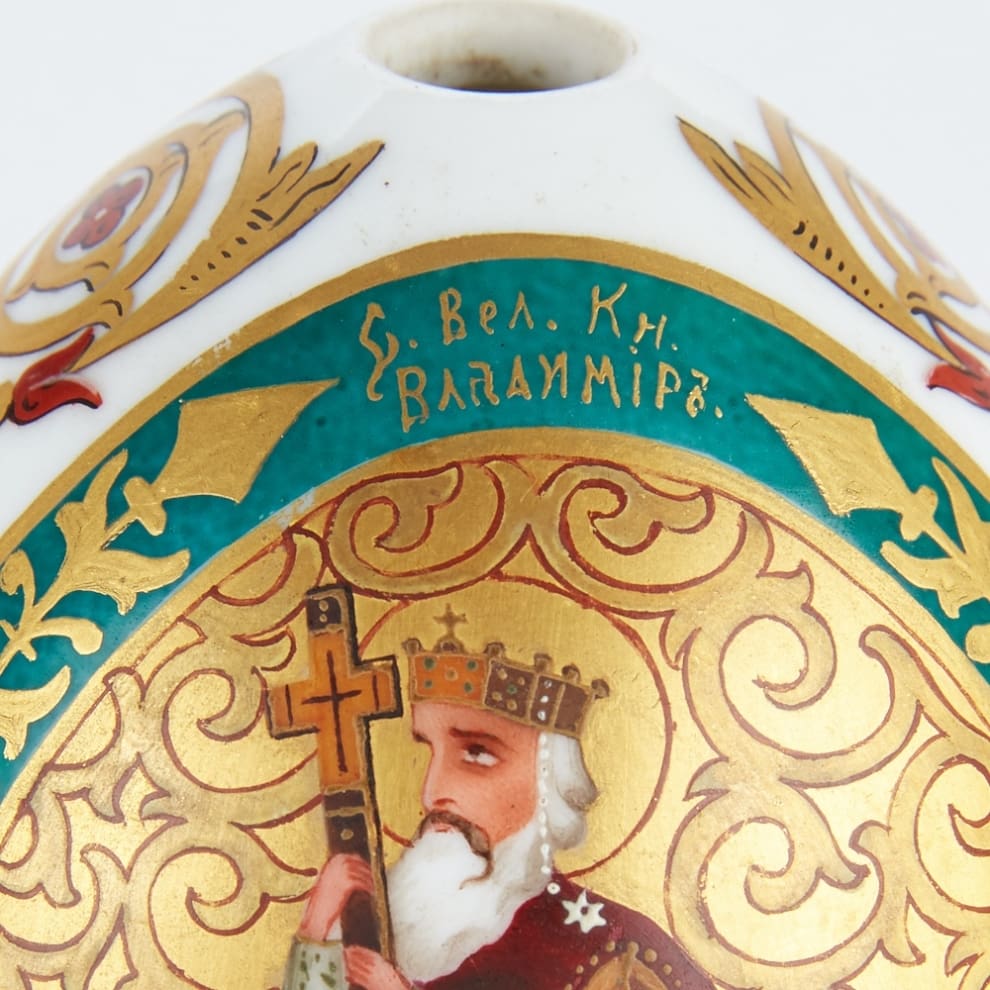 Russian Porcelain Egg Detail
Prince Vladimir and Keivan Rus
Prince Vladimir was born in 958 C.E. as the youngest of three sons of the Grand Prince of Kiev, Sviatoslav. Vladimir was crowned prince of Novgorod, one of the oldest cities in Russia and the Ukraine, in 969 where he reigned in relative peace until 972. When Sviatoslav was killed in the later part of the 10th century, Vladimir's older brothers, Oleg and Yaropolk, began a civil war over the crown. In 977, Prince Vladimir fled to Norway, where his cousin was king, to acquire soldiers for his own military campaign against his brothers. His main strategy was to capture various strategic outposts near Kiev in order to block his brothers' armies before they entered the city, the most important of which being Polotsk and Smolensk. Vladimir took Polotsk the old fashioned way – by proposing marriage to the daughter of the prince of Polotsk, when his offer was refused, he attacked the city, murdered the prince, and forced the princess into marriage. He was able to gain key strategic strongholds with similar methods throughout the war until 978, when he finally captured Kiev. Suffice to say Vladimir killed his last surviving brother and was crowned Knyaz of all Keivan Rus.
Vladimir was a ruthless but very effective king. Under his leadership he pushed back multiple incursions and rebellions from the Poles, Bulgars, and other Baltic tribes in efforts to maintain a unified Rus. He rewarded his efforts with seven wives, 800 concubines, and by building multiple statues and shrines dedicated to a Slavo-Nordic pantheon of gods. So, how did such a man become a prominent Orthodox saint commemorated in statues, churches, and Easter eggs throughout Russia and the Ukraine?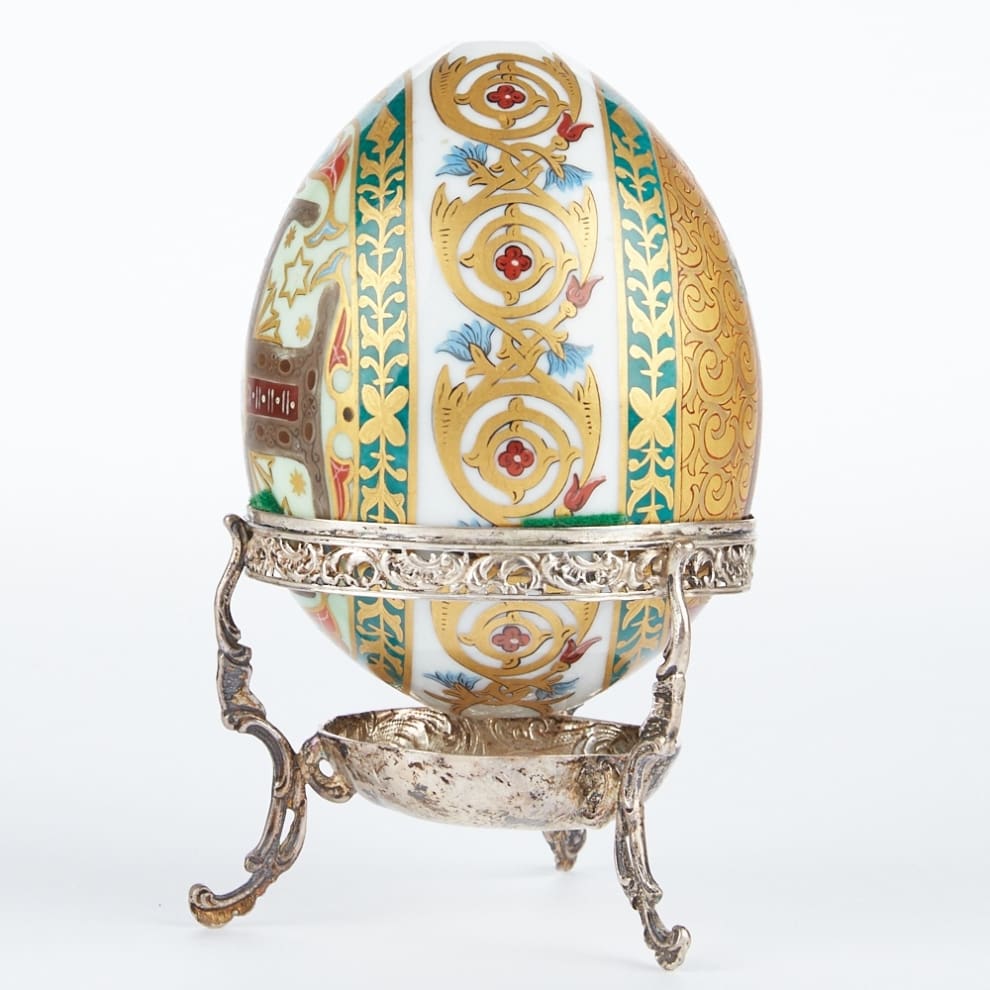 Russian Porcelain Egg with Sterling Stand
Vladimir's Conversion
Hagiography is often biased and fantasized but the story of Vladimir's conversion is said to go like this:
After the killings of Fyodor and Ioann, supposedly the first Russian martyrs, Vladimir was to have gone into deep thought over religion and his own beliefs and their value. Not knowing much about other religions, the Knyaz sent envoys to different religious capitals and they were to report back to him about the religions they encountered, mainly Judaism, Islam, and Christianity. He appraised each with scrutiny. Islam was far too restrictive for the Russian prince and he decided that the Jews had been abandoned by their god, so both were denied. However, his ambassadors' reports of the beauty of Constantinople, and the Byzantine emperor trading his sister Anna for military aid, is what swayed Vladimir to the Eastern Orthodox sect of Christianity. After his baptism, Vladimir set about destroying all pagan temples and shrines in Keivan Rus and building churches in his new Christian name, Basil. Vladimir has also become a symbol of Ukrainian nationalism, a face not only of Orthodox values but also one that united many tribes and lands throughout the Baltic.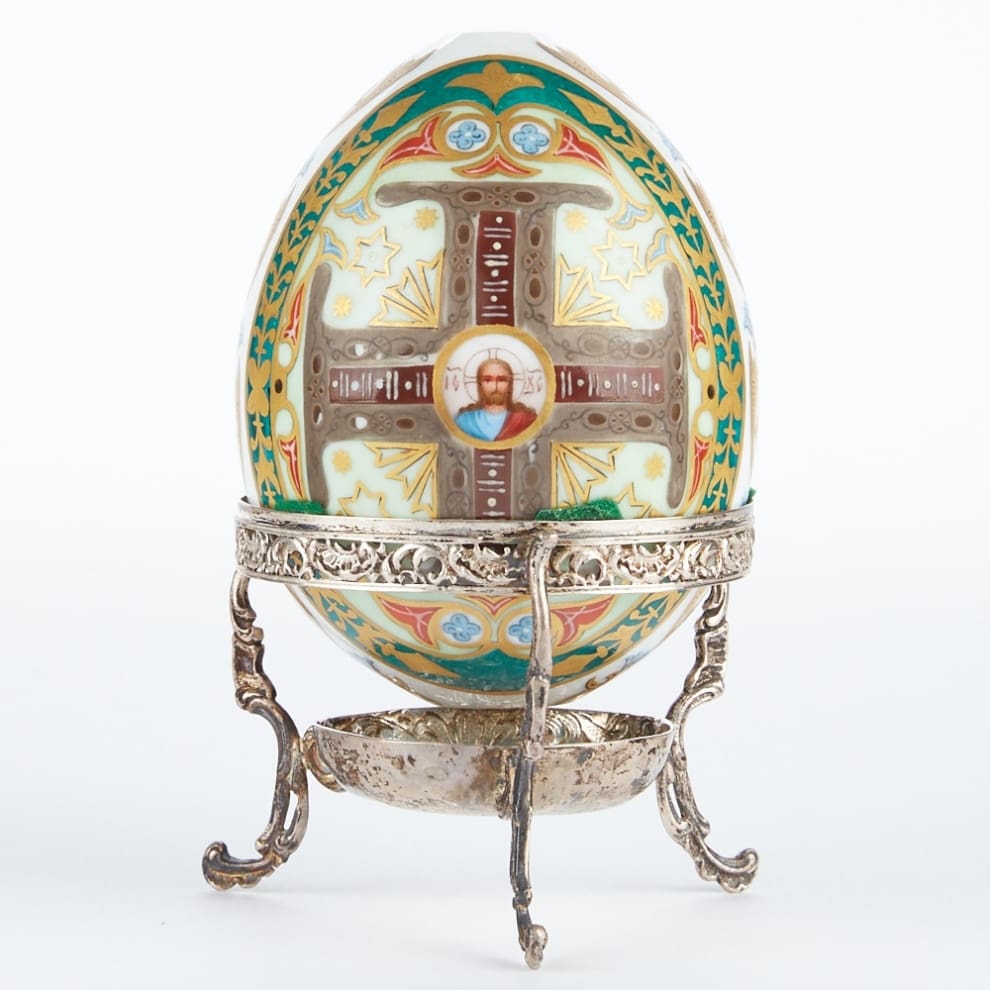 Russian Porcelain Egg with Sterling Stand
Russian Egg Tradition
Russian art is no stranger to finely decorated Easter eggs. These were pieces of highly decorated enameled crafts made of precious metals, jewels, and crystal. Most famous are the Faberge eggs, of which only 69 were ever made between 1885 to 1916 by the House of Faberge run by Peter Carl Faberge. Of those 69, 52 of them were commissioned by Tsars Alexander III and Nicholas II as gifts for their wives and children. Only 46 of those 52 survive now and while historical Faberge eggs do sell on the art market, the Imperial eggs represent a unique moment in Imperial Russia. Their value can be appraised not only from the historical value and the materials used to create them, but also the sumptuous visual effects these expensive materials have. They glisten and glitter in the light with opalescent sheens and catch your reflection in gold details or polished stones. Each one also contained a surprise inside, usually a smaller, but equally as lovely, egg or family photographs of the Tsarina and the princesses.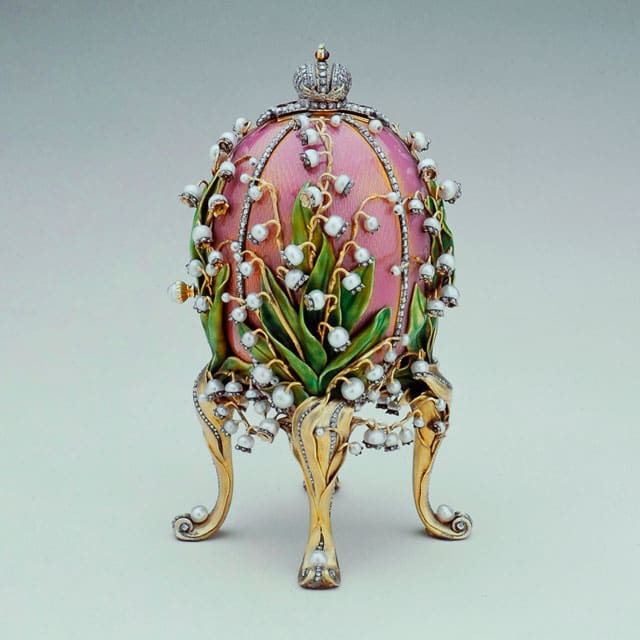 Lilies of the Valley Egg, 1898, Faberge
The porcelain egg at Revere Auctions, though not bedecked in pearls and diamonds, delights in other ways. It was meant for display, to be hung up as ornamentation during the holiday, with the lovely gilding and bright paints drawing attention to its intricate designs. It also could be used as a devotional object, especially on its sterling silver stand. The miniature of Jesus' face encourages you to hold the egg closely during prayer and examine all aspects of both Christ and Saint Vladimir in a meditative action. Though there is no maker's mark, the piece is skillfully painted and gilded, showing that the egg was clearly made by an experienced artisan and not simply as a mass produced item. There is a very fine attention to detail on each aspect of the egg, not only to the figures but also to each tiny motif of stars, scrolling vines, and floral details. This porcelain piece tells a story of anonymous craftsmanship producing an incredible item regardless of a company name or prestige.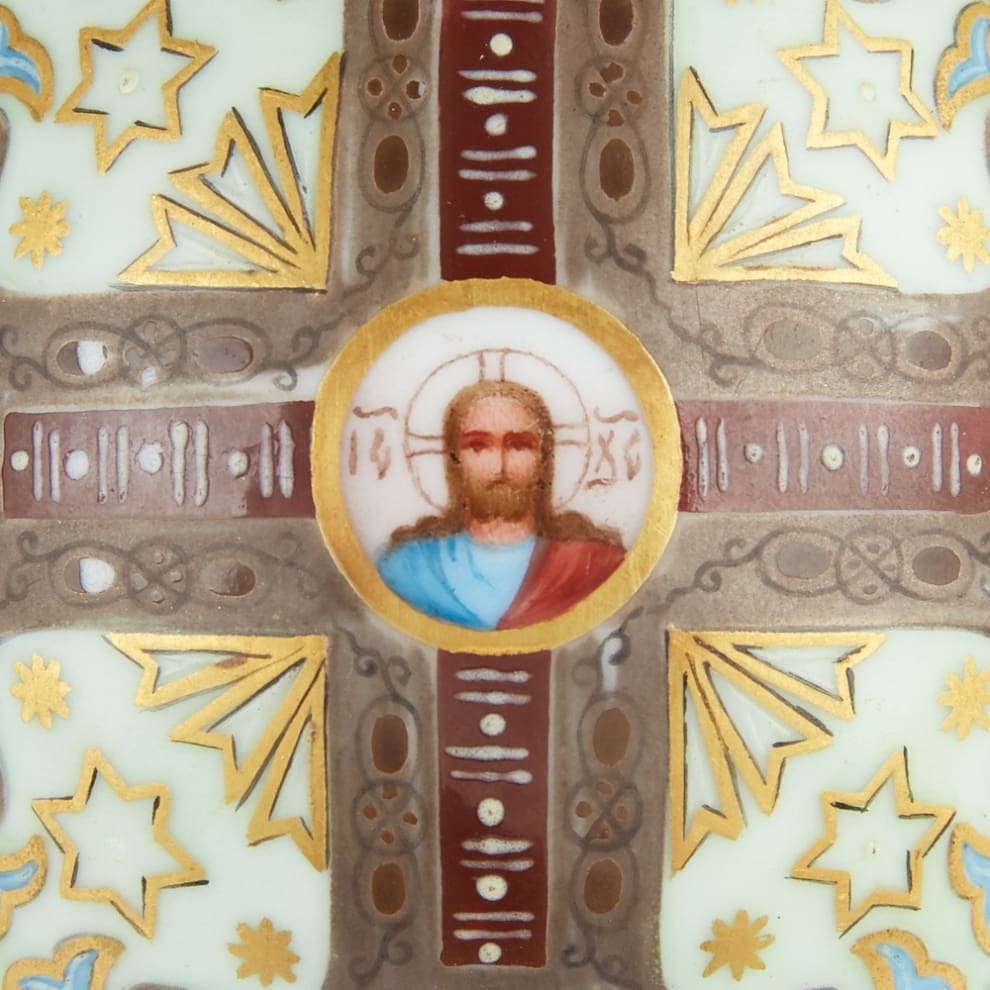 Russian Porcelain Egg Detail
The Sterling Silver Stand
The porcelain egg is propped into place with an intricate sterling silver stand. It is not original to the egg, but is a beautiful way to display it and certainly does not sell itself short in comparison. Its value comes visually from the intriguing design on its base and its hallmarks that detail and appraise the silver's purity and origins. The base depicts a scene of bartering traders flanked by their wares and animals. The subdued yet exotic scenery compliments the brightness and story of the egg. The two traders, dressed in loose fitting robes and turbans, seem to be surrounded by lush greenery and fruits while two camels take their rest to the right, and on the left more men are preparing their wares. Sitting between the two central figures appears to be a beehive. Are they haggling over honey, perhaps in exchange for the loop of fabric suspended just above the hive?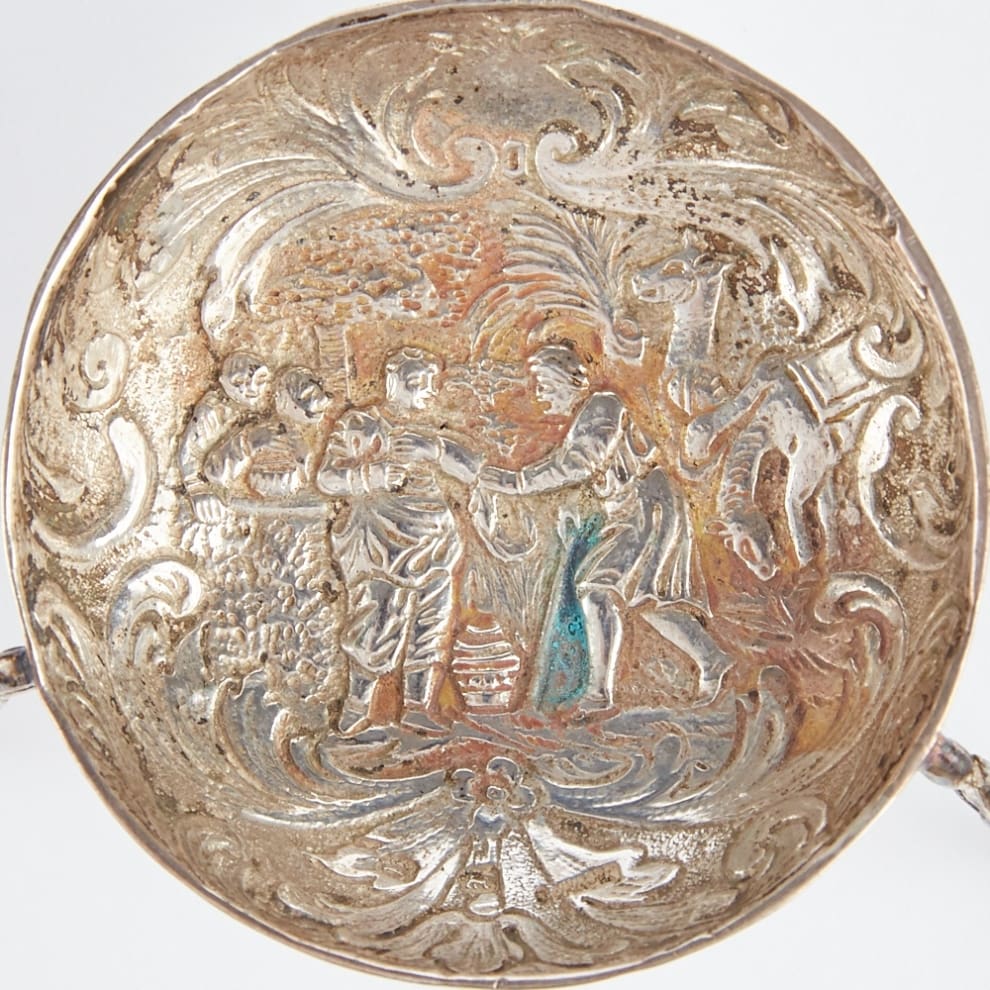 Sterling Silver Stand Base
The German made stand is stamped with the hallmarks "Germany," a crown, and lion passant. The crown is representative of the entire German state, a stamp that became compulsory in 1888, while the lion represents a city mark, this could either be the Brunswick or Darmstadt lion.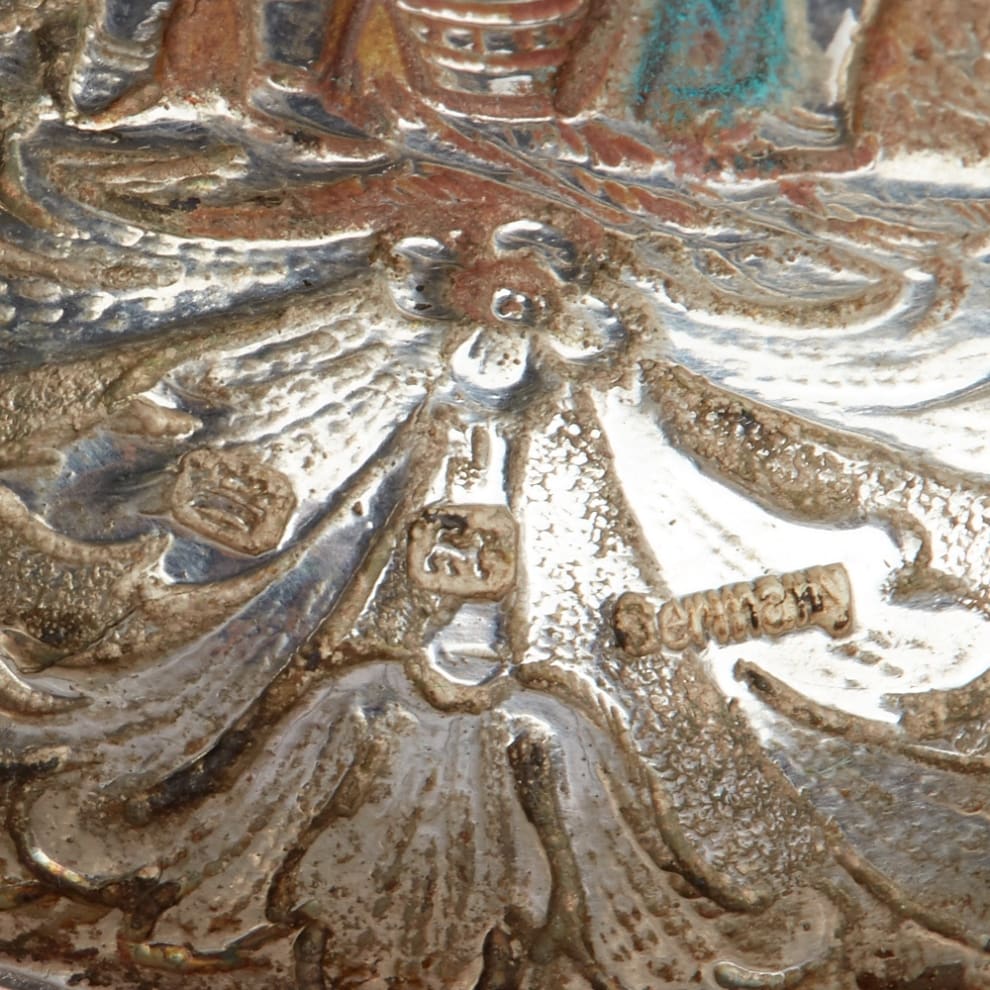 Sterling Silver Stand Base Detail
This porcelain egg shows the skill of late 19th or early 20th century Russian artists in their attention to each detail of the egg. The stand could tell us something similar about German craftsmanship, too, and together they create a very attractive personal altar and celebratory ornament for Easter. This porcelain egg tells a story of historical and modern Russia through its careful design and portrayal of Saint Vladimir.
If you have Russian art or sterling silver you wish to have appraised or sold please contact us here or 612.440.6985.