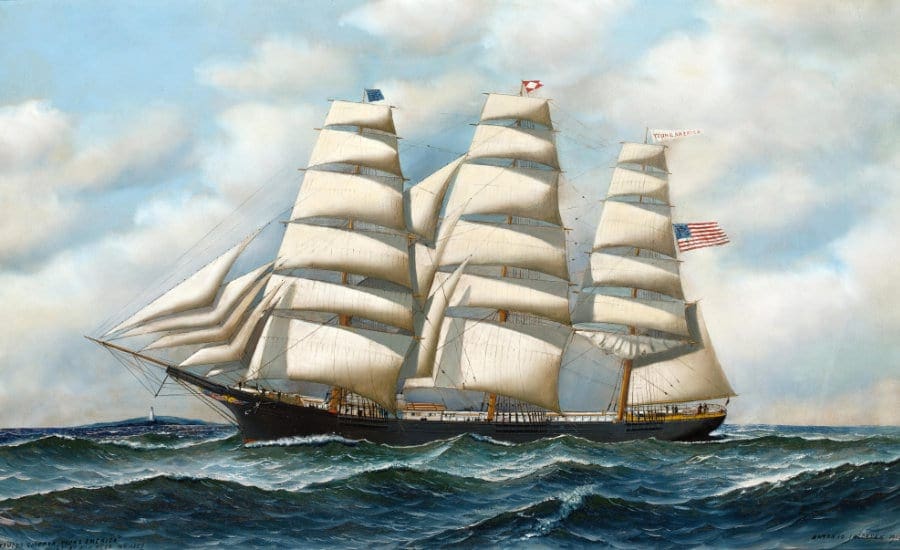 Antonio Jacobsen (1850-1921) was a Danish American marine painter known for his high quality oil paintings of ships. He was a driven and prolific artist, believed to have produced between 5,000 and 6,000 original works over the course of his five-decade-long career.
Because of the large number of pieces produced by Antonio Jacobsen, often including multiple paintings of the same vessel in varying sizes and positions, it can be hard to determine the exact value of your painting. An expert appraisal can help you be certain of the value of your art.
Who is Antonio Jacobsen?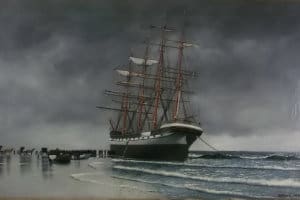 Antonio Niccolo Gasparo Jacobsen was born in 1850 in Copenhagen, Denmark. The son of a well-known violin maker Thomas Jacobsen (1810-1853), his father named him after three masters of the violin: Antonio Stradivari, Nicolo Amati and Gasparo da Salo. In 1871, Jacobsen immigrated to the United States to avoid conscription during the Franco-Prussian war. It was here that his career as a painter of marine vessels began.
Born/Died: (November 2, 1850-February 3 1921)
Nationality: Danish, American
Category: American Marine Art
Medium: Oil painting, sketches
What is the Artist Antonio Jacobsen Known For?
Antonio Jacobsen is best known for his oil paintings of marine vessels. He started sketching and painting smaller ships in New York Harbor, and was later commissioned to make increasingly large and elaborate ship portraits as word spread of his speed and accuracy in painting. His low prices and high quality work made him a favorite painter among captains and shipping executives looking to have their ships commemorated. During his lifetime, Jacobsen typically sold his art at the harbor where he painted, often for as little as five dollars.

Discover the value of unique Antonio Jacobsen Paintings and Prints with appraisal services at Revere Auctions.
What Art Mediums Did Antonio Jacobsen Use?
Jacobsen is primarily known for his oil paintings of ships. Before painting a vessel, he would typically fill several sketchbook pages with drawings to ensure the highest possible accuracy in his work. Besides their artistic value, the high accuracy of his paintings makes them important historical documents of the types of ships active in New England at the time. During his decades-long career, Antonio Jacobsen painted nearly every type of vessel that passed through New York Harbor. This started with sailing vessels, then transitioned to steam boats and yachts in later years as these newer boats became increasingly common.
Oil Painting Prints
Although he struggled financially in his later years after the death of his wife, Jacobsen never had prints or reproductions of his work made during his lifetime. Today, however, you can find painted reproductions and prints of his work made by various artists.
Where Did Antonio Jacobsen Study Art?
Antonio Jacobsen first started his painting career after moving to New York in 1871. While sketching ships by the pier, his work was noticed by an employee of the Marvin Safe Company, who hired Jacobsen to paint decorative vignettes on the sides of a number of their safes. This work allowed his skills to be seen by officers and crewmembers, who began commissioning oil paintings of their boats from him.
How Did Antonio Jacobsen Die?
In his later life, Antonio Jacobsen moved to a home in West Hoboken, New Jersey, where he lived with his wife and three children. He was well liked socially and often entertained other artists at his home. After the death of his wife in 1909, Jacobsen's finances declined and he was forced to sell many of his possessions to pay his bills. He died from complications of a stroke on February 3, 1921.
Revere Auction's newsletter keeps you up to date on the latest events and upcoming auctions for Antonio Jacobsen artwork.
How Much Are Antonio Jacobsen Prints and Paintings Worth?
Over the course of his lifetime, Antonio Jacobsen produced up to 6,000 paintings. Smaller pieces less than a foot wide may sell at auction for around $3,000-5,000, while larger pieces may sell for $6,000-10,000 or more. Particularly fine paintings have sold for over $20,000 at auction. The highest realized price for an Antonio Jacobsen painting was $224,000 for the piece Racing Schooners.
Painted reproductions or high quality prints of Jacobsen's work typically sell for $200-400, depending on the size and quality of the reproduction.
Antonio Jacobsen Auction Prices
Historical auction sales range: $500-224,000
Average auction estimate for original prints: $200-400
Average auction estimate for original paintings: $3,000-12,000
Valuable Antonio Jacobsen Paintings and Prints
Antonio Jacobsen, Forteviot (1896)
30''x50'' oil on canvas painting depicting the large sailing ship The Forteviot.
Estimate: $12,000-$18,000
Result: $16,250
Antonio Jacobsen, Ship portrait of S/S "Island" (Iceland) (1884)
21''x35'' oil on canvas painting of the SS Island (Iceland) ship from the Danish Thingvalla line. One of several paintings of this ship that Jacobsen produced.
Estimate: $8,735-$10,495
Result: $8,735
Antonio Jacobsen, The City Of Berlin Steamship On High Seas, New York (1879)
32''x60'' Oil on Canvas Painting of the City of Berlin steamship. Though Jacobsen painted this ship multiple times, this depiction is the largest and highest valued.
Estimate: $20,000-$30,000
Result: $22,800
Antonio Jacobsen, Yacht Race
22''x36'' undated oil on canvas painting of two racing yachts.
Estimate: $20,000-$30,000
Result: $20,900
Antonio Jacobsen, The Steamship 'Manhattan'
22''x36'' unsigned and undated oil on canvas painting of the SS Manhattan. Sold for 30% over estimate.
Estimate: $8,000-$12,000
Result: $15,600
Antonio Jacobsen, Racing Schooners (1879)
25''x42'' oil on canvas painting of racing schooners from early in Jacobsen's painting career. Sold in 2011 for over 200% above estimate.
Estimate: $50,000-$70,000
Result: $224,000
How to Identify an Antonio Jacobsen Signature
Between 1874-1879, the artist typically signed his works "Antonio Jacobsen" followed by his New York address "57 8 Av. cor. 23 ST". From 1879-1894, he listed the address in his signature to "705 Palisade Av. West Hoboken, NJ", then from 1894 onward as "30 Palisade Av. West Hoboken, NJ".
After 1880 he often abbreviated his name as "A. Jacobsen", and beginning in 1905 he began writing his name in block letters.

How Can I Sell My Antonio Jacobsen Art?
A variety of factors can influence the value of an Antonio Jacobsen painting or print, including size, quality of preservation, the presence of a signature or dating, and more. Additionally, the presence of multiple paintings of the same vessel, or multiple recreations/prints by different modern artists can make a determination of value confusing. For these reasons, getting an expert appraisal for your piece is often the best choice.
Revere Auctions Sells Your Antonio Jacobsen Art
Our experts at Revere Auctions are ready to help you with any stage of your art journey, whether you are looking for an estimate of value, a USPAP certified appraisal, art restoration, or an effortless way to sell your art. We advertise our sales on more auction platforms than any other auction house in America, and regularly achieve record prices for our objects. If you are interested in selling with us, please reach out for a free online appraisal of your piece today.

Discover Works From More Artists Like Antonio Jacobsen
James E. Buttersworth (1817-1894)
An English-born painter from a family of Maritime artists who specialized in ship portraits. He moved to West Hoboken, New Jersey in 1845.
William Frederick Mitchell (1845-1914)
An English Maritime artist who painted many ship portraits for the Royal Navy. Today many examples of his work can be seen at the National Maritime Museum in Greenwich, England.
Fitz Henry Lane (1804-1865)
An American Maritime artist born in Gloucester, Massachusetts. He was known for his highly detailed paintings of ships and distinctive skies and vegetation, an area often overlooked by other painters of ship portraits at the time.