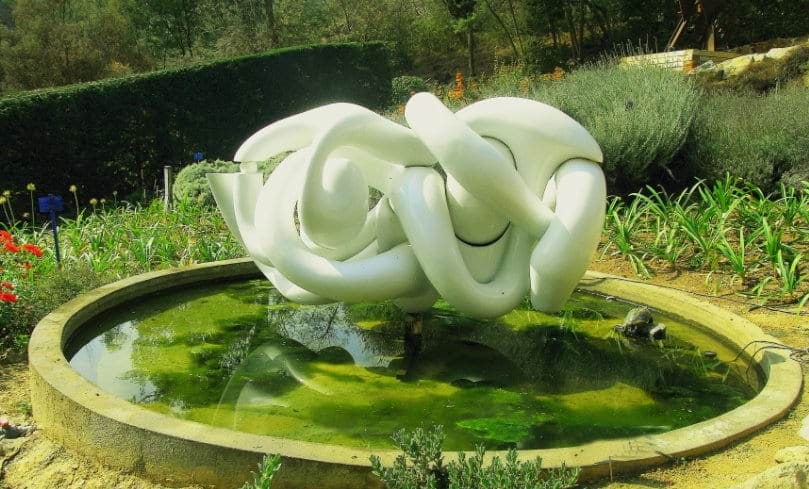 Miguel Ortiz Berrocal (1933-2006) was a Spanish abstract and figurative sculptor who was best known for his puzzle sculptures. Berrocal constructed intricate sculptures ranging from huge outdoor pieces to tiny handheld objects, many of which could be taken apart and reassembled into different forms.
Who Was Miguel Berrocal?
Miguel Ortiz Berrocal was born on September 28, 1993 at Villanueva de Algaidas, in Malaga, Spain. Berrocal showed an early aptitude for art and geometry, and would often create his own toys out of scrap materials. In Madrid, Berrocal attended the Academia de Bellas Artes de San Fernando as well as the Escuela de Artes Gráficas, and took night classes at the Escuela de Artes y Oficios.
Berrocal's first art exhibitions took place in Madrid in the early 1950s, where he showed figurative drawings of his Spanish neighbors and landscapes signed with his paternal surname "Ortiz". In 1952, Berrocal received a grant to study in Rome for several months. It was here that he first saw an exhibition of Picasso's works, which were banned in Spain at the time.
In 1954, Berrocal returned to Spain for a year to undergo compulsory military service, before moving to Paris in 1955 on a grant from the Institut Francais in Madrid. In Paris, Berrocal continued to focus on painting, before returning to Rome to work under various architects. It was here that he first discovered the architectural principles that would guide his later career as a sculptor.
As Berrocal devoted himself exclusively to sculpture in the coming years, he switched from signing his work as "Ortiz" to "Berrocal." By 1967, he settled permanently in Verona in order to access foundries to cast his sculptures there. Over the coming decades, he refined his sculpting techniques, worked with many other well known sculptors and artists, and showed his work across the globe.
In 2004 Berrocal returned to Spain to build a new studio and work on his memoirs. He died in Antequera in Malaga, Spain on May 31, 2006.
Born/Died: September 28, 1933 – May 31, 2006
Nationality: Spanish
Art Mediums: Sculpture, Drawing, Painting
Related Artists: Giorgio de Chirico, Pablo Picasso, Joan Miró
Revere Auctions' newsletter keeps you up to date on the latest events and upcoming auctions for Miguel Berrocal sculptures.
What is the Artist Miguel Berrocal Known For?
Miguel Berrocal is best known for his abstract sculptures, which were often made of multiple interlocking abstract pieces which could be assembled and disassembled. His studies of geometry and architecture enabled him to envision how many smaller pieces, which were often detailed and attractive in their own right, could be combined to create a cohesive whole.
Abstract Sculpture
Berrocal produced a large number of both figurative and abstract sculptures. Oftentimes, his more figurative works, such as faces or male torsos, could be literally deconstructed into their smaller, abstract components. His sculptures were primarily cast in bronze using the Shaw method, a ceramic lost wax casting method which he observed in America and imported to Italy.
Throughout his 40 years of sculpting, Berrocal produced a large number of small sculptures, many of which he produced as numbered series in order to offer more affordable sculpture options to people who couldn't afford unique pieces. After observing other European artists adopt mediums like lithographs to mass produce pieces, he felt inspired to develop a method to reproduce many copies of the same sculpture. In addition to these smaller sculptures, Berrocal created a number of large, outdoor sculptures which can be found displayed in Spain, Italy, and beyond.
Sculpture Puzzle Artwork
Berrocal first began experimenting with composite sculpture in the 1950s while studying in Rome. His designs became increasingly complex, with some sculptures involving dozens of components which had to be assembled in the correct order in 3 dimensions to create the finished piece. Alongside the sculptures themselves, Berrocal produced a huge number of drawings and notes while designing each of these technologically complex sculptures, which have remained of interest to sculptors and puzzle enthusiasts to this day.
Important to Berrocal's puzzle sculptures was the exploration of empty space. Many of the sculptures had hollow centers or interior details which could only be revealed by disassembling the piece. These interior, hidden aspects encouraged the owner to interact with their sculpture as a truly multidimensional object.
What Mediums did Miguel Berrocal Use?
The majority of Berrocal's sculptures were cast in bronze using ceramic or other molds, and were sometimes plated in other metals such as nickel. His mini puzzle sculptures, many of which functioned as jewelry themselves, often incorporated fine metals or jewels hidden inside of them as even smaller pieces of jewelry. In particular, he often depicted figures' phalluses in contrasting colors or materials to the rest of the sculpture.
He did occasionally branch out into other materials. For instance, in the 1990s Berrocal produced several massive, moving sculptures using kevlar and carbon fiber. This technique was revolutionary at the time, as it massively reduced the sculpture's weight and allowed the pieces to be assembled safely.

Revere Auctions provides the best value for your Miguel Berrocal works through extensive consignment and acquisition services.
What Determines The Value of Miguel Berrocal Sculptures?
Many aspects can affect the sale price of a Miguel Berrocal sculpture, but some of the most important features to consider are the size of the piece, whether it is unique or part of a series, and what materials were used to create it.
Size: As is true with many artists, Berrocal's larger sculptures are more valuable. He moved towards making larger numbers of miniature sculptures later in his career. His most valuable works tend to be over 30'' in width or height, while his miniature sculptures tend to be between 2 and 6 inches on average.
Series: Beginning in the late 1960s, Miguel Berrocal began mass producing his mini and micro puzzle sculptures to spread the reach of his work. Production of these pieces actually continued a few years past his death in 2006, as he had requested that his family finish out the series currently in production at that time. These sculptures which were released in limited series tend to be worth between $500 and $4,000, while one of a kind works have sold for as much as $200,000 or more.
Have your Miguel Berrocal sculptures valued by experts with Revere Auctions appraisal services.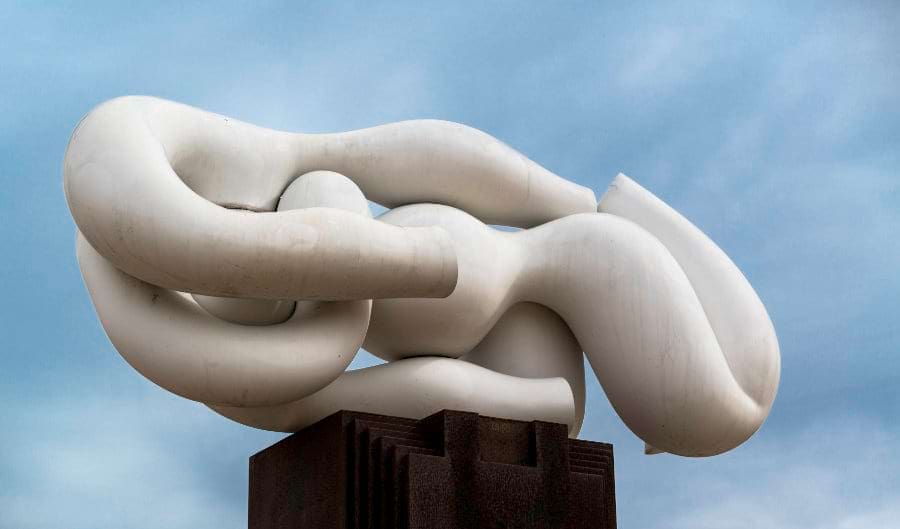 The Values of Miguel Berrocal Sculptures
Here is a collection of some of Miguel Berrocal's most popular puzzle sculptures, and a sample of what they have previously sold for at auction.
Miguel Berrocal, Micro David
Micro David is a 2 inch tall bronze pendant puzzle sculpture produced between 1969-1972. It often includes silver detailing on the phallus.
Estimate: $893-$1,340
Result: $1,117
Miguel Berrocal, Portrait de Michele
Portrait de Michele is an abstract nickel-plated bronze puzzle sculpture of a woman's head. It contains 17 individual pieces and was produced in 1969.
Estimate: $500-$800
Result: $1,750
Miguel Berrocal, Romeo and Juliet
One of Berrocal's best known puzzle sculptures, Romeo and Juliet is a 16 piece bronze sculpture of two forms lying inside a hand. Produced in 1967.
Estimate: $1,500-$2,500
Result: $4,500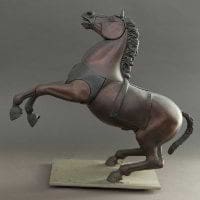 Miguel Berrocal, Caballo Casinaide
Produced between 1978-1979, Caballo Casinaide is a 22 piece plated bronze sculpture of a rearing horse.
Estimate: $1,500-$2,500
Result: $4,500

Have your Miguel Berrocal artworks valued by experts with Revere Auctions appraisal services.
How to Identify a Miguel Berrocal Signature
Miguel Berrocal signature, the name "Berrocal" in cursive lettering, is engraved on the bottom or base of each of his sculptures. Next to it is the item's number in its series if applicable, e.g. 1252/2000. His series of mini puzzle sculptures were usually released in series of 1,000 or 2,000, although some were released in quantities as large as 10,000.
How Can I Sell My Miguel Berrocal Sculpture?
Miguel Ortiz Berrocal was a talented sculptor famed for his intricate puzzle sculptures. These sculptures often contained hidden elements which could only be viewed by disassembling them. While some individuals list their Berrocal sculptures on online shopping sites, going through an auction house will often yield better results. An appraisal from a trusted auction house can help you determine the value of your piece, as well as the best method to sell the item.
Revere Auctions has extensive access to auction platforms available for acquisition and consignment of Miguel Berrocal sculptures.
Revere Auctions Sells Your Miguel Berrocal Art
Revere Auctions has expertise in selling Miguel Berrocal puzzle sculptures at auction for competitive prices. Our experts at Revere Auctions are ready to help you with any stage of your art journey, whether you are looking for an estimate of value, a USPAP certified appraisal, art restoration, or an effortless way to sell your art. We advertise our sales on more auction platforms than any other auction house in America, and regularly achieve record prices for our objects. If you are interested in selling with us, please reach out for a free online appraisal of your piece today.
Discover Works From More Artists Like Miguel Berrocal
Here are a few artists who have produced work similar to Miguel Berrocal, for those looking to dive deeper into the subject.
Giorgio de Chirico
Giorgio de Chirico was an Italian based artist whose paintings were very influential to the surrealist movement.
Pablo Picasso
Picasso's geometrically elaborate cubist paintings and sculptures were an important early influence on Miguel Berrocal, who met Picasso while in Italy.
Joan Miró
Joan Miró was a Spanish surrealist painter who turned to making surreal sculptures later in his career.