Patrick Nagel (1945-1989) was an American painter and illustrator. He created illustrations of women in a distinctive style that incorporated aspects of art deco and pop art. His most famous projects include designing the album cover for Duran Duran's album Rio, and for his long standing work as an illustrator for Playboy magazine.
Patrick Nagel Biography
Are Patrick Nagel Illustrations Worth Much?
Famous Patrick Nagel Illustrations and Artwork
How to Sell Patrick Nagel Art
More Artists Like Patrick Nagel
Who Was Patrick Nagel?
Patrick Nagel was an American pop artist and painter born in Dayton, Ohio on November 25, 1945. He grew up in Orange County, California outside of Los Angeles. After serving with the US Army in Vietnam, Nagel returned to LA and attended the Chouinard Art Institute in 1969. That same year, he graduated from California State University in Fullerton with a Bachelor's in fine arts.
In the early 70s, Patrick Nagel began producing art for magazines like Harper's Magazine, Rolling Stone, and Architectural Digest. He also produced promotional art for a wide variety of corporations including IBM, ITT Corporation, and Universal Studios. Starting in 1975, he began doing illustrations for Playboy magazine. His work with the magazine was very well received and he continued to produce an art piece for each issue for the next decade. In 1981, he painted a piece for the album cover of Duran Duran's Rio. Although he had made other album cover art before, this particular cover earned him widespread acclaim.
Patrick Nagel died of a heart attack brought on by his participation in a celebrity fundraiser "Aerobathon" on February 4, 1984 at the age of 38. An autopsy later determined that Nagel suffered from an undiagnosed congenital heart defect. He was cremated against his parent's wishes, and his ashes were scattered in the pacific ocean. Nagel was survived by his wife, Jennifer Dumas, and his daughter from a previous marriage, Carol Nagel LaVigne.
Born/Died: November 25, 1945- February 4, 1984
Nationality: American
Art Mediums: acrylic painting, illustration
Related Artists: Robert Blue, Barb Choit, Luis Preciado
What is the Artist Patrick Nagel Known For?
Patrick Nagel is known for his pop art illustrations of stylish women. His minimalist, high contrast style was reminiscent of art deco and pop art styles, but with a distinctly modern twist. His work rapidly gained popularity in the early 1980s, and came to symbolize the glamor and aesthetic priorities of the decade.
The Nagel Women
The majority of Nagel's illustrations, especially those in Playboy, were of highly stylized women in provocative clothing or poses. Known as the Nagel Women, these characters all shared some key features: bold, black hair, flawless white skin, a barely visible nose, and an aloof yet seductive expression.
Some believe that the looks of the Nagel Women are modeled after Nagel's wife. However, he used several other models when drafting his pieces, all of whom were blond and bore no more than a passing resemblance to his finished works. His women were elegant yet distant, meant to be viewed more as beautiful objects than accurate representations of a single real woman.
Duran Duran's Album, Rio
In 1981, Patrick Nagel designed and painted the art for the album cover of the Duran Duran album, Rio. His red, black, and white illustration of a heavily stylized grinning woman paired perfectly with the slick, energetic sound of the Rio album, and Nagel's work with Duran Duran further solidified his place as an influencer of pop culture and art in the 1980s.
Playboy Magazine Illustrations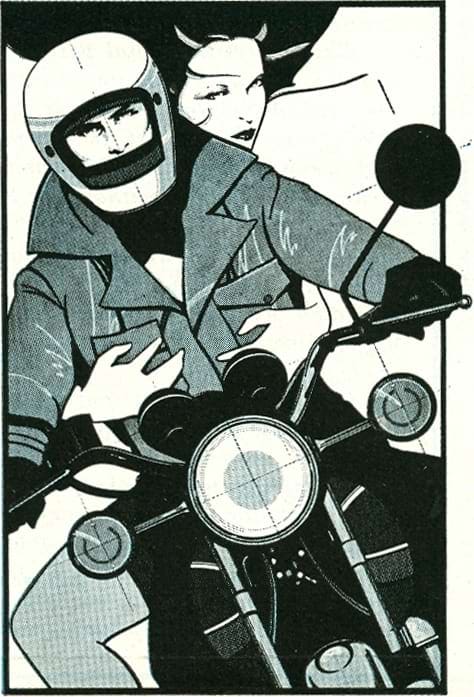 Nagel first began working with Playboy in 1975, which greatly expanded the audience of his "Nagel Women." Initially, Playboy would give Nagel very specific prompts to guide his work, but by 1978 the popularity of his art had grown so much that Playboy allowed him nearly complete creative freedom in the art he submitted to the magazine. At least one of Nagel's illustrations appeared in every Playboy issue between August 1975 and July 1984, usually in the "Playboy Advisor," "Playboy Forum," or "Playboy After Hours" columns. By the time of his death, he had produced approximately 285 individual works for Playboy magazine.
Revere Auctions' extensive access to auction platforms available for acquisition and consignment of Patrick Nagel illustrations.
The Influence of Artist Patrick Nagel
Patrick Nagel's unique style of depicting women quickly caught on in Los Angeles and beyond. After his death, countless unlicenced reproductions and other pieces copying his style began to crop up in strip malls, hair salons, magazines, movie theaters, and more across the country. This overproliferation of his art style led to his original pieces becoming less valuable, as the market was fully saturated with similar artwork. However, interest in Patrick Nagel's work has been experiencing a resurgence, and prices for his original art and licenced prints are once again growing.
What Mediums did Patrick Nagel Use?
Patrick Nagel was best known for his illustrations, which could be found in a variety of formats, including posters, magazines, silk screen prints, and more. In order to produce the originals of his illustrations, Nagel would first photograph models in various poses, then make simplified sketches of the photographs. His wife actually preferred his sketches to his final poster art, saying that they were more detailed and evocative.
After completing the sketches, Nagel would paint the women in acrylic, further simplifying the design to the high-contrast, low-detail finished version. Each of his pieces went through multiple rounds of stylization and simplification to transform the photographs of real women into the impersonal and stylish Nagel Women.
How Much Are Patrick Nagel Artworks Worth?
Original paintings by Patrick Nagel have sold for anywhere between $8,000 to $525,000. However, most Patrick Nagel art pieces on the market are silk screen prints/serigraphs or posters. These generally sell for between $200-$5,000 depending on their size and quality. Limited quantities of prints have been in continuous production by Nagel's estate since the 1980s, so many thousands of these items are now in circulation.
Average Estimate for Prints: $500-$5,000
Average Estimate for Paintings: $8,000-$525,000
Average Estimate for Posters: $200-$1,000
The Values of Patrick Nagel Illustrations
Here is an overview of some of Patrick Nagel's most popular prints, as well as their recent sale prices at auction.
Patrick Nagel, "Rio" for Duran Duran Poster
Posters of the album cover for Duran Duran's Rio were produced in fairly large quantities during the early and mid 1980s. Rio posters kept in very good condition may still be valuable today.
Estimate: $50-$150
Result: $95
Patrick Nagel, Palm Springs Life Print
Patrick Nagel produced this uncharacteristically colorful image for the cover of the May 1983 edition of the magazine Palm Springs Life. A series of silk screen prints of this image were produced by Nagel's estate after his death.
Estimate: $400-$650
Result: $600
Patrick Nagel, Sunglasses Poster
This stylish lithograph poster was produced by Mirage images in 1983, and incorporates silver foil on the lenses to make them reflective.
Estimate: $100-$800
Result: $275
Patrick Nagel, Shannon Print
This large silk screen print of a bending woman in a pink dress was produced in a limited batch of 990 in 1989. It is signed along the reverse in pencil by Nagel's widow, Jennifer Dumas.
Estimate: $500-$6,000
Result: $1,600
How to Identify a Patrick Nagel Signature
Nagel's original works were signed "Nagel" with loose, widely spaced letters. After his death, his widow Jennefer Dumas signed many of the limited edition serigraphs made during the late 1980s. Because Nagel died just a few years after his work began to achieve widespread recognition, most prints on the market were produced posthumously and do not contain a handwritten signature by Nagel.

How Can I Sell My Patrick Nagel Art?
Original Patrick Nagel paintings, prints, and posters continue to interest buyers decades after the artist's death. While reproduction lithographs and posters can still be purchased cheaply from Patrick Nagel's estate, original Nagel pieces from the 1970s and 80s are more valuable and collectable. Patrick Nagel art might be sold either through online third party resellers or through an auction house.
Because of the large number of knockoff Patrick Nagel items produced during the 1980s, seeking an appraisal from a trusted auction house is the best way to find out what your Patrick Nagel art is worth. An auction house can also help you sell your Patrick Nagel originals, prints, or posters at auction, where the item will have the best chance of finding an interested buyer.
Revere Auctions Sells Your Patrick Nagel Illustrations and Prints
Revere Auctions has expertise in selling Patrick Nagel prints and posters at auction for competitive prices. Our experts at Revere Auctions are ready to help you with any stage of your art journey, whether you are looking for an estimate of value, a USPAP certified appraisal, art restoration, or an effortless way to sell your art. We advertise our sales on more auction platforms than any other auction house in America, and regularly achieve record prices for our objects. If you are interested in selling with us, please reach out for a free online appraisal of your piece today.
Discover Works From More Artists Like Patrick Nagel
Robert Blue
Robert Blue was a Los Angeles based artist known for his images of pin up girls and cowgirls. His work precedes Patrick Nagel and may have been an inspiration to Nagel.
Barb Choit
Barb Choit is an up and coming Canadian artist based in New York. In her recent exhibition, she degraded Patrick Nagel posters using UV radiation and documented the results using a variety of photographic techniques.
Luis Preciado
Luis Preciado was a Mexican artist who made stylized, high contrast paintings of women in a similar style to Patrick Nagel.