Paul Cadmus Biography
Are Paul Cadmus Drawings Worth Much?
Famous Paul Cadmus Artworks
Famous PaJaMa Photographs
How to Sell Paul Cadmus Art
More Artists Like Paul Cadmus
Who Was Paul Cadmus?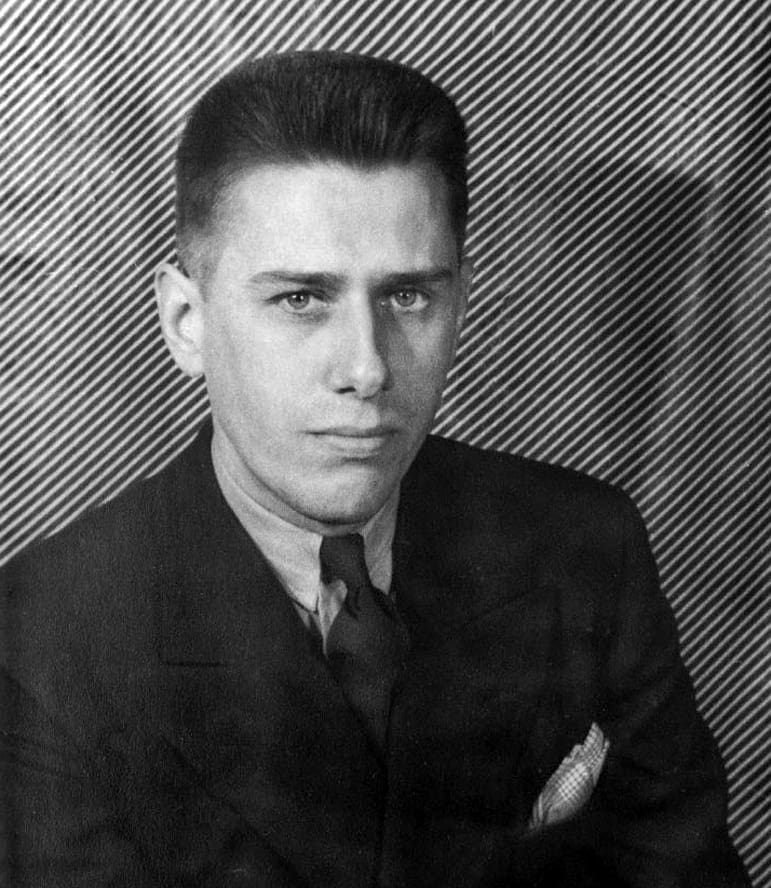 Paul Cadmus was born on December 17, 1904 in Manhattan to Maria Latasa and Egbert Cadmus. Cadmus' mother was a children's book illustrator, while his father was a commercial artist. The pair encouraged Paul and his sister Fidelma to pursue careers in art, and at 15 years old, Cadmus left high school to study at the National Academy of Design. Between 1919 and 1926, Cadmus studied drawing and printmaking at the Academy and was the recipient of numerous scholarships and other prizes during his time there.
In 1928, Paul Cadmus enrolled in the Art Students League of New York while working as an illustrator. It was during this time that he first met fellow artist Jared French, who would have a profound influence on Cadmus' life and work in coming years. French convinced Cadmus to switch his focus from commercial to fine art, and in 1931, the pair boarded an oil tanker headed for France.
Over the next two years, Cadmus and French toured cities and museums throughout France, Spain, and elsewhere in western Europe. During a particularly prolific period while visiting Mallorca, Spain, Cadmus painted a series of works including YMCA Locker Room and Shore Leave, which would later be considered some of his finest early works.
After returning to the US in 1933, Cadmus was accepted into the Public Works of Art Project, a New Deal program aimed at hiring artists to decorate non-federal public buildings. In 1934, his PWAP piece The Fleet's In! caused an outcry in the Navy due to its depiction of a group of salacious sailors carousing on shore. The painting was eventually moved to a private location, but Cadmus later credited this and following controversies over the subject matter of his work in the 1930s as essential in launching his career. When Cadmus launched his first solo exhibition in New York in 1937, he had over 7,000 visitors, many of whom had heard of his work through newspaper coverage of the controversy surrounding The Fleet's In!
Beginning in 1940, Cadmus was introduced to the medium of egg tempera by Jared French, with whom he now shared a Greenwich Village studio. Cadmus later convinced another friend and fellow artist George Tooker to take up the pair's tempera painting techniques. During this same period, Paul Cadmus, Jared French, and French's wife Margaret began taking posed photographs of themselves during their summer visits to Fire Island. These photographs, which the trio referred to as the PaJaMa Collective, were initially shared only with close friends. However, the photographs were rediscovered in the 1970s and shown publicly for the first time.
During the 1950s, Cadmus toured Europe again while continuing his works in egg tempera. In the 60s, he began a series of highly detailed drawings of male nudes, which he drew onto hand toned paper. Cadmus continued to paint, draw, and exhibit his art up until his death on December 12, 1999. He died of natural causes at home in Weston, Connecticut at the age of 95.
Born/Died: December 17, 1904- December 12, 1999
Nationality: American
Art Mediums: Tempera Paint, Photography, Drawing
Related Artists: George Tooker, Jared French, George Platt Lynes

Know the true value of your Paul Cadmus drawings with the help of Revere's expert appraisal services.
What was the Artist Paul Cadmus Known For?
Paul Cadmus is best known for his gritty and often erotic paintings of social interactions, especially those using the egg tempera medium. His painting style has been described as magic realism, and his works often contain elements of satire or social commentary. Additionally, he is known for his sensual drawings of male nudes and his work in the PaJaMa Collective photography project.
Egg Tempera Painting
Egg tempera is a type of fast drying paint made by mixing pigment with a water soluble binder such as egg yolk. This painting technique was very common in pre-renaissance Europe, before it was superseded by the use of oil paints in the 16th century.
The use of tempera paint allowed Cadmus to achieve a more matte, illustrative look to his paintings, which often featured rowdy scenes of men and women in colorful, tight fitting clothing.
The PaJaMa Collective
PaJaMa was a queer photography collective named after its three founding members: Paul Cadmus, Jared French, and Margaret Hoenig. The three were romantically and artistically entwined for many decades, and began taking the staged, erotically charged photographs for PaJaMa Collective during their annual summer visits to Fire island. On the island, they photographed fellow friends and artists including Christopher Isherwood, George Tooker, George Platt Lynes, and others.
Since the photographs were originally meant to be shared only among friends, no one held onto the original negatives. This means that all copies of the photographs in circulation today are themselves taken from vintage prints produced in the 1940s and 50s.
How Much Are Paul Cadmus Drawings and Photographs Worth?
Paul Cadmus' works have sold at auction for anywhere between less than $100 to more than $1,000,000. The record price at auction for a Paul Cadmus art piece was $2,430,000 in 1998 for the egg tempera painting "Lloyd and Barbara Wescott".
Average prices for Cadmus' tempera paintings range from $20,000 to $500,000, while his drawings and sketches can sell for anywhere between $100-$20,000. PaJaMa collective photo prints from the 40s and 50s are also valuable collectors pieces, and typically sell for between $500 to $5,000.
Average Estimate tempera paintings: $20,000-$500,000
Average Estimate photos: $500-$5,000
Average Estimate drawings: $1,000-$20,000
What Determines The Value of Paul Cadmus Art?
Paul Cadmus art pieces have a huge range of final sale prices at auction, so determining the value of a particular Paul Cadmus piece may prove difficult for the average collector. The biggest difference in value comes from the art medium, with tempera paintings generally commanding far higher values than Cadmus' other works due to their complexity and relative rarity. Other factors influencing the value of a Cadmus piece include its size and level of detailing.
Medium: Perhaps most important in determining the value of a Paul Cadmus art piece is looking at the medium. Because egg tempera was a highly time consuming medium to work in, Cadmus produced relatively few tempera pieces in his lifetime. These works are far more complex and scarce than his other works, making them his most valuable pieces.
Size: As is true with many works of art, larger pieces by Paul Cadmus tend to be more valuable. The majority of his drawings and paintings are 20 inches or less in their largest dimension and feature a single male figure. Because of this, larger pieces, especially those showing full scenes, tend to be particularly sought after.
Detail: Cadmus' drawings exhibit a huge range of detail from rough charcoal on paper nudes to lifelike figures drawn onto hand toned paper. Unsurprisingly, drawings that include extra detail, such as added color or particularly fine shading, may be worth thousands of dollars, while more basic sketches may be worth a few hundred.
Revere Auctions' newsletter keeps you up to date on the latest events and upcoming auctions for Paul Cadmus artwork.
The Values of Paul Cadmus Drawings and Paintings
Paul Cadmus, Seven Deadly Sins
The Seven Deadly Sins are a collection of seven paintings produced by Cadmus between 1945 and 1949. Each painting is a portrait of one sin depicted in surreal and horrifying detail. The collection is currently held by the Metropolitan Museum of Art in New York. Although the Seven Deadly Sins paintings have never been publicly sold, studies for the paintings have sold for between $1,800 to $3,500 at auction.
Paul Cadmus, Lloyd and Barbara Wescott
A 21×35 tempera painting of a couple with a red barn, a horse, and two cows in the background. This painting is an unusual departure from Cadmus' usual subject matter, and also has the distinction of achieving the highest ever price for a Cadmus painting at auction. It sold once in 1998 for $2,430,000 and again in 2006 for $452,800.
Estimate: $300,000-$500,000
Result: $2,430,000
Paul Cadmus, Sailors and Floosies
This painting from 1938 depicts three pairs of "sailors and floosies" meeting up in a litter filled riverside park. The painting was controversial in its day, and faced similar criticism to Cadmus' earlier painting The Fleet's In! This painting is currently held by the Whitney Museum of American Art.
Paul Cadmus, Seeing the New Year In
This painting depicts a group of stylish young people celebrating the New Year in a private room. Participants can be seen drinking, hugging, laughing, and crying throughout the scene.
Estimate: $400,000-$600,000
Result: $314,000
Paul Cadmus, First Study (1964) for Study for a David and Goliath
An unusual charcoal and pastel on paper drawing of two men in a room surrounded by drawings of david and goliath. The younger blonde man on a bed is pulling the hair of an older man holding up a drawing.
Estimate: $15,000-$20,000
Result: $20,000

Learn the true value of your Paul Cadmus drawings and prints through Revere Auctions consignment and acquisition services.
The Values of PaJaMa Photographs
How to Identify a Paul Cadmus Signature
Paul Cadmus typically signed his works "Cadmus" in cursive lettering in one corner of the front of his work. He would occasionally sign his first name or include a date as well.
How Can I Sell My Paul Cadmus Original?
Because Paul Cadmus worked in a wide variety of mediums over his nearly 7 decade long career, determining the value of your Cadmus art piece can sometimes prove challenging. To learn more about the value and authenticity of your piece, consider taking it in for an expert appraisal. A trusted local auction house can appraise your art and discuss the best selling options for your specific needs.
Sign up for Revere Auctions' newsletter to learn about upcoming events and the latest works
Revere Auctions Sells Your Paul Cadmus Art
Revere Auctions can help you sell your Paul Cadmus paintings, drawings, or PaJaMa photographs at auction for the best possible price. Our experts at Revere Auctions have years of experience selling Paul Cadmus art pieces. We are ready to help you with any stage of your art journey, whether you are looking for an estimate of value, a USPAP certified appraisal, art restoration, or an effortless way to sell your art. We advertise our sales on more auction platforms than any other auction house in America, and regularly achieve record prices for our objects. If you are interested in selling with us, please reach out for a free online appraisal of your piece today.
Discover Works From Artists Like Paul Cadmus
If you enjoy the work of Paul Cadmus, here are a few related artists who may also spark your interest.
George Tooker
George Tooker is a figurative painter who often collaborated with Cadmus. He is known for his use of magic realism and surrealism in his paintings.
Jared French
Jared French was a longtime lover and artistic influence of Cadmus. He is known for his egg tempera paintings as well as his work on the PaJaMa collective.
George Platt Lynes
George Platt Lynes was a fashion photographer who specialized in photographing gay artists and writers. He was a regular visitor to Fire Island and took part in the PaJaMa collectives photography project.