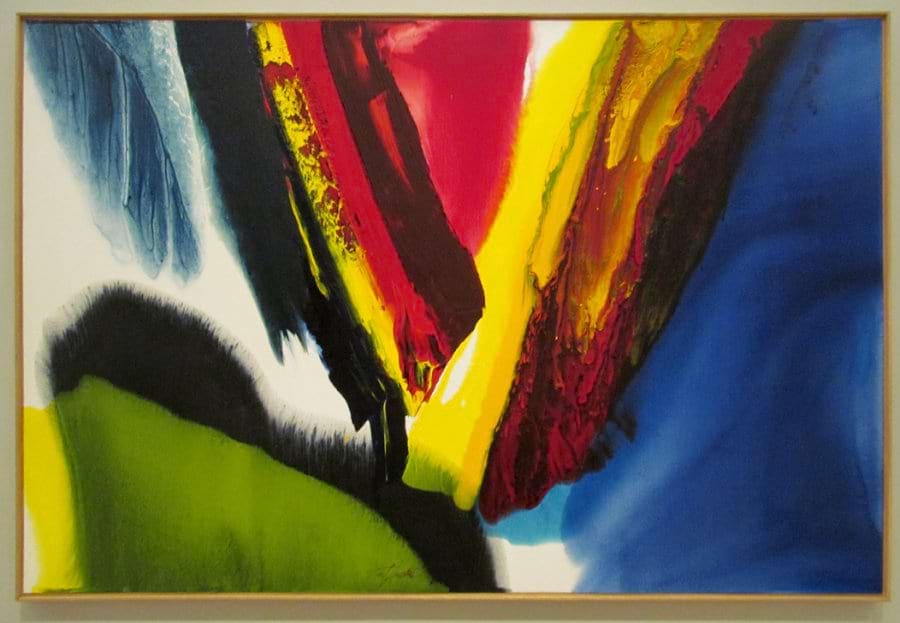 Paul Jenkins (1923-2012) was an American Abstract Expressionist painter best known for his oil or acrylic on canvas paintings, which he referred to as "Phenomena". Jenkins experimented with a huge number of art mediums besides painting, including sculpture, collage, drawing, and more.
Who is Paul Jenkins? Artist Biography
William Paul Jenkins was born July 12th, 1923 in Kansas City Missouri. He lived in Kansas City until he was a teenager, when he moved in with his mother and stepfather in Struthers, Ohio.
After graduating from Struthers High School, Jenkins joined the U.S. Maritime Service, and later the U.S. Naval Air Corps during World War II. In 1948, Paul Jenkins moved to New York City, where he used the G.I. Bill to study at the Art Students League of New York.
In 1953, Jenkins traveled to Europe to visit Italy, Spain, and France. While in Paris, Jenkins had his first solo exhibition at studio Paul Facchetti in 1954. That same year, he returned to America to have his second solo exhibition at the gallery of Zoe Dusanne in Seattle, Washington. After this, Jenkins ultimately decided to split his time between Paris and New York City, traveling between the two frequently over the course of his career.
In the 1960s, Jenkins began to move away from oil painting, instead focusing primarily on acrylics. His style involved laying acrylic paint onto a primed canvas using an ivory knife. He chose this technique to give him the most control over the flow of paint on the canvas. Throughout the 60s, Jenkins' popularity continued to grow, and his work was exhibited at galleries across the world.
Jenkins was never content to work in just one medium, and over the next few decades he dedicated his time to bronze and stone sculpture, ceramics, watercolor painting, collage, and more. Jenkins continued to innovate and produce art up until his death on June 9, 2012 at the age of 88.
Born/Died: July 12, 1923-June 9, 2012
Nationality: American
Category: Abstract Expressionist
Related Artists: Gustave Baumann, Jackson Pollock, Jean-Paul Riopelle

Know the true value of your Paul Jenkins artworks with the help of Revere's expert appraisal services.
What is the Artist Paul Jenkins Known for?
Paul Jenkins is best known for his Abstract Expressionist paintings and sculptures, the style of which Jenkins described as "abstract phenomenist". His works are characterized by colorful, textured abstract forms across a wide variety of 2D and 3D mediums. He believed in allowing the art itself to guide him to his final destination, and typically named his paintings "Phenomena" followed by one or two descriptive words that captured the feelings the work elicited in him.
What Art Mediums Did Paul Jenkins Use?
Paul Jenkins worked with a huge variety of art forms over the course of his life, starting with primarily oil paintings. He later moved into ceramics, watercolor painting, and acrylic painting. Later in his career he was involved in many larger, multimedia projects including brass and stone sculpture, lithographs, and collage.
Paintings
Paul Jenkins made many large oil or acrylic on canvas pieces, which he referred to as "Phenomena". He specialized in using non brushstroke methods to paint on canvas, most commonly using an ivory knife to lay down and control the paint. Unlike other Abstract Expressionists of the time, Jenkins never used unprimed or stained canvas, feeling that these methods gave him less control over the finished product.
Sculptures
Starting in the 1970s Jenkins was involved in making a number of large outdoor sculptures using a variety of materials including carved stone and bronze casting. In 1971, Jenkins carved a two ton piece of French limestone at the Sculptor's Symposium at the Cooper-Hewitt museum in New York.
Where Did Paul Jenkins Study Art?
After leaving the air force in 1948, Jenkins used the G.I. Bill to attend the Art Students League of New York, where he studied under painter Yasuo Kuniyoshi. He then traveled to Europe, where he studied art in Italy, Spain, and France before settling in Paris.
How Did Paul Jenkins Die?
Paul Jenkins died on June 9th, 2012 in Manhattan after a brief illness, just one month before his 89th birthday.

Learn the true value of your Paul Jenkins paintings and sculptures through Revere Auctions consignment and acquisition services.
How Much Are Paul Jenkins Paintings Worth?
Paul Jenkins produced a large number of abstract paintings in various mediums over his six decade career. His works have sold for as little as $29 to as much as $93,750. His oil paintings typically sell for between $5,000 and $20,000, although values above this range for particularly large or complex pieces are relatively common. His acrylic works are better known, and have an average price range of $10,000 to $30,000. Finally, his watercolors tend to sell for $3,000 to $9,000 at auction.
In addition, drawings, collages, sculptures, and other works by Paul Jenkins can be found at auction, with values varying considerably based on size, medium, and demand.
Paul Jenkins Auction Prices
Historical auction sales range: $29-$92,500
Average auction estimate for original paintings: $5,000-$30,000
Average auction estimate other original art: $1,000-$20,000
Valuable Paul Jenkins Paintings
Here is a collection of some of Paul Jenkins' most valuable acrylic and oil paintings. For most of his best known paintings, he would name them "Phenomena" followed by a descriptive title that reflected the essence of the painting.
Paul Jenkins, Phenomena Prism Emissary
This colorful oil on canvas painting contrasts a black and white background with striking rainbow prism shapes. It sold in 2010 for 362% above estimate.
Estimate: $15,000-$20,000
Result: $92,500
Paul Jenkins, Phenomena Royal Violet Visitation
This large 55 x 169 inch acrylic on canvas painting shows waves of colorful paint emanating from the center of the canvas. It is currently held by the Hunter Museum of American Art in Chattanooga, Tennessee.
Paul Jenkins, Phenomena Blue Rules The Day
A striking acrylic on canvas painting of a swirling blue form against a light background. Sold for $93,750 in 2017, this is the highest valued Paul Jenkins painting.
Estimate: $25,000-$35,000
Result: $93,750
How to Identify Paul Jenkins Signature
Paul Jenkins typically signs his name in cursive using black or occasionally white ink. He typically also adds a date, which consists of the full year and occasionally the day and month in MM/DD YYYY format.
Revere Auctions' newsletter keeps you up to date on the latest events and upcoming auctions for Paul Jenkins paintings.
How Can I Sell My Paul Jenkins Art?
Paul Jenkins produced thousands of individual art objects over the course of his 6 decade long career, experimenting with a huge range of different mediums. Because prices for Paul Jenkin's work can vary greatly even within one medium, an expert appraisal is highly recommended in order to determine the value of your Paul Jenkins piece.
Revere Auctions Sells Your Paul Jenkins Art
Revere Auctions has expert experience selling Paul Jenkins art at auction for competitive prices. Our experts at Revere Auctions are ready to help you with any stage of your art journey, whether you are looking for an estimate of value, a USPAP certified appraisal, art restoration, or an effortless way to sell your art. We advertise our sales on more auction platforms than any other auction house in America, and regularly achieve record prices for our objects. If you are interested in selling with us, please reach out for a free online appraisal of your piece today.
Discover Works From Artists Like Paul Jenkins
Kenneth Noland was an American Abstract Expressionist painter. Unlike Jenkins, he preferred to pour thinned acrylic paint directly onto unprimed canvas.
Jackson Pollock
Jackson Pollack was an influential figure in the Abstract expressionist movement, known for his technique of dripping paint onto a horizontal surface. Jenkins met Pollack while studying in New York in the 1950s.
Jean-Paul Riopelle
Jean-Paul Riopelle is a Canadian abstract painter who is well known for his technique of using a palette knife to create layers of highly textured paint on the canvas.