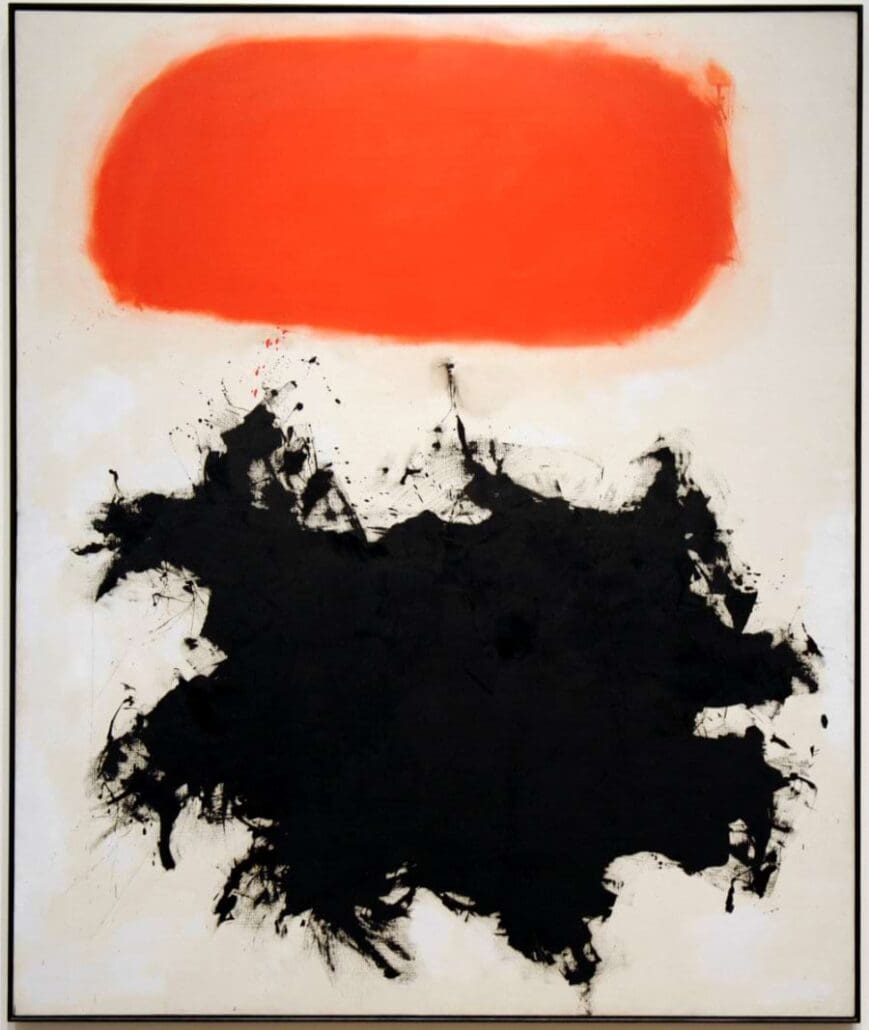 Adolph Gottlieb (1903-1974) was an American painter, sculptor and printmaker. He was one of the early pioneers of Abstract Expressionism and a founding member of "the ten", a group of New York painters who showed their work together in the 1930s. His abstract works of the 1960s and 70s were groundbreaking for their time, and many are valued at over $1,000,000 today.
Who Was Adolph Gottlieb?
Adolph Gottlieb was born in New York on March 14, 1903. As a teen, he studied at the Art Students League of New York between 1920-1921. After determining he wanted to pursue art as a career, Gottlieb boarded a merchant ship heading to Europe at just 17 years old. He worked on the ship to pay his way, then traveled in Germany and France for the next year.
During the 6 months he spent in Paris, Gottlieb audited classes at the Academie de la Grande Chaumiere, and visited the Louvre museum each day to further his studies. The next year, he traveled extensively throughout west and central Europe, stopping at many famous galleries and museums.
By the time he returned to New York after two years abroad, Gottlieb's travels had significantly influenced his understanding of art and art history. Gottlieb continued his studies in New York, and held his first solo exhibition in New York City in 1930 at Dudensing Galleries. Throughout the 1920s and early 1930s, Gottlieb formed strong friendships with many of the other New York based artists interested in expressionist art. In 1935, Gottlieb, along with fellow artists including Ben-Zion, Ilya Bolotowsky, Joseph Solman, Mark Rothko, and others, founded "The Ten". Founded in hopes of increasing exposure during the Great Depression, The Ten went on to hold 9 total group exhibitions of their and guest artists' work between 1935 and 1939. Between 1937-1938, Gottlieb moved to the Arizona desert. During his time there, he transitioned towards painting more surrealist pieces, which he exhibited in New York after his return in 1938.
Starting in the early 1940s, Gottlieb began painting "Pictographs", a type of painting incorporating invented symbols meant to evoke an emotional response in the viewer.
By the mid 1950s, Gottlieb grew tired of pictograph paintings and moved into a new phase of what he called "Burst" and "Imaginary Landscape" paintings, which were more simplified and abstract than his earlier works. Gottlieb continued to work on these paintings, as well as a brief foray into sculpture, until a debilitating stroke in 1970 left him mostly paralyzed. He continued to do some painting despite his limited mobility until his death in 1974.
Born/Died: March 14, 1903- March 4 1974
Nationality: American
Art Mediums: acrylic painting, oil painting, sculpture
Related Artists: Robert Burns Motherwell, Toko Shinoda, Paul Jenkins

Know the true value of your Adolph Gottlieb paintings with the help of Revere Auctions' expert appraisal services.
What was the Artist Adolph Gottlieb Known For?
Adolph Gottlieb is best known for his "Burst" and "Imaginary Landscape" paintings, which showcased his mastery of abstract expressionist techniques. His art has been shown at and collected by many major museums including the Guggenheim and the Metropolitan Museum of Art in New York, who began collecting Gottlieb's art as early as the 1940s. In addition to his art, Gottlieb is remembered for his contributions to connecting and lifting up his fellow abstract artists in New York City.
Abstract Expressionism
Abstract expressionism was an art movement that emerged in New York throughout the 1940s and 50s. Abstract expressionists often focused on the spontaneous creative process that went into their art instead of having a rigid vision for how their piece would turn out. Beginning during the 1940s, Adolph Gottlieb began using pictographs in his work in an attempt to create a symbolic language that could communicate complex stories and emotions through simple shapes and colors.
Next, Gottlieb moved on to creating his "Imaginary landscapes." Instead of filling the entire canvas with pictographs, he would add only a few pictographs below the horizon line of the piece, and place colorful geometric shapes above the horizon. In his "Bursts" series, he simplified his images further into just a scrawl of lines at the bottom and one or more colorful shapes above. Although seemingly simple, the focus on blank space, color, and shape gave these pieces a strong sense of unity and cohesiveness.
The Adolph and Esther Gottlieb Foundation
The Adolph and Esther Gottlieb foundation was established by Gottlieb's wife, Ester Gottlieb, in 1976 in accordance with Adolph Gottlieb's will. The Foundation offers 12 individual support grants each year to visual artists including painters, sculptures, and printmakers. They also offer a second type of emergency grant for artists experiencing a crisis situation. After the death of Ester Gottlieb in 1981, the foundation's work was continued by their estate.
What Mediums did Adolph Gottlieb Use?
Adolph Gottlieb is best known for his paintings, which used either acrylic or oil paint on canvas. He was particularly interested in symbolic language in his paintings, and spent many years experimenting with different "pictographs" in his works. His pictographs were collections of lines with no attached cultural meaning, and he would stop using a pictograph if he learned that the pictograph was used by any particular culture.
Gottlieb also went through a sculpting phase between 1967-1968. He initially made his sculptures from painted cardboard, then moved on to stainless steel and aluminum pieces, which he would cut, weld together, and paint. During this brief period, Gottlieb made 42 total sculptures, 3 of which were large outdoor pieces which are held by The National Gallery of Art in Washington, DC, The Storm King Art Center in New Windsor, NY, and the Metropolitan Museum of Art in New York City.
How Much Are Adolph Gottlieb Paintings Worth?
Adolph Gottlieb paintings have a huge range of value, and have sold at auction for anywhere between a few hundred to a few million dollars. The highest sold price at auction for an Adolph Gottlieb painting was $6,537,000 for the painting Cool Blast in 2008. In general, earlier paintings such as full canvas pictographs or surrealist pieces will sell for between $10,000 to $200,000 at auction, while later abstract "Burst" or "Imaginary Landscape" paintings tend to sell for more, usually between $50,000 to as much as $6,000,000. High quality prints of Gottlieb's work are also in demand, and can be worth a few thousand dollars.
Average Estimate Early Paintings (pre 1957): $10,000-$200,000
Average Estimate Later Paintings 1957-1974: $50,000-$6,000,000
Average Estimate Silk Screen Prints: $500-$6,000
What Determines The Value of Adolph Gottlieb Art?
There are a wide variety of factors that can influence the value of an Adolph Gottlieb piece. A few qualities to look out for in determining the value of a Gottlieb painting are size, style, and medium.
Size: Large Gottlieb paintings tend to sell for more than smaller paintings. The majority of Gottlieb paintings that have sold for over $1,000,000 have been between 70-110 inches in their largest dimension. In comparison, pieces with a maximum height or width of 40 inches or less rarely sell for more than $200,000.
Style: Gottlieb's most popular paintings are his abstract "Burst" paintings, which have a relatively simple yet bold abstract design. Besides Burst, his "Imaginary Landscape" and "Pictograph" paintings are also in high demand. Gottlieb's early surrealist or other figurative paintings tend to be less valuable overall.
Medium: The majority of Gottlieb paintings that have sold for over $1,000,000 have been oil on canvas pieces, although many of his acrylic works are also highly valued. Other Gottlieb pieces such as watercolor/gouache paintings, prints, or charcoal sketches typically sell for between $1,000-$10,000.

Revere Auctions provides the best value for your Adolph Gottlieb works through extensive consignment and acquisition services.
The Values of Adolph Gottlieb Paintings
Here is an overview of five Adolph Gottlieb pieces and what they sold for at auction.
Adolph Gottlieb, Red Ground
An abstract oil on canvas painting from 1961 featuring a red background with a red circle and a black circle on the upper half, and a scrawl of light colored pictographs on the bottom. This painting sold for over 200% above estimate in 2015.
Estimate: $100,000-$150,000
Result: $461,000
Adolph Gottlieb, Night Glow
This print was made using color etching and aquatint techniques on Fabriano paper. It depicts a red circle ringed with white and black pictographs against a dark background. This print was from a limited series of 65.
Estimate: $2,000-$3,000
Result: $3,900
Adolph Gottlieb, The Seer
A relatively small oil on canvas piece covered in pictographs in earth tones.
Estimate: $30,000-$35,000
Result: $32,000
Adolph Gottlieb, Cool Blast
This large oil on canvas painting features a two toned red circle above thick lined black pictographs against a pale background. It achieved the highest ever auction price for a Gottlieb painting in 2008.
Estimate: $2,000,000-$3,000,000
Result: $6,537,000
Adolph Gottlieb, Thrust
This unusual gouache on paper piece is covered in abstract black pictographs on a neutral background.
Estimate: $20,000-$30,000
Result: $24,000
How to Identify an Adolph Gottlieb Signature
Adolph Gottlieb signed his name in several ways, most commonly in cursive or in painted all capitalized block letters. He also occasionally signed in lowercase print letters or added a two digit date after his signature, such as 53 in place of 1953. Because Gottlieb's art is so valuable, and his signature varied considerably even year to year, an expert authentication is essential for any suspected Gottlieb piece with no accompanying paperwork.
How Can I Sell My Adolph Gottlieb Original?
Considered a founder of the American abstract expressionist movement, Gottlieb's groundbreaking work continues to command high prices at auction. Due to the difficulty of authenticating and valuing Gottlieb's work, it is not recommended to buy or sell Adolph Gottlieb paintings online without the help of an expert in the field. Researching auction houses in your area, and bringing your work in for appraisal is the safest way to ensure your piece is valued correctly and sold for what it is worth.

Have your Adolph Gottlieb artworks valued by experts with Revere Auctions appraisal services.
Revere Auctions Sells Your Adolph Gottlieb Art
Revere Auctions has expertise in selling Adolph Gottlieb paintings and prints at auction for competitive prices. Our experts at Revere Auctions are ready to help you with any stage of your art journey, whether you are looking for an estimate of value, a USPAP certified appraisal, art restoration, or an effortless way to sell your art. We advertise our sales on more auction platforms than any other auction house in America, and regularly achieve record prices for our objects. If you are interested in selling with us, please reach out for a free online appraisal of your piece today.
Discover Works From Artists Like Adolph Gottlieb
Robert Burns Motherwell
Motherwell was a New York painter and printmaker involved in American surrealist and abstract art movements at a similar time to Gottlieb.
Toko Shinoda
Shinoda was a Japanese calligraphy artist, painter, and printmaker who often incorporated American Abstract Expressionist styles into her artwork.
Paul Jenkins
Jenkins was another New York based abstract expressionist artist who worked in both oil and acrylic paints among other mediums.