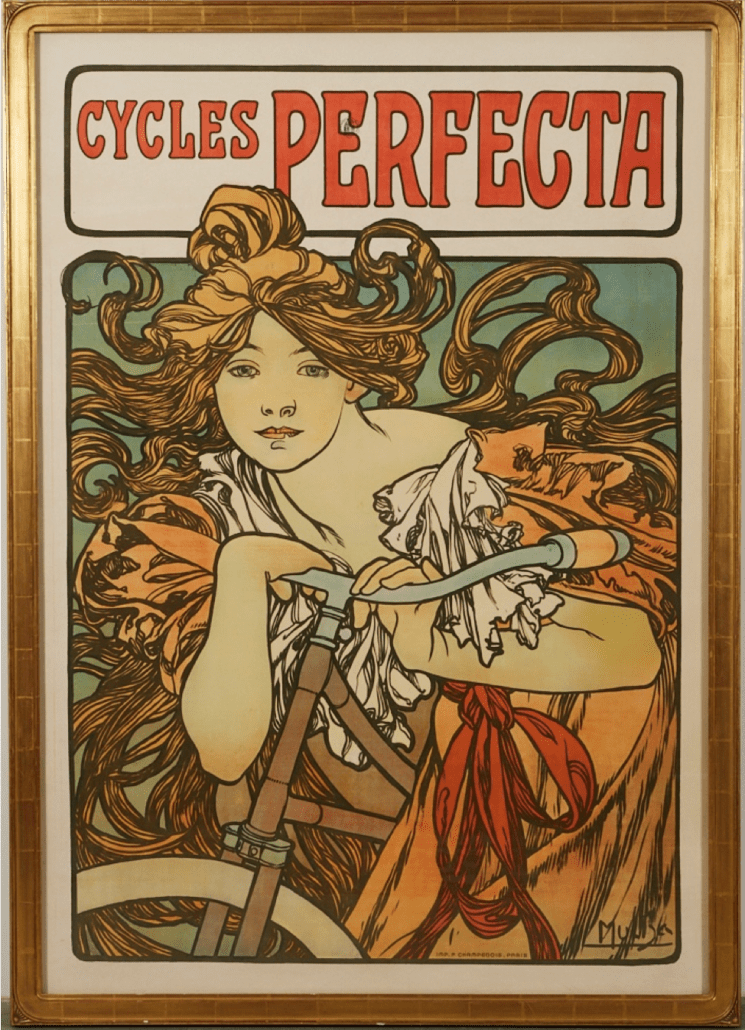 Alphonse Mucha is considered one of the foremost figures in Art Nouveau, helping to define the aesthetics of the movement with his widely distributed and diverse work. Mucha, who counted among his friends and collaborators Paul Gauguin, the Lumière brothers, and Auguste Rodin, was an extremely talented and versatile artist whose continual experimentation and pursuit of beauty in art made him well-loved by both the artistic establishment and the masses.
Mucha was born in 1860 in what was then Bohemia. Always drawn to the arts, Mucha received a choir scholarship for secondary school, and while he did not excel academically, it was in the churches he sang in that he saw the art frescoes that led him to decide he wanted to be an artist. Mucha began his art career by doing freelance design work while working at a clerical job. At the age of 19, he made the jump to a full-time career in art, working as a set designer in Vienna. After the theater at which he was working burned down, he returned home and continued freelancing, eventually gaining the patronage of Count Karl Khuen-Belasi, who funded his education.
With this support, Mucha went to Munich and enrolled in the Academy of Arts. After two years, he moved to Paris to study at the Académie Julian, where he fell in with a group of students who were proponents of the then-shocking idea that design should be respected at the same level as fine art. This idea would have a profound effect on the young Mucha, who was already going back and forth between the two genres, and would continue to seamlessly blur the line between them throughout his career.
In Paris, Mucha finished his studies at the Académie Colarossi and began working as an illustrator and theater set and costume designer. At this time, he became friends with many of his artistic compatriots who would also become great artists, such as Paul Gauguin, with whom Mucha shared a studio for a time. By the early 1890s, Mucha had achieved moderate success as an illustrator and designer, filling in the gaps by making forays into teaching and photography. His big break came in 1894 with his design for the poster for a production of Gismonda at the Théâtre de la Renaissance. This poster became so wildly popular that people began stealing it in large numbers, causing a major problem for the theater.
Mucha's success led to many job offers: he took a six-year contract with Sarah Bernhardt to design all her posters, sets, and costumes, became involved with several publications, and signed a contract with the Imprimerie Champenois. The Imprimerie Champenois was a major force in the printing world at the time, and distributed his work widely, making him a household name. While he was busy with posters and other design work, he was simultaneously gaining success as a painter, and he held his first solo exhibition in 1907. This led to further exhibitions of his work throughout Europe and even in America. His success only encouraged his tendencies to branch out, and he accepted offers to design jewelry and even a pavillion at the Exposition Universelle, for which he was awarded the légion d'honneur by the French government.
In the early 20th century, Mucha's success continued to grow. He continued to take widely varying commissions and travel. In 1906, he married Maruška Chytilová, a former art student from Prague whom he had met in Paris. They moved together to Chicago, where Mucha had gotten a position as an instructor at the Art Institute. While in the United States, Mucha secured funding for his Slav Epic, a series of twenty massive works which he viewed as his magnum opus. He returned to Bohemia in 1910, where he continued to paint, and was very involved in the movement for the founding of Czechoslovakia. Mucha died in 1939, after a case of pneumonia was exacerbated by his arrest by the Nazis.
Mucha was very much a person of his time, and his advertising poster for the British bicycle company Cycles Perfecta in many ways captures the spirit of the age. A beautiful woman leans over the handlebars of a bicycle, her movement suggested only by her wild and energetic hair, which commands much of the frame, flowing up from her head in graceful, viny tendrils. Mucha, whose name is often synonymous with Art Nouveau, brilliantly demonstrates the aesthetics that defined the movement with his striking typography, focus on costume, and stunning, graphic linework.
The fact that the cyclist is a woman is also significant to the era in which this poster was created. While beautiful women are, of course, a common marketing strategy, women were likely a large part of the audience for whom Mucha's poster was intended. Cycling was gaining popularity at the turn of the 20th century, and a growing number of its devotees were women, who found that cycling allowed them an unprecedented level of freedom. Particularly in Britain, where Mucha's poster was commissioned, women were taking to cycling in large numbers, and, with their growing freedom in other spheres, were forming a significant audience for marketers to target. Mucha acknowledges this, as he captures the freedom and joy created by cycling in his figure. The Cycles Perfecta poster is a perfect testament to the marriage of beauty and function that defined Art Nouveau.