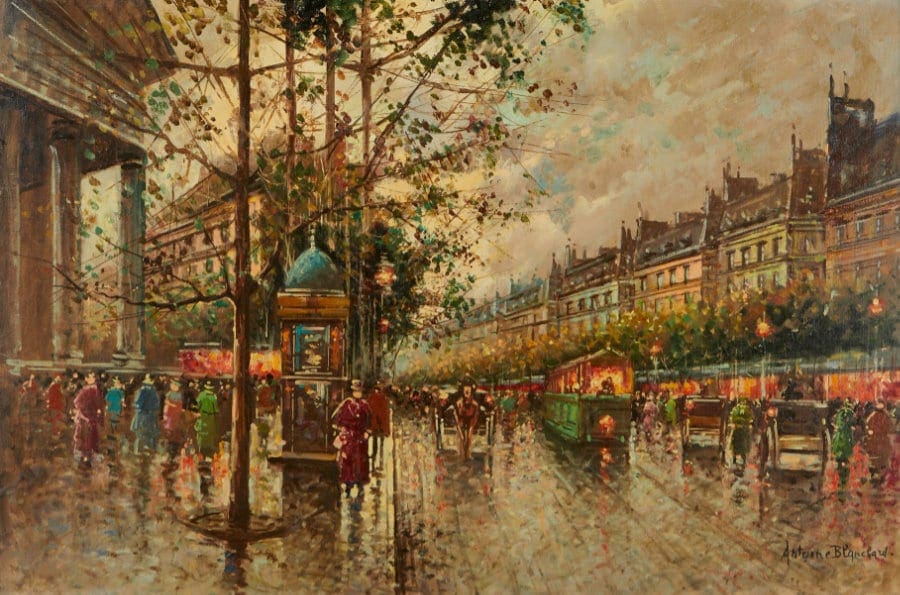 Antoine Blanchard (1910-1988) was a French impressionist oil painter who specialized in painting detailed, atmospheric Parisian cityscapes. He would often paint the same monument or street many different times in order to capture it from different angles or in different lighting.
Paintings of the same location by Blanchard can vary widely in estimated value. For instance, he painted a large number of scenes including the Arc de Triomphe, and these pieces have sold at auction for anything between $500 and $15,000. Due to this variability in estimated value between thematically similar pieces, an expert appraisal can be very helpful in determining the authenticity and value of your Antoine Blanchard painting.
Antoine Blanchard Prints Auction Prices
Valuable Antoine Blanchard Prints
How Can I Sell My Antoine Blanchard Art?
Who is Antoine Blanchard? Artist Biography
Antoine Blanchard (1910-1988) was the professional pseudonym of Marcel Masson. He was born near Blois, France, in the Loire river valley on November 15, 1910. His father was a furniture maker, and Blanchard's parents enrolled him in drawing classes as a child after he showed an interest in the arts. When he was 22, Blanchard moved to Paris to enroll in the Ecole de Beaux-Artes there. He was an excellent student and went on to compete for the Prix de Rome. While living in Paris, Blanchard became fascinated with city life and culture.
Between 1939 and 1942, Antoine Blanchard was drafted into World War II. When he returned to Paris after the war, he found it to be less charming than it was when he was younger. He became fascinated with the Belle Epoque period, and many of his paintings sought to emulate the elegant style of that time. Blanchard continued to study and paint the streets and monuments of Paris until his death on August 10, 1988.
Born/Died: November 15, 1910-August 10, 1988
Nationality: French
Category: Impressionism, Oil Painting
Related Artists: Edouard Leon Cortes, Eugene Galien-Laloue, Anne Champeaux
What is the Artist Antoine Blanchard Known for?
Antoine Blanchard is best known for his detailed, impressionistic paintings of Paris streets and monuments. He would often study pictures of his subject matter from the 1890s, and use those to inspire his works. Blanchard did not produce a large volume of work during his career, as precision was very important to him, and he would often spend weeks or months perfecting a single piece. Careful use of shading and lighting techniques were an important part of his style, and his paintings were admired for their delicate, radiant quality.
What Art Mediums Did Antoine Blanchard Use?
Antoine Blanchard primarily produced oil on canvas paintings of Parisian cityscapes. His painting style employed layers of small brushstrokes, creating a soft, atmospheric look rich in color and detail. He would often return to paint the same streets and landmarks in different seasons and lighting conditions. Besides his oil paintings, Blanchard produced sketches and small sculptures, especially in his early career.
Where Did Antoine Blanchard Study Art?
Antoine Blanchard first studied art at the Ecole de Beaux Artes in Renne, where he earned Le Prix du Ministre, before moving to the Ecole de Beaux Artes in Paris. Between marrying and starting a family, taking over his late father's furniture business, and going to war, Blanchard had little time for his art after graduation. However, in the early 1940s, Blanchard began studying the Belle Epoque period on his own, and regained the inspiration he needed to focus on his art.
How Did Antoine Blanchard Die?
After returning to Paris in 1942, Blanchard continued to work and live there with his wife and two daughters. He died in 1988 at the age of 77. His daughter Nicole, and her daughter, who went by the pseudonym A. Champeaux, carried on the tradition of painting Parisian scenes after his passing.
How Much Are Antoine Blanchard Paintings and Prints Worth?
Antoine Blanchard's atmospheric and nostalgic portrayals of Paris continue to inspire buyers today. The value of his work has held steady for many years, and the average Blanchard painting can be expected to sell for around $3,500 to $4,500 at auction. That being said, some particularly large or high quality works have sold for over $20,000, with the highest recorded sales price for a Blanchard piece being $31,720.
Antoine Blanchard Auction Prices
Historical auction sales range: $500-$30,000
Average auction estimate for original prints: $200-$2,000
Average auction estimate for original paintings: $2,500-$5,500
Valuable Antoine Blanchard Paintings and Prints
Here are a few notable examples of Blanchard's work. The artist often revisited sites to paint them in different lighting or weather. Some of his favorite scenes to paint included Notre Dame cathedral, L'Arc de Triomphe, and Cafe de la Paix.
Bouquinistes de Notre Dame
This 18''x22'' oil painting depicts a street scene of book vendors selling their wares near Notre Dame.
Estimate: $2,000-$4,000
Result: $3,600
Arc De Triomphe
Blanchard painted the Arc de Triomphe many times over the years, experimenting with different angles and distances. In this large 28''x45'' painting, a carriage pulled by three white horses is passing in front of the arch.
Estimate: $13,785-$16,540
Result: $12,405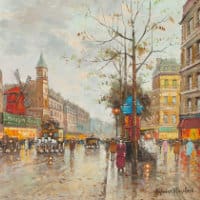 Painting of a street scene in front of Le Moulin Rouge on a rainy day. This piece is signed "Antoine Blanchard" but is believed to be the work of Italian artist Pietro Griffo.
Estimate: $800-$1,200
Result: $400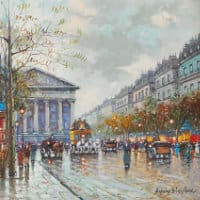 Parisian street scene depicting the bustling Rue Tronchet in front of L'eglise de la Madeleine at twilight. This piece is signed "Antoine Blanchard" but is believed to be the work of Italian artist Pietro Griffo.
Estimate: $800-$1,200
Result: $400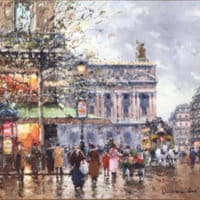 Painting of a vibrant street scene outside the Cafe de la Paix, an ornate cafe attached to the Paris Opera house.
Estimate: $3,000-$6,000
Result: $3,200
Boulevard des Capucines
Scene depicting the Boulevard des Capucines on a cloudy day, with many pedestrians and carriages filling the street.
Estimate: $5,000-$7,000
Result: $13,145
How to Identify an Antoine Blanchard Signature
Careful inspection of the signature is an important part of authenticating an Antoine Blanchard piece. Because the artist's legal name was Marcel Masson, and he never copyrighted the name Antoine Blanchard, it was common during his lifetime for artists painting in a similar style to him to sign their work with the name "Antoine Blanchard" in the hopes of increasing the piece's value.
Prior to 1958, Blanchard signed his name with a single period at the end. In later years, he added a second period to his signature after Antoine as well. Painters of faux Blanchard pieces were generally careful to make their signature slightly different, such as by adding two periods at the end, or none at all, or signing the name in a different style.
How Can I Sell My Antoine Blanchard Art?
Due to the large number of Antoine Blanchard reproductions and fakes which have been produced, having an expert authenticate a piece is essential to determine its value. In addition, Blanchard produced multiple different paintings for many streets and landmarks he enjoyed, and differing values for seemingly similar pieces can be confusing to a casual viewer. Finding an auction house you trust to authenticate and value your Antoine Blanchard art will remove much of this guesswork and ensure you get a fair price for your art.
Revere Auctions Sells Your Antoine Blanchard Art
Revere Auctions has expert experience selling both authentic Antoine Blanchard paintings and quality reproductions and prints at auction for competitive prices. Our experts at Revere Auctions are ready to help you with any stage of your art journey, whether you are looking for an estimate of value, a USPAP certified appraisal, art restoration, or an effortless way to sell your art. We advertise our sales on more auction platforms than any other auction house in America, and regularly achieve record prices for our objects. If you are interested in selling with us, please reach out for a free online appraisal of your piece today.
Discover Works From Artists Like A. Blanchard
Edouard Leon Cortes (1882 – 1969)
Edouard Leon Cortes was another French painter who specialized in painting street scenes of Parisian life.
Eugene Galien-Laloue (1854 – 1941)
Galien-Laloue was a French Impressionist painter who painted Parisian streets, as well as coastal and military scenes.
Anne Champeaux
Annie Champeaux was the granddaughter of Antoine Blanchard, who painted street scenes and still lives in the Impressionist style.