Vietnamese artist Le Pho (1907-2001) is known for his colorful depictions of Vietnamese landscapes and women, which masterfully combine his extensive studies of both Asian and Western painting techniques. During his seven decades long career, Le Pho experimented with a wide variety of art mediums, from Asian-influenced work like painting on silk or wood panel, to the more traditional Western techniques of oil on canvas. Considering that his works can sell at auction for anywhere between a few thousand dollars to a million or more, an expert appraisal is necessary to determine the value of a Le Pho piece.
Who Was Lê Phổ?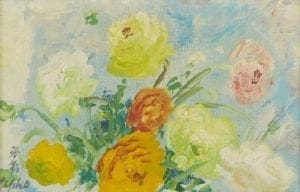 Le Pho (1907-2001) was a Vietnamese artist born August 2nd, 1907 in the Ha Dong district of northern Vietnam, which was a part of French Indochina at that time. He studied art at the recently founded Ecole De Beaux Artes de l'Indochine, and later at the Ecole de Beaux Artes in Paris. After teaching art in Vietnam in the 1930s, Le Pho returned to France, where he would continue to paint and exhibit his art until his death in 2001.
Born/Died: (August 2 1907-December 12 2001)
Nationality: Vietnamese
Medium: Oil, Gouache, Mixed Media
Revere Auctions' newsletter keeps you up to date on the latest events and upcoming auctions for Lê Phổ artwork.
What is the Artist Le Pho Known For?
During his earlier career in France, known as his Romanet period, Le Pho primarily painted scenes from his childhood in Vietnam, often including elongated figures of Vietnamese women. Beginning in the 1950s to 1960s and onward, his work became increasingly colorful and abstract. During this time, known as his Findlay period due to his association with Wally Findlay Galleries in the United States, Le Pho transitioned to painting more family scenes than individual women, and replaced more traditional backgrounds with explosions of highly colorful flowers.
Son Mai: Vietnamese Lacquer Painting
For over 2000 years, Vietnamese people have been processing lacquer from the resin of the Chinese lacquer tree to make art and other objects glossy, waterproof, and resistant to wear. Modern Vietnamese lacquer painting arose in the 1930s at L'Ecole de Beaux Artes in Hanoi, where artists combined Western painting techniques with traditional materials, including eggshell and cinnabar to create the pigments. The colored or transparent lacquer is applied to a surface in many layers, which must be dried and sanded down over the course of days or weeks to reveal the final product. Lacquer works by Le Pho are considered very rare, and carry a high price tag due to their scarcity as well as the large amount of labor and material cost that went into their creation.
What Mediums did Le Pho Use?
Le Pho used a variety of mediums across the span of his long career, including watercolor, gouache, lacquer, and oil paints. Besides canvas, many of Le Pho's works are painted onto silk, or occasionally other materials such as wood panels.
Oil on Canvas
Le Pho is perhaps best known for the oil on canvas works he created during his later Findlay period in France, beginning in the 1950s. These works used highly colored oil pigments to create eye-catching post-Impressionistic depictions of women and children surrounded by flowers against bright, abstract backgrounds.
How to Identify a Le Pho Signature
Le Pho typically signed his pieces in either the bottom left or bottom right corner of the painting. In addition to the letters "lepho" in either cursive or block letters, he would also sign his name using two Chinese characters directly above "lepho".
How Much Are Le Pho Artworks Worth?
Le Pho's artwork has an enduring popularity in art markets across the world, and prices for his work continue to rise. In 2022, the three part panel was sold for a record price of $2,283,600 in Hong Kong. The previous highest sold price for a Le Pho piece was $1,391,900 in 2019. Values between $10,000 and $150,000 are more common, although few paintings a year do regularly far exceed this range.
Average Estimate for Paintings: $10,000-$150,000
Average Estimate for Prints/lithographs: $500-$2000
Record Price for Paintings: $2,283,600
What Determines The Value of Le Pho Art?
With final sale prices at auction ranging from a few thousand or so to well over $1,000,000, it can be confusing to determine the estimated value of a Le Pho piece. However, considerations such as materials used, year created, and subject matter can help narrow down the estimated value.
Material: Le Pho painted onto a variety of materials over the years. Earlier in his career he often painted on silk with gouache or ink, while later he focused on oil on canvas.
Time Period: Le Pho's career is generally split into three periods: early work in Hanoi, Romanet period, and Findlay period. His later works of the Findlay period are generally his most well known.
Subject matter: In his earlier years, Le Pho often painted landscapes from Vietnam, as well as stylized portraits of Asian women. In later years, he mostly painted flowers and women with family. His portraits tend to be valued more highly than landscapes.

Revere Auctions provides the best value for your Le Pho artworks through extensive consignment and acquisition services.
The Values of Le Pho Paintings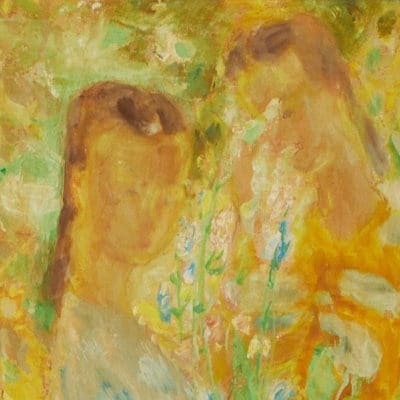 Oil painting on silk mounted to masonite, depicting a pair of women conversing in a flower garden. Signed along the lower right. With several numerical inscriptions to the verso.
Estimate: $50,000-$70,000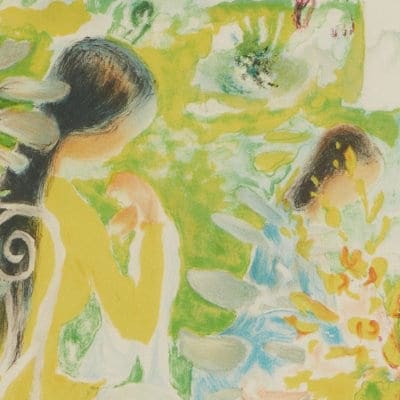 Color lithograph on paper titled "Sisters," depicting a pair of women in a vibrant garden. Pencil signed along the lower right and numbered 88/120 along the lower left. A label from Wally Findlay Galleries is affixed to the verso.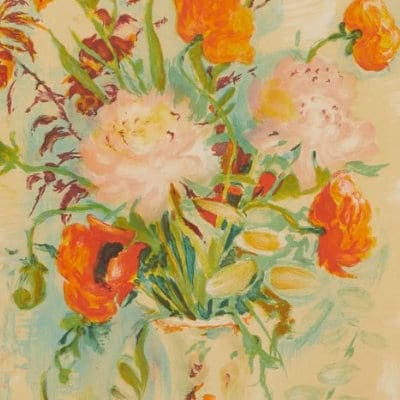 Color lithograph on paper titled "Bouquet of Flowers" depicting a vase of brightly colored flowers resting on a table. Pencil signed along the lower right and numbered 115/120 along the lower left.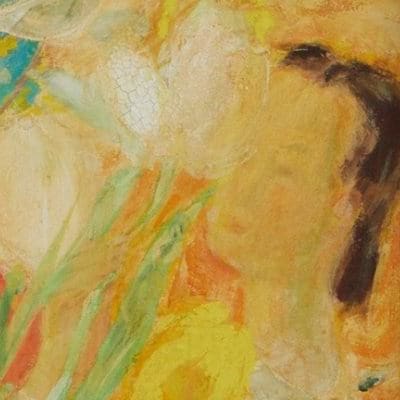 Oil painting on silk mounted to masonite depicting an elegant young woman surrounded by vibrant flowers. Signed along the lower right. Illegibly titled along the upper right corner of the verso. With several indistinct ink stamps to the verso.
Estimate: $40,000-$60,000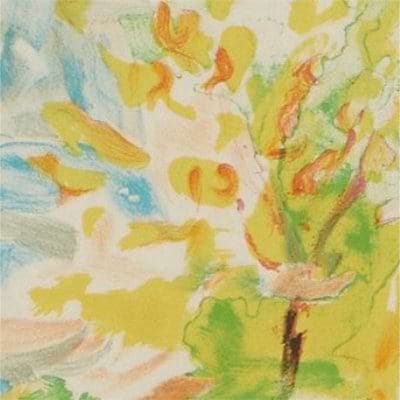 Le Pho, Flowers
Small oil on canvas painting of a bouquet of flowers. Signed on the lower left. Sold at a higher price than estimated.
Estimate: $2,000-$3,000
Result: $7,500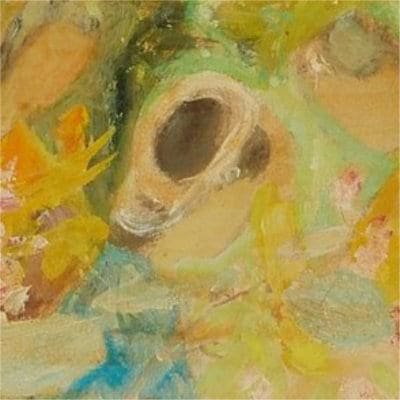 Le Pho, Untitled
Oil on canvas painting of two women with potted plants in foreground. Signed along the lower left.
Estimate: $40,000-$50,000
Result: $55,000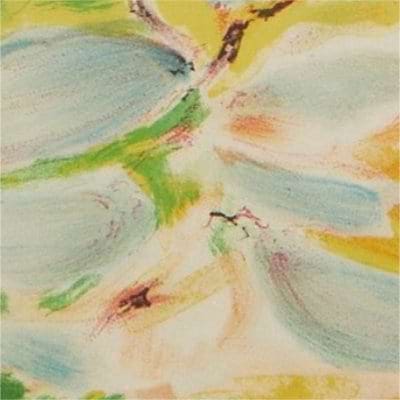 Le Pho, Figures in a Garden (3)
Set of three oil on canvas panels depicting three figures in a colorful flower garden. Sold together.
Estimate: $254,865-$382,300
Result: $2,283,600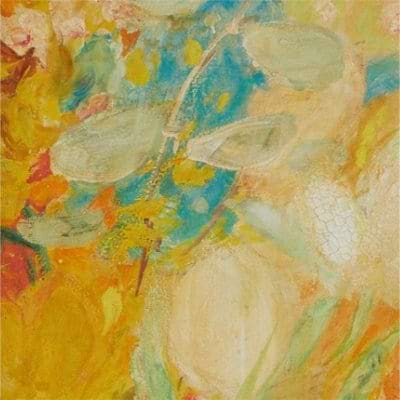 Le Pho, Nue (1931)
Oil on canvas painting of a nude woman resting on the ground in muted earth colors. Painted in 1931.
Estimate: $509,620-$764,430
Result: $1,391,300
Le Pho, Family Life (1937-39)
Ink and gouache on silk work depicting a woman with a child against her knee. Many other people can be seen in the background.
Estimate: $231,605-$308,810
Result: $1,170,895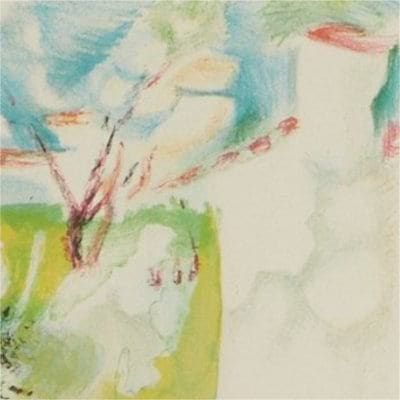 Le Pho, Paysage du Tonkin (1932-34)
Lacquer on panel piece showing the landscape around Tonkin in northern Vietnam. Painted in the 1930s.
Estimate: $154,800-$232,200
Result: $265,740

Have your Le Pho artworks valued by experts with Revere Auctions appraisal services.
How Can I Sell My Le Pho Painting?
Heightened interest in Le Pho's work and that of other Vietnamese artists has led to many of his paintings exceeding their estimated prices at auctions in recent years. Additionally, the wide range of materials and styles Le Pho employed over the decades have led to a huge range in estimated values for his works. In order to ensure you know the true value of your piece, an expert appraisal is highly recommended.
Revere Auctions Sells Your Le Pho Art
Seamlessly blending the styles and techniques of Vietnam and western Europe, Le Pho's art has captured the attention of art collectors for generations. Revere Auctions has expert experience evaluating and selling Le Pho's work at auction for competitive prices. Our art experts at Revere Auctions are ready to help you with any stage of your art journey, whether you are looking for an estimate of value, a USPAP certified appraisal, art restoration, or an effortless way to sell your art. We advertise our sales on more auction platforms than any other auction house in America, and regularly achieve record prices for our objects. If you are interested in selling with us, please reach out for a free online appraisal of your piece today.
Discover Works From More Artists Like Le Pho
A Vietnamese artist who studied at L'Ecole De Beaux Artes in Hanoi during the same period as Le Pho. He moved to Paris where he created bronze cast sculptures, and later paintings.
Victor Tardieux
Was a French painter and the Founder of L'Ecole De Beaux Artes in Hanoi, where he taught Le Pho.
Mai Trung Thu
Another Vietnamese contemporary of Le Pho. Mai Trung Thu specialized in silk painting with gouache, which he applied to the silk as a solid.